Venice Film Festival 2020: The World to Come, Dear Comrades, Apples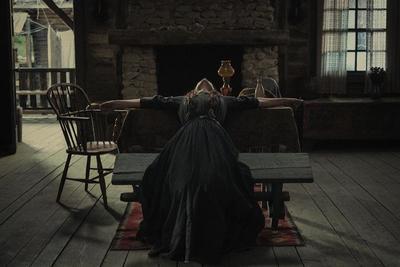 With limited capacity audiences, the Venice Film Festival is currently unfolding in one of the most beautiful cities in the world. For years, Venice has been an early platform for films that people will be talking about through the entire next awards season. Major films like "Roma," "The Shape of Water," and "Joker" premiered at Venice in recent years, and it's possible that, even in these strange times, that Venice will be the launchpad for your next favorite film. It's clear that the festival still emphasizes talented voices from around the world, as evidenced by the first three very strong films I've screened virtually from this year's event. Yes, covering Venice without actually getting to go to Venice has a different energy, but that doesn't change the quality of the work being shown there.
The most high profile film of the opening weekend of Venice 2020 was probably Mona Fastvold's "The World to Come," starring Katherine Waterston, Casey Affleck, Christopher Abbott, and Vanessa Kirby, also earning raves at Venice for "Pieces of a Woman," which we will cover here "out of" Toronto. Fastvold directs an adaptation of the book by Jim Shepard, co-written by the author and Ron Hansen ("The Assassination of Jesse James by the Coward Robert Ford"). It will draw natural comparisons to "Portrait of a Lady on Fire" due to its subject matter but that implies that there is a (very small) limit of period romances with lesbian themes that viewers are somehow allowed, which is just patently silly. Fastvold's film succumbs to some screenwriting flourishes that I wish were slightly more nuanced, but all four of the key performances here are fantastic enough for the film to overcome its flaws. It's a moving, tender study of monotonous lives broken apart by human connection.
It is 1856 on the frontier and Abigail (Waterston) and her husband Dyer (Affleck) work a farm that's increasingly difficult to work as the seasons on the patch of the land they've chosen seem more brutal every year. They also lost a child and seem to have never quite recovered, turning their daily monotony into a way to fight off their grief. Abigail narrates "The World to Come" and it is only in her poetic, hyper-literate monologue that she comes to life. In her narration, Abigail is incredibly self-aware and poetic, saying things like "Contentment was like a friend he never gets to see" about Dyer and "I have become my grief" about herself. Another new neighbor will tell her, "I bet you're more accomplished in your writing," but it is this heightened literary quality to the abundant narration that will be the dividing point for how audiences respond to "The World to Come." At first, it felt false to me not because Abigail couldn't be such a writer but because she contained the kind of self-awareness and self-diagnosis that typically comes with years of therapy. But I got used to its poetry and the manner in which Fastvold's story is really one of that poetic passion being released from an internal monologue into external expression.
That happens for Abigail when she meets her new neighbors Tallie (Kirby) and Finney (Abbott). Tallie is the extrovert to Abigail's introvert, and she looks at Abigail in a way that one feels no one ever has in her life before. The two grow closer by geography, spending days together, but they also have an instant bond that eventually becomes physical and passionate. From the beginning, Finney feels more controlling and prone to violence than Dyer. These two haven't lost a child but have yet to start a family. One senses that Tallie may be afraid to do so not only for what it will do to her life but because of how she feels about her brutish husband.
"The World to Come" unfolds in scenes of near-constant narration, which one has to presume comes largely from the source material. The intent is to give the sense that we are reading Abigail's journals, possibly found decades after these characters passed away, and discovering the story of this deeply poetic and passionate encounter on the American frontier. Waterston carries the weight of the film as almost the entirety of it is from her perspective but the other three are excellent as well. In the end, it's an flawed script but a remarkably accomplished performance piece, a platform for a quartet of excellent actors who took roles that could have been two-dimensional in the wrong hands and made this small story feel as big as the world.
Over fifty years after writing landmark Russian films like "Andrei Rublev," Andrei Konchalovsky is still making passionate, important works. His latest, "Dear Comrades," is a devastating look at a Russian massacre that took place in 1962, which just so happens to be the same year that Konchalovsky made his debut with a writing credit on Andrei Tarkovsky's "Ivan's Childhood." In the decades since that film, Konchalovsky has worked consistently, even taking a side trip to Hollywood with the excellent "Runaway Train" and the disastrous production of "Tango & Cash." He returned to Russia to continue making films years ago and "Dear Comrades" is one of his best, a moving examination of what happens when loyal bureaucracy meets social unrest. As we've seen around the world, even in the United States, responding to protest with force only leads to more social disruption. "Dear Comrades" tells a dark chapter in Russian history from almost six decades ago and yet what elevates it is how much Konchalovsky makes it feel urgently current.
"Dear Comrades" takes place in Novocherkassk in the USSR in 1962 and is told through the perspective of Lyuda (Yuliya Vysotskaya), a loyal member of the Communist Party. As the film opens, she is confidently repeating the party line even as rations dwindle and unrest in the community seems to grow. She has a daughter who joins in a protest following a labor strike at the local factory, and it ends in horror when Russian soldiers start shooting into the crowd. The centerpiece sequence in "Dear Comrades" of this event, which was buried by the Russian government until the end of Communism in 1992, is absolutely terrifying. There's a disciplined mastery of composition that's unforgettable here as bodies fall and people run for safety. And the tension of that sequence carries the rest of the film as Lyuda searches to find her daughter, who she's concerned may have been in one of the trucks of dead bodies she saw officials drive away from the scene.
The pre-massacre half of "Dear Comrades" echoes HBO's "Chernobyl" in its almost procedural examination of people in power who are inadequate to hold it responsibly. There are long scenes of meetings about what to do with those who speak out against the Communist Party, and one can sense Konchalovsky's outright disdain for most of these power figures who helped push the region to tragedy. And yet he also has great sympathy for Lyuda, technically one of those loyal Communists herself. It's a film about watching one's own work and beliefs collapse. The director says in a statement that "This film is a tribute to the purity of that generation, its sacrifices, and the tragedy it experienced seeing its myths collapse and its ideal betrayed." Betrayed ideals are not the exclusive property of 1962 Russia, and societies around the world will be able to see their failures in this excellent, moving drama.
Finally, a very different experience unfolds in Christos Nikou's dark comedy "Apples," a Greek film that echoes the work of Yorgos Lanthimos in tone not coincidentally given that Nikou was a second assistant director on Lanthimos' great "Dogtooth." His feature directorial debut is a quirky little gem, a movie with a great sense of visual composition and a fascinating concept, anchored by two enjoyable performances. It doesn't quite know where to land, and I found the final scenes a bit frustrating, but there's so much to like before that this is one to watch for when it becomes available where you are.
Again, it's kind of the story of a pandemic! (How long do we think it will before anything with virus themes doesn't echo the national nightmare of 2020? A decade?) In this vision, the pandemic isn't deadly but disrupts society in a very different way. People keep coming down with intense amnesia. They suddenly don't remember anything about their existence, including jobs, family members, and even personal preferences. Most people are helped through this by family or friends, but some without identification when it strikes end up completely lost. They are generally inducted into a new experimental program that basically recreates adult life. Subjects are given tapes with assignments, after which they have to take a Polaroid photo to prove they did it, and the hope is that these experiences will reshape a personality.
Into this program comes the morose Aris (Aris Servetalis), who we meet banging his head against the wall. Aris seems to be engaged in this quest to rebuild his identity, especially after he connects with the charming Anna (Anna Kalaitzidou), but Aris has some secrets that he's carried into this dynamic. For the most part, "Apples" is a series of clever sequences that will recall Lanthimos films like "The Lobster," but it also stands on its own as the pronouncement of an impressive new talent. I'm eager to see what Nikou does next.