TIFF 2020: Beans, Trickster, Fauna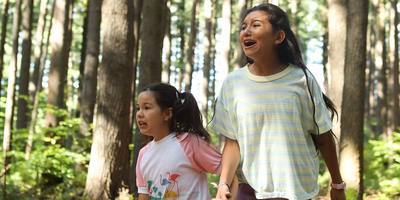 This year's unprecedented iteration of the Toronto International Film Festival, hosted virtually for non-Canadian press, offers American critics a unique opportunity for discovery. Typically, the festival overflows with enough prestige titles to make exploring TIFF's yearly depth of Canadian-produced films a luxury; this year only has 50 feature-length titles. In particular, I was impressed by two Canadian works starring Indigenous protagonists, and one centered on a Mexican family.
Inspired by true events, Tracey Deer's debut feature "Beans" retells the 1990 Oka Crisis (which witnessed two Mohawk communities in Quebec protesting to save their sacred burial grounds) from the perspective of a tween. Beans (Kiawentiio), as everybody affectionately calls her, is a girl coming of age, who desperately wants to make her parents proud. While her mother Lily (Rainbow Dickerson) would prefer she attend the white, hoity-toity Queen Heights Academy for school, her father (Joel Montgrand) would rather she stays close to her Indigenous roots. But her parents' wishes become the least of her problems when the local white government decides to build a golf course over the community's sacred grounds, precipitating a violent standoff.
When she meets April (Paulina Alexis), an intimidating teen who can teach her to "toughen-up," Beans transitions from a girl caught between worlds to a tween grappling with adolescence and adulthood. The once-innocent Beans begins to associate strength with suppressing pain, and soon April's dangerously mature peers further damage the tween. Beans begins to drink and succumbs to violent outbursts. While some of Beans' growing pains play as unsettling—there's a moment that compares to the SUV scene in "Eighth Grade"—some are endearing. For example, the first time she says "f**k" causes her to cover mouth and look into a mirror surrounded by her stuffed dolls.
In her debut film, Kiawentiio offers a standout performance that stretches beyond her years, especially as Beans rebels with complete rage against both her parents and cops. Though Deer does rely on well-worn coming-of-age tropes, which succeed to varying degrees, Kiawentiio elevates the familiar into something new. Because while white audiences have a plethora of these stories, narratives about Indigenous girls learning to traverse their newfound adulthood are few and far between. Deer offers another unique twist by mixing archival news footage of the Oka Crisis with Beans' story. Thereby, matching the young girl's internal war with external standoff. These arresting blasts from the past sometimes resonate more than Beans' journey, but never too much to completely overshadow. Instead, Deer's "Beans" exults as a sweet debut for both her and Kiawentiio.
Creators Michelle Latimer and Tony Elliott's teen folklore show "Trickster" offers another exciting Indigenous narrative. Based on Eden Robinson's novel, the series follows Jared (Joel Oulette), an Indigenous 17-year-old struggling to care for his dysfunctional parents. A drug dealer, by all appearances, Jared is as quaint as the tiny forested town he calls home. Nevertheless, his first onscreen appearance finds him cooking up pills inside a shed. With his chiseled jaw and polite demeanor, we'd believe him more as a Clark Kent than a Walter White. But a hard partying mother (Crystle Lightning) and welfare scamming father (Craig Lauzon) necessitate his working part-time at a fast food joint's drive through, even while selling drugs on the side.
The early chapters of "Trickster"—of which two episodes were given for review—rush by in a blink due to Latimer's enthralling meshing of supernatural conjuring with familiar teen tropes. For example, the series' opening, which takes place 17 years in the past, finds a baby Jared kidnapped by a mythical man in the forest. Though his mother recovers him, when the creature returns in the present-day, we come to discover that he's a shapeshifter. Amid a series of mystical events, Jared is also forced to deal with not only the travails of being a teenager, such as partying with his nerdy best friend, but dealing with a spirit who becomes his doppelgänger.
Latimer mixes these elements with evocative Indigenous folklore, such as a raven who speaks to Jared, and magical conjurings, like the arcane ceremony his mother performs by a campfire. Latimer also injects an '80s video game-inspired score to further enliven the briskly paced episodes. While some cogs fit clumsily, I never found Jared particularly believable as a loner, the young teen's journey to discover the secret behind the night he was kidnapped always makes emotional sense. Latimer's "Trickster" is the rare story where Indigenous folklore isn't twisted into a thin plot device, but reimagined into a fun teen mystery.
Nicolás Pereda's two-act film "Fauna" doesn't concern itself with tweens or teens. Rather the deliberately paced, dry comedy by the Mexican-born Toronto transplant opens as a slice-of-life story about an awkward family reunion. Paco (Francisco Barreiro) and Luisa (Luisa Pardo), both actors, arrive in a small Mexican town, once occupied by a mine, to visit the latter's parents. When the couple arrive, they befriend Luisa's brother Gabino (Lázaro Gabino Rodríguez), only to discover the parents aren't home. Pereda's screenplay provides plenty of hints about the trio's past. For instance, when Luisa asks Gabino about his girlfriend, he tells her that he's been single for eleven months.
In the silence of his long takes, Pereda discovers rich laughs. When Luisa's mother and father arrive home, her dad obsessively asks Paco about the narco-themed show he's acting in. A great gag finds the dad in a bar asking Luisa's boyfriend to demonstrate his acting ability. Paco struggles because his character on the narco show has no dialogue. Nevertheless, Paco fashions as a scene where he's a gangster. Barreiro portrays Paco's discomfort, expressed in his measured exasperation, to side-splitting. The scene also serves as a reminder for how Mexico's ongoing drug war has permeated into popular culture. Later, Luisa finds her brother reading a novella about a man arriving in town in search of a missing miner.
Pereda ably switches from the family comedy into a neo-noir based in the subconscious of Gabino, who imagines himself as the novella's protagonist. The crafty turn refashions Barreiro into an intimidating heel and Pardo as two separate characters: sisters Flora and the femme fatale Fauna. While the first act belongs to Barreiro, Rodríguez and Pardo take center stage in the second half. Their uncomfortable chemistry offers deadpan laughs as Rodríguez's character investigates the aforementioned miner's disappearance. Slapdash costumes—both actors wear intentionally terrible wigs—only enlivens the narrative's purposeful absurdity.
While "Fauna" works best as a slice of life—I quite enjoyed the subtle ways Pereda built out these characters before the switch-up—the genre bender's second half welcomes an intriguing dissection of how crime stories worm into our imaginations. A breezy film, the final minutes see Rodríguez's character becoming embroiled in the jealousy of Fauna's narco selling boyfriend. Pereda nimbly turns these thrilling scenes into a moment of reconciliation for Gabino and Luisa, which allows the narrative to exist somewhere between the unconscious and the conscious. With its beautiful wide shots of small-town Mexico, Pereda's "Fauna" cunningly mixes witty comedy with neo-noir suspense for a smart angle on the country's ongoing drug war.