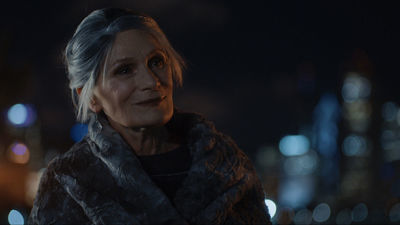 Thumbnails is a roundup of brief excerpts to introduce you to articles from other websites that we found interesting and exciting. We provide links to the original sources for you to read in their entirety.—Chaz Ebert
1.
"Wendy Robie on 'Dreaming Grand Avenue', 'Twin Peaks' and More": The marvelous actor (best known as Nadine Hurley on "Twin Peaks") chats with me at Indie Outlook about her new movie which premieres next week in Chicago (visit the film's official site here).
"David and Mark created a piece of art that used the passage of time as a character, and in 'The Return,' David opened it all up and then he made it cosmic. He truly did. You could talk about it for hours and hours and not begin to encompass what it all meant. It's too huge. There are so many ways to interpret every image. I think Part 8, the episode involving the atomic bomb, is the most incredible thing that I have ever seen on film, from start to finish. When I am in the presence of David, whether I'm being directed by him or listening to him or watching his work, I'm in good hands and I just take the ride. Right now, he's doing daily weather reports on his YouTube channel, and I am a faithful viewer of them. Every day, I have to tune into the latest video. Those reports are getting me through this year because as long as there's David, I feel like it's going to be okay, regardless of what happens."
2.
"For Regina King, her 'Watchmen' role is inspired by 'every Black woman that ever was'": In conversation with Glenn Whipp at the Los Angeles Times.
"I think ['Watchmen' creator] Damon [Lindelof] gave me a gift telling me I did not have to read the comic book. That allowed me to tap into all those things I think are just wonderful about being a Black woman. I know I'm going to get a lot of backlash for this, but that term 'Black Girl Magic' … it's not my favorite thing that people use to describe the accomplishments and wonderful things that Black women do. Because it's not magic. It's actually work! It's carrying the load. And that load is heavy. With Angela, I asked: What is she doing to make sure she's being loved on? And what is she not doing? She has created this little protective bubble that is always in jeopardy of being burst. A lot of people can relate to that, but it's specifically the experience of a Black woman."
3.
"'What's Happening in the Vertical Version?': Mark Pellington on Quibi Series/Film 'Survive'": Another essential interview conducted by Jim Hemphill of Filmmaker Magazine.
"You can't shoot two things at once, so how does it play if you're looking at the same image vertically and horizontally? I knew there would be a movie version, albeit 18 months to two years later, so I said "Wait a second, what am I shooting for?" I'm used to the old days of commercials and music videos, where the mandate was usually to shoot 16:9 but protect for 4:3, which was always a terrible compromise. The aspect ratio of an iPhone if you're watching it is really 2:1, so if you compose for that what's happening in the vertical version? In the early conversations I had with the DP, Dave Devlin, and the folks at Quibi, they said that in the vertical stuff they wanted to explore split screens and play with that – putting the horizontal version in the middle of the screen so it's like a master in the center and then you have cutaways or other shots on either side of that. If you're shooting with two cameras you can use different shots of two people talking at once, or include a different angle on an action sequence—it opens up all kinds of interesting possibilities."
4.
"Cinereach Producer Award: Diane Quon": A splendid profile of the great producer penned by Dear Producer's Barbara Twist.
"Festivals also allow you to interact with audiences. You can see how they respond to the film. After 'Minding the Gap' screened at Sundance multiple times, we ended up going back and cutting six minutes from the film after seeing what they reacted to or didn't respond to. I also was grateful to spend time with the characters from our film. One of the film festivals I'll never forget was the Milwaukee Film Festival. Keire Johnson, who was in 'Minding the Gap', came with me. It was maybe seven months into the festival run. He had been at Sundance with us and by the time we were in Milwaukee, I could see how much he had grown in confidence. Watching him speak and answer the questions from the audience of 800 high school students was a highlight for me. And of course, I'll never forget the special moments at these festivals. After the premiere screening of 'Minding the Gap' at Sundance, Bing (Liu) received a standing ovation. Being so humble, he said, 'Doesn't that happen for everybody?' After working on the film for so long, that moment was so special!"
5.
"Yusuf Revisits 'Tea for the Tillerman,' His Landmark Album as Cat Stevens": The music icon talks to NPR's Rachel Martin.
"I was pretty unsettled, because I really wanted to keep moving — I wasn't satisfied with where I was. With songs like 'On the Road to Find Out,' you can see my life has been, more or less, a play out with those lyrics. The very end, I talk about, you know, 'Pick up a good book.' I was very very careful to say a good book, not the good book, in case people would say, 'Oh, the Bible! He's one of us!' I've studied all these different spiritual paths. Who was to know, at that point, that I was going to pick up the Quran? Which changed my whole view of life, if you like. Well, I wouldn't say it changed it — it clarified it. It re-centered me. That kind of song is slightly prophetic, you may say — in quotation marks, small 'p.' But that's amazing. When you pick up, as a songwriter, these things, you don't plan them. You are driven by something within you. Something is calling you, and sometimes you hear it. It's pretty miraculous, to be honest."
Image of the Day
Five classic Albert Brooks comedies currently streamable on The Criterion Channel are celebrated by director Ari Aster in his essay published at the Criterion site.
Video of the Day
Late last month, American Cinematheque hosted a wonderful hour-long virtual discussion about the great director Lynn Shelton, who passed away in May. Jim Hemphill moderated the conversation that featured insights from Mark Duplass, Jon Hamm, Eddie Huang, Gillian Jacobs, Marc Maron, Kevin Murphy, Michaela Watkins, Kerry Washington and Reese Witherspoon.