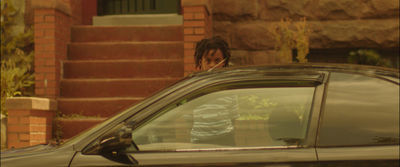 "Residue" is a very apt title for the debut feature of writer/director, Merawi Gerima. We don't see the title until the film ends, but I believe the first time we hear it, it's spoken by Lavonne (Melody A. Tally), the mother of our protagonist Jay (Obinna Nwachukwu). Miss Vonne is addressing a Karen who is allowing her dog to relieve itself on the lawn of the home Jay is staying at during his temporary return to his hometown of Washington D.C. Jay's mother owns the house in their old 'hood, a part of town that is rapidly being repopulated with White outsiders. "I'm going to clean it up," protests Karen. "It'll still leave a residue," replies Miss Vonne. Karen and her Kevin boyfriend walk off audibly complaining.
I couldn't help but see metaphor in this moment; areas that have been gentrified are looked at by new residents (and the real estate moguls who swoop in to rebuild for profit) as having removed what they perceive as "the waste" that previously inhabited it. But remnants remain, not just in the people who refuse to be lowballed out of their homes, but also in the memories of those like Jay who formerly inhabited the area and have returned to find that Thomas Wolfe's title was right. The only way you can truly go home again is through the nostalgia you latch onto when reality disappears.
The dog walking scene is a succinct and foreboding bit of foreshadowing. It captures not only Gerima's themes but also gives a feel for how the film visually delivers information to the viewer. A moment after the original altercation, the male pet owner yells one of the harsher profanities at Miss Vonne. Understandably upset, Jay makes a move to beat this guy senseless for his disrespect, only to be held back by the tough love and wise advise of his mother. She has to restrain him multiple times, but he acquiesces after she reminds him that the temporary sating of his rage will result in more permanent consequences. This will not be the first time Jay will need such an intervention.
Like much of "Residue," this sequence feels so accurate, so right and so knowing about the people who inhabit it. If you grew up Black or brown in a neighborhood like the Q Street setting of this film, Gerima's way with the most minute of details will have you talking back to the screen with recognition. I saw in this film my own Jersey City upbringing. It's in the cadences of Jay's parents voices as they playfully argue while projecting old-school slides on the wall of their other home. It's in the way the grandmother of one of Jay's friends leans in close to him while imparting troubling but important information, something so tragic it warrants a respectful whisper that honors the dead. And it's in the way Jay's boys from back in the day repeatedly inform that they have each other's backs. All these things rang true to me, kicking up sometimes unwanted memories of my own as I watched the film.
But the true strength of "Residue" is in its images. Gerima finds a poetic grace in his framing while forcing you to focus on unexpected things. There's also a pattern to his depictions of repeated elements that favors one interpretation while leaving room for several others. For instance, the faces of the White people who now inhabit the neighborhood are rarely seen, but their scenes are clear and in focus. By contrast, Jay's memories of his childhood linger on the faces of his childhood crew even as the film blurs and goes hazy as it suddenly inserts these moments into the narrative. I read these visuals as being in service to a story haunted by ghosts both malevolent and benign. Even when I found the stylistic choices irritating, I couldn't deny that they were intentionally deployed by a confident filmmaker in full control of his craft.
The plot is where things become a little fuzzy. Jay has returned from California to write the script for a movie about his hometown and how it's disappearing. Gerima trusts his audience to know about how redlining and White flight led to the low points that are now being exploited by gentrifying neighbors who can afford to move back to places that would never have been improved had they stayed in suburban exile. How long Jay has been away is not mentioned, though it is long enough for him to return to a place he barely recognizes, one that's also missing several old friends. Apparently, Jay went off to college (one of his pals calls him "University Boy," dredging up memories of my friends calling me "Professor"), then ran off to the West Coast to pursue filmmaking.
It's clear that Jay is trying to find some stabilizing force in his life, but his intentions remain purposely murky. Is his script merely an exploitation of his D.C. street and its denizens past and present, or is there a deeper meaning for him? Dialogue and situations support both interpretations, though the anger of several of his friends play on Jay's feelings of desertion and the "survivor's guilt" that occasionally accompanies leaving your hometown and not looking back. The question that hangs in the air is if Jay's return is on the level, if only because he has the ability to leave again.
"Residue" interrogates these ideas within those childhood flashbacks where Jay and his childhood friend Demetrius roam the streets until "the streetlights come on" and they have to have their asses home. The younger Jay and Demetrius are well-played by non-actors Gerima picked from the same Q Street location that nurtured him, which only adds to the personal nature of his film. The adult Jay is adamant about finding Demetrius' whereabouts, but no one is forthcoming except to mention that he's moved out to points unknown, just as Jay had. When young Jay moved to another part of the same city, his friends tell him that it was if he moved to another country; by that rationale, him leaving D.C. must have felt like he'd gone to Mars.
I appreciated the potentially open-ended nature of Demetrius' story, but overall, it didn't work as well for me as the reunion of Jay and another character who wrote Jay many letters from prison, none of which Jay answered. Again, I refer to the visuals of this sequence and how—and where—it plays out. These moments between Dion (Jamal Graham) and Jay exist simultaneously in the real world and in what is perhaps Jay's scripted version. Regardless, the expression of affection between these two Black men felt so beautifully cathartic that it stayed with me long after the film was over.
"Residue" was released by Ava DuVernay's ARRAY independent collective, which specializes in personal films like this one. Whether they're brilliant, godawful, mediocre, or somewhere in between, movies like these are not only important, they are necessary. Representation matters; everybody has a story to tell and far too few of us are given the opportunity to tell it. Here's to more stories like this.
Now available in select theaters and on Netflix.