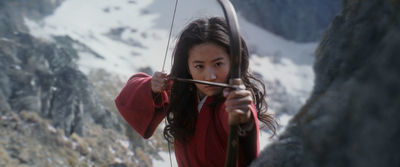 Its origins date back centuries, and its animated predecessor is beloved within the '90s Disney canon, but the latest version of "Mulan" couldn't be more relevant, vital and alive.
Director Niki Caro's live-action take on the classic story of a young Chinese woman who disguises herself as a man to become a warrior is thrilling from start to finish. It's steeped in traditional cultural locales and details, yet feels bracingly modern with the help of dazzling special effects and innovative action sequences. You want gravity-defying, wuxia-inspired aerial work and elaborately choreographed martial arts battles and horse stunts? You got 'em all. And a truly impressive array of veteran actors helps keep the emotions grounded, including Tzi Ma, Donnie Yen, Jet Li and the goddess Gong Li.
At the center is the lovely Yifei Liu, who's called upon to show a great deal of range as Mulan transforms herself from brazen, impetuous rebel to mature, commanding leader. Just as important is the fact that she finds her voice over the course of this journey—a phenomenon specific to this character and this story, but one that couldn't be more resonant for women of all ages watching all over the world, right now. Liu's performance might have been more powerful if she'd been a bit more emotive, but the steeliness and physicality she displays make her a convincing fighter.
Caro is the perfect choice to helm this live-action "Mulan," having made her name nearly two decades ago with another story of a determined girl who dared to buck the patriarchy, 2002's "Whale Rider." Working from a script by Rick Jaffa & Amanda Silver and Elizabeth Martin & Lauren Hynek," Caro interweaves the story's ancient poetic roots with Easter eggs from the 1998 animated film – although there's no wacky dragon sidekick, alas—but it's very much its own artistic endeavor, and is by far the most effective and necessary of all the live-action remakes of Disney's animated catalog that we've seen in recent years.
Caro's take on the tale, as mainstream and family-friendly as it is, also carries the unmistakable spirit of the #MeToo movement: women standing up for themselves and each other and demanding that men hear and believe them. One particular moment of solidarity and validation caused my heart to get caught in my throat, and it's one of many instances that made me wish I was watching "Mulan" in a packed theater. As gorgeous as the film is—the work of countless talented women behind the scenes, including cinematographer Mandy Walker and costume designer Bina Daigeler—it's not quite the same watching it at home, even on a giant TV, even with an enthusiastic, movie-loving kid on the couch next to you.
The bones of "Mulan" remain familiar, though. We first see the character as a playful, acrobatic young girl (played by Crystal Rao), climbing up and leaping across rooftops in her village to chase a chicken in a bit of foreshadowing of the action to come. Her father (Ma, as warm a presence here as he was in "The Farewell") seems proud of his daughter's plucky nature, but her mother (Rosalind Chao) reminds her that "a daughter brings honor through marriage." A meeting with a matchmaker (the veteran Pei-Pei Cheng) that goes comically wrong is one of many indications that a traditionally servile, female path is not in Mulan's future.
When invaders led by the villainous Bori Khan (Jason Scott Lee) threaten the emperor (Jet Li) years later, the imperial army fans out across China to amass soldiers to protect the palace, gathering one man from each family. Mulan's family has no sons, so her father – a wounded warrior himself – must join to maintain honor. Instead, Mulan grabs his sword and rides her horse under cover of darkness, reporting for duty to the stern commander (Yen) with her hair tucked under a cap and her voice slightly lowered. In the tradition of gender-bending movies ranging from "Yentl" to "Just One of the Guys," Mulan must find convoluted ways to avoid changing clothes and showering in front of her fellow soldiers, including the handsome Honghui (Yoson An), with whom she enjoys a verbal and physical spark. She also struggles to avoid the shapeshifting sorceress Xianniang (Gong Li), Bori Khan's menacing right-hand woman who keeps finding her. Despite her malevolent nature, she and Mulan have more in common than the young woman would like to admit, and the complicated and uncomfortably honest nature of their relationship gives the film an intriguing, feminist spark. (Li also gets to wear the most fabulously ornate costumes, including ones inspired by Xianniang's ability to transform herself into a hawk.)
But the movie loses some momentum when it's about the actual nuts and bolts of the plot against the emperor. Sure, it's the narrative machinery that drives Mulan's transformation, but it gets bogged-down and talky, and it's not nearly as compelling as the character's ultimate acceptance of her undeniable inner strength. The regal and fierce Xianniang has her number early on, and when they finally meet each other for battle, she wisely tells Mulan: "Your deceit weakens you. It poisons your qi." There's a bit of a Darth Vader-Luke Skywalker, love-hate dynamic to this showdown, but the underlying truth of that statement resonates. Her feminine strength has made her an outcast in this male-dominated world, but she recognizes that Mulan can't achieve her own full potential until she's fully honest about her identity.
When Mulan finally lets her hair down, literally, it's a declaration of independence, a joyous moment of self-love. Pieces of "Reflection"—the 1998 theme that helped make Christina Aguilera a superstar—punctuate Harry Gregson-Williams' score here and in other key moments, allowing them to soar but also tying back nicely to the animated movie that means so much to so many. (Stick around through the credits to hear Aguilera performing an update of the power ballad as well as a delicate Chinese-language version from Liu herself.) Loyal, brave and true: She's all of the above, on her own terms.