Moving Forward Together: Julianne Moore and Bette Midler on The Glorias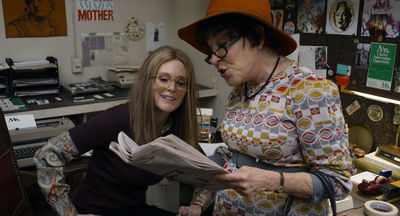 No life-story could turn into a paint-by-numbers biopic in the hands of director Julie Taymor, a creative force for both the stage and screen. Indeed, the filmmaker's uniquely vivid, sometimes unruly signature informs much of her adaptation of feminist icon Gloria Steinem's autobiography My Life on the Road, starring the likes of Julianne Moore as one of the four generations of Glorias, along with Alicia Vikander, Lulu Wilson and Ryan Kiera Armstrong. Bette Midler plays Bella Abzug, the late feminist activist and US Congresswoman during the 1970s who coined the slogan, "This woman's place is in the house—the House of Representatives!"
Written by co-scribes Taymor and Sarah Ruhl, "The Glorias" is a dizzying road movie at its core; a decades-spanning, constantly-in-motion narrative charged by countless revolutionary women that joined and elevated the women's movement. We recently met with Moore and Midler over at Zoom for a brief conversation on "The Glorias," political activism, and what it means for women to move together as one during trying political times.
Julianne, it must be a unique challenge to portray a character who is still alive and very much active.
JULIANNE MOORE: It was a big responsibility and a joy too. And I'd say that the best part about doing this job was spending the time with Gloria's books and her recordings and listening to her voice every day and watching her television appearances, and really being able to absorb who she is in the world and how she was able to move the culture forward. She's an incredibly inspiring individual. And Bette just said this in her last interview—one of her great talents is that she's a consensus builder. She takes the thoughts and the actions of the women around her and is able to move those ideas together and forward. She's the first person to deflect from herself. She always talks about the movement. She says the movement is not about an individual, it's about all of us. And one of the most beautiful things that she says too, is that we are linked, not ranked. That hierarchy is dangerous and doesn't work for people. And she's all about dismantling that. I loved the opportunity and was also grateful that I wasn't the only Gloria Steinem. We were represented by four different actors, four of us. And so it's not just a portrait of an individual. It's a portrait of a life and of the movement as well.
Bette, what was it like for you to bring Bella Abzug onto the screen? Did you know her during her life?
BETTE MIDLER: I did, I knew Bella and I admired Bella. In fact, I adored Bella. I was so glad to be in the world that she was in. She was a constant source enlightenment and entertainment. She was so vibrant, so alive. It's always great to be in the presence of someone who has that much spirit and that much energy and that much commitment. She was always on the side of the right, of doing right. Her father had a butcher store called Live and Let Live [Meat Market]. He was a man who believed in fairness, just fairness. And I think that was her whole life. She wanted things to be fair and equitable for everyone. Not just a few but for all.
I have to say, I love all the hats that she wears and I know that's very accurate to her real-life character.
BM: Well, Bella wore a hat because she wanted to be distinguished from the secretaries. She found out very early on that men did not take you seriously if you weren't wearing a hat. If you were wearing a hat, they knew you were in there for business. But if you didn't wear a hat, you were somebody who's looking for a job. So once she put that hat on her head, she never varied. She found her look, she stuck with it and it became iconic. And what was it that Pat Nixon said? "Oh, you're the lady in all those little bonnets." She did. She did call them little bonnets.
I want to go back to something Julianne was saying, that this film is about different generations of Glorias. And to me, the title—"The Glorias," plural—also represents all of us as women, standing on the shoulders of other women that came before us. I was thinking about this notion yesterday after losing one of our heroes in Justice Ruth Bader Ginsburg.
JM: Of course, I think about this all the time. I particularly think about the kinds of gifts that I was given when I was born and as a young woman, that my mother didn't have. My mother grew up [in a time when] her parents saved money for her brother to go to college, but none for her, you know? So she was married and had children and she made it very clear to me that was not going to be my path because of the way things had changed. I do think that we all stand on the shoulders of one another. And the thing that you learn from Gloria is, we move forward fast together, knowing that we are a team, a group. What's good for all of us is that kind of intersectionality.
BM: In life, everyone stands on everyone else's shoulders. Every invention is built on another invention or another idea. We're constantly in motion. That's the way the planet and the universe works. So yes, we stand on the shoulders of those who came before us. And certainly Ruth Bader Ginsburg has inspired a whole new generation; two new generations of young women who are going to follow in her path. I feel that Julie Taymor made this movie just in time. It's the perfect time for it. Women are examining their position in the world. They familiarize themselves with the people that came before. People [discuss] the African-American women's contribution to the suffragist movement, which of course is considerable. And these things are starting to fall into historical perspective. And I think that this picture is very, very helpful in the way that it shows women not as at each other's throats, but as moving as one; accepting an idea in a universal fashion and deciding to move forward together. And I think that it's fantastic.
I was there for the movement. I was old enough, but I wasn't in it. I was on the outskirts of it. And they looked like they had a blast. The exchange of ideas, the energy they had in them and the linking arms that Julianne always talks about; walking together forward as a group … the power that must have made them feel … It must have been extraordinary. I'm so glad that Julie Taymor put this whole idea together in a way that's very, very different from just a regular biopic. It's not the same at all. I think it's a new kind of way to tell a story about someone's life.
Do you feel that there is a trend among some younger people these days, to distance themselves from feminism, or to reject that label?
JM: I think that's a minority, I really do. And yes, we talk about the branding problem. And that branding problem has always existed and exists on the far right. There are plenty of people who are out there saying like, "What is this?" and "You're losing something." So that movement has always existed. But that doesn't mean that it's true.
BM: I haven't noticed that. If anything, I would think, that #MeToo and #TimesUp have actually brought more people into the idea that there's something quite wrong and it has led more women to examine feminism as an alternative way of thinking. That's how I feel. I mean the harassment and the abuse have been so pervasive that I would think it would drive women into the arms of the feminists quicker, sooner rather than later.
You are both very vocal politically, especially on social media. Do you think of this as your responsibility as artists with great influence?
JM: I feel like it's my responsibility as a citizen to be vocal. It never occurred to me that it had anything to do with my being an artist, but as an individual, I need to talk about what's important for me, and for all of us. I think that civic responsibility is something you need to have in this country. And it's a country where we are afforded so many benefits and so many liberties, and you can't take those for granted.
BM: Exactly, exactly. You can't take them for granted because you can see how quickly the whole thing can disintegrate. I mean, what we've lived through for the last three years has been basically the attack on all our institutions, every single one of our institutions. And the sewing of distrust [meant] that we don't trust anyone. We don't trust any information that's coming out to us because we've been lied to. And because the country is so polarized and some people will only believe one thing, and some people refuse categorically to believe their own eyes or their own ears. So we are in such a period of instability and it's only been three years. So you have to be on guard every moment because this fantastic experiment of ours can disintegrate just into dust. And you have to fight for it. If you want it, you have to fight for it.
"The Glorias" is available on Amazon Prime on September 30