Empathy in the 2020 Presidential Race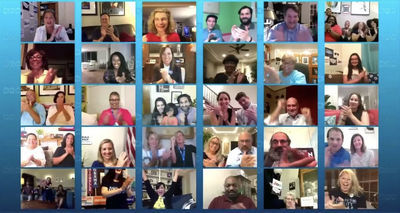 "Empathy. That is something I've been thinking a lot about lately. The ability to walk in someone else's shoes. The recognition that someone else's experience has value too."—Michelle Obama
I couldn't have put it better myself. Empathy has become an important component of this election in a way that transcends any partisan barriers. In order to bring the country together you have to recognize it for the diversity and beauty of all Americans. Here are a few examples of how the implementation of empathy in every facet of our world can produce a mosaic of diversity and equality.—Chaz Ebert
1.
Cinema as an empathy-generating machine
One reason Roger was so attracted to the movies was because he saw them as a machine that generates empathy. When he received his star under the marquee of the Chicago Theatre in 2005, he made the following speech (which you can view in the video embedded above), "We are all born with a certain package. We are who we are. Where we were born, who we were born as, how we were raised. We are kind of stuck inside that person, and the purpose of civilization and growth is to be able to reach out and empathize a little bit with other people, find out what makes them tick, what they care about. For me, the movies are like a machine that generates empathy. If it's a great movie, it lets you understand a little bit more about what it's like to be a different gender, a different race, a different age, a different economic class, a different nationality, a different profession, different hopes, aspirations, dreams and fears. It helps us to identify with the people who are sharing this journey with us. And that, to me, is the most noble thing that good movies can do and it's a reason to encourage them and to support them and to go to them."
2.
Day4Empathy celebrated on April 4th
April 4th was our inaugural Day4Empathy celebration. That day was selected to commemorate Roger's emphasis on putting ourselves in the place of another. When I'm asked about Roger's legacy, I say it's his talk about empathy. It helps us to be more compassionate to people, it helps us to be more forgiving. Those principles of empathy and kindness and compassion and forgiveness were part of his moral compass that I admired and want to see carried forward. So we launched a #Day4Empathy in Chicago where we asked people to bring their best selves forward in their interactions with others, whether at work, at school, or at play. We asked people to have water cooler conversations about what empathy means to them, and to show how it helps make their community better, and how it make their lives better. Martin Luther King Jr. said that "the time is always right to do what is right."
Here is a link to our Day4Empathy coverage from this past April.
3.
Michelle Obama's speech at the Democratic National Convention
So much has already been written about Michelle's speech, but I couldn't resist sharing it.
4.
The Roll Call vote at the Democratic National Convention
This was an absolutely exhilarating moment because for the first time we were able to go to the different parts of the country to see the interesting and vibrant mosaic of people who make up the United States. From the nurse in Nebraska and the Calamari man in Rhode Island to the people of Guam, the Mariana Islands and American Samoa, the Democratic Party shone brightly in all of its diversity. North Carolina's delegate Cozzi Watkins earned cheers with her line, "Black people, especially black women, are the backbone of this party, and if we don't show up, Democrats don't get elected. I'm putting on my mask and we are going to every corner of North Carolina to get organized because we need to make sure that everyone shows up for Joe Biden."
5.
David&Goliath Names Casting Director Tiffany Persons as First Director of Empathy
Here is an excerpt from an article penned by AdWeek's Minda Smiley in which casting director Tiffany Persons is revealed to be the first Director of Empathy at the creative agency David&Goliath. "The title, unusual even for an ad agency, encompasses a range of responsibilities. In this role, she will conduct workshops to 'unlock empathy' at the 180-person shop, recruit underrepresented professionals and focus on fostering an environment where BIPOC employees can grow. She is reporting to David&Goliath's founder and creative chairman David Angelo and its president Yumi Prentice. Persons has had a somewhat unconventional background in the industry. She started her own casting company 12 years ago, which specializes in finding real people for brands to feature in their ads. She did the casting for Microsoft's award-winning 'Changing the Game' spot that ran during last year's Super Bowl. She's also the founder of a Shine On Sierra Leone, a nonprofit that provides educational, financial and healthcare support to people in the country's Kono district. […] At David&Goliath, Persons will use her background and experiences to cultivate a culture of empathy and 'activate compassion' in the agency's work. 'Connecting with the consumer in a heart-centric, authentic way is paramount at this time,' she said."
6.
21 nonprofit organizations worthy of your donation
I'd also like to share a link to our article about the 21 charitable nonprofits and arts organizations that gathered in Chicago on April 4th, 2017, ostensibly to commemorate my late husband Roger and his championing of empathy, but who really illuminated their lights for all to see. I think about them all the time, and I hope I am able to help them as much as they are helping others. Between them they are doing some extraordinary things: feeding and clothing and providing shelter for the homeless, providing a safe space for children to do their homework without worrying about gun violence; supporting fathers as they enter back into the lives of their children, and fostering support systems to keep families together; helping to physically rehabilitate those with injuries and illness, providing a quality education and after school activities for youth in underserved communities; providing a beacon of hope and light through cultural exchange on stage and screen, teaching students to get behind the lens to document issues that are important to their lives, and more.
7.
Cannes 2015 Panel: "What Does Empathy Look Like on the Big Screen?"
In 2015, I hosted a panel on Empathy at the Cannes Film Festival in the Roger Ebert Conference Center of the American Pavilion. That panel was an exploration of what empathy could look like on the big screen (you can read Ben Kenigsberg's coverage here). The panel was moderated by Ebertfest festival director Nate Kohn and also featured Variety critic Peter Debruge, Indiewire critic Anne Thompson, Cinetic Media founder John Sloss and TIFF artistic director Cameron Bailey. I spoke about the value of seeing different perspectives on screen, saying, "If you see people painting only with a gray crayon over and over again, you start thinking that life is a gray crayon." What I encouraged filmmakers to do, above all, is use more colors.
Image of the Day
As part of our Day4Empathy festivities in 2018, our Managing Editor Brian Tallerico took a closer look at 13 reviews penned by Roger that explored the concept of empathy in films as diverse as "Awakenings," "The Spectacular Now," "Lost in Translation," "The Shawshank Redemption," "Planes, Trains and Automobiles" and "In the Mood for Love." You can read the full article here.
Video of the Day
Last but not least, I can't resist re-sharing this heart-melting video of a young girl with a prosthetic leg who receives an American Girl doll that looks exactly like her. This is a great example of why representation in all forms is so crucial to the well-being of our souls and the proliferation of empathy.