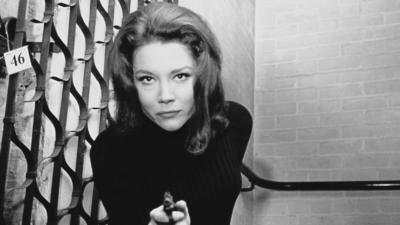 What do James Bond, John Steed, Hercule Poirot, Tywin Lannister, Henry Higgins and Miss Piggy have in common? They have all shared space with characters portrayed by Dame Diana Rigg. In the case of Mr. Steed, her character's name is even more recognizable than his. But more on how that Avenger's assembled later. For now, let me praise and honor a career that began in 1957 and continued on the stage, the telly and the big screen for the next 63 years. She stuck around long enough to not only play Eliza Doolittle, but to play Mrs. Higgins as well. In her illustrious career, she earned multiple Emmy nods and awards, a BAFTA TV award, the Tony and, most importantly, the undying affection of fans worldwide. Rigg was a truly talented dame–in the colloquial and titular sense—who continued working right until September 10, 2020 when she, in a nod to her frequent collaborator, William Shakespeare, shuffled off this mortal coil. She was 82.
Speaking of the Bard, the Doncaster, England-born Rigg started with the Royal Shakespeare Company in 1959. For them, she was Lear's Cordelia and "Twelfth Night"'s Viola. In 1972, at the Old Vic, she would unleash her Lady Macbeth. And a year later, she would do my genre-loving heart an unrepayable solid by starring opposite Vincent Price in a movie that would have warmed the gore-stained heart of the author of "Titus Andronicus," Douglas Hickox's "Theater of Blood."
In that film, Rigg plays Edwina, the daughter of the presumably dead and supposedly awful Shakespearean actor Edward Lionheart. Traumatized by a history of being panned by critics, Price's paterfamilias throws himself into the Thames and drowns. Or so the critics think. After being rescued, Lionheart exacts a very literary revenge, killing his critical detractors in ways cribbed from Shakespeare's plays. Price is having a gloriously hammy good time here, but Rigg makes for a worthy acting co-conspirator; she sells you on the notion that the apple doesn't fall from the sadistic tree. In a nod to her prior role in Lear, Edwina meets a grisly fate, impaled on the object of her father's desire, an acting award.
Rigg is also memorable in Paddy Chayefsky's 1971 medical satire, "The Hospital," where she acted opposite a gruff George C. Scott and an insane and murderous Barnard Hughes. Both men go large, yet neither manages to budge her on the screen. As Barbara, the much younger love interest whose father is in a coma at Scott's hospital, Rigg delivers an absolutely absurd monologue about Daddy issues, communes, Native American healers, bears, her father's religious mania, doctors, murder, masturbation and a very bad acid trip. It's preposterous, but you hang on her every word because of Rigg's masterful take on the material. Even if you don't buy the story she's telling, you know Barbara believes it. When she comes on to Scott afterwards and he rejects her with a yelling monologue of his own, her unexpectedly nonchalant response as she leaves his office is perfect.
Whether at her most serious or her most playful, there's a wicked glee that runs through Diana Rigg's performances. I don't mean wicked as in evil or monstrous, I mean that you can tell she's thoroughly enjoying her performance, even if you can only see that joy in her eyes. You share her fun as the murder victim in "Evil Under the Sun" and you can tell she's getting a kick out of playing opposite the Muppets in "The Great Muppet Caper." As Lady Holiday, the fashion designer who can't stop getting robbed of her jewelry, Rigg fabulously sends up being a fashionista. She hates the (admittedly) awful designs she's creating, is hilariously mean to her models and, at one point, tosses off a line about exposition with enough diva attitude to almost fry Miss Piggy. Lady Holiday is the reason for the caper of the title, and though she's technically the victim of the crimes, she's too cool to be devastated for long. The film suffers a bit when she's not onscreen, which is kind of impressive when you consider Miss Piggy pays tribute to Esther Williams in this movie.
Of course, that wicked glee I mentioned can also be used in service to true wickedness. "I'm good at evil," Rigg said in a BBC interview about Lady Olenna Tyrell, her character on the HBO behemoth "Game of Thrones." In a show filled with deception, treachery and violence, her delectably cunning, blunt talking strategist stood out as a force to be reckoned with, earning her four Emmy nominations for her trouble.
And lest I forget, she married James Bond. Granted, it was not "that other fellow" George Lazenby casually mentions at the beginning of "On Her Majesty's Secret Service," but it's James Bond nonetheless. (And the film's very good.) As Teresa di Vicenzo, Rigg is not your typical "Bond girl" even though her character starts out that way. By the film's end, she's managed to get Britain's most dangerous spy-slash-man ho to not only fall for her, but to jump the broom with her as well. And we buy it completely, which makes her fate at the end of the film the most emotionally powerful moment in the entire Bond series.
Here's the one thing everybody knows: Diana Rigg was Emma Peel on the ITV espionage show, "The Avengers." As John Steed's second partner (his first, Honor Blackman, got promoted to a much bigger spy), Rigg immortalized the character with whom she will always be inextricably linked. Emma Peel was strong, powerful, funny, smart, every bit Steed's equal and she was drop dead gorgeous. As horny kids (who didn't really know what horny was yet), my male cousins and I tuned into repeats to see what outfits she had on, while my female cousins watched to see how much ass she got to kick. No matter the reason, we were all inspired. Along with Pam Grier, Emma Peel was our favorite fine female fighter, to the point where we were beyond disappointed when the episode was from before, or after, Rigg's time on the show. Emma Peel drove a badass car, beat the hell out of bad guys and appeared in an episode about "The Queen of Sin" that was too hot for the veddy proper British censors. Even her name was awesome—it sounded like "M. Appeal." I'll bet the M. stood for Mass.
Dame Diana Rigg left "The Avengers" to return to her first love, the theater, where she tackled Sondheim ("A Little Night Music", "Follies") and Euripides, whose "Medea" earned her the 1994 Tony Award for Best Actress in a Play. Her last appearance onstage was in 2018's revival of "My Fair Lady." She liked the role of Mrs. Higgins because it gave her "a lot of time to read." And perhaps plot the demise of a few critics in honor of Edward Lionheart. I joke about that, so that I can stave off my sadness for a moment. Rest in Peace, Mrs. Peel. You were needed.