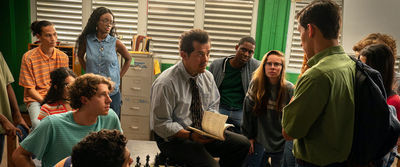 In the press materials for "Critical Thinking," producer Carla Berkowitz drops this line about her reaction to reading the true story that inspired the film: "The image and story was haunting and I felt like I had a quantum shift in my perception of chess and who plays it." The who in question are five Miami-area Black and Latino men who, along with their teacher, Mr. Martinez, brought back to their underprivileged Florida neighborhood the U.S. National Chess Championship. This happened in 1998. The film chronicles the loving camaraderie of the players and the events leading up to their victory.
In that same press release, acclaimed writer and actor John Leguizamo, who plays Martinez and also directs, states that he wanted to make this film because there were very few representations of Latin people on-screen when he was growing up. He also mentioned that the book The Bell Curve harmfully depicted people of color as being mentally inferior due to our genetics. I wondered if, like me, Leguizamo grew up in an environment where the Black and brown people he knew played chess, so that it wouldn't seem unusual nor an anomaly that they did. Because Berkowitz's statement really made me consider what exactly the standard issue chess player was supposed to look like.
Chess has appeared in a lot of movies, from Boaz Yakin's "Fresh" to Steven Zaillian's "Searching for Bobby Fisher" to 2016's superb Mira Nair film, "Queen of Katwe." I even remember it being prevalent in a crappy Gary Coleman TV movie about a smart Black kid. The game always carries the same symbolic qualifier: the person who plays it has a mental capacity for strategy and is intelligent. Chess is often employed to teach life lessons in these movies, to the point where it has become a cliché that just so happens to be used differently depending on who's playing it. This difference is something that I admit often sticks in my craw, so I found myself wrestling a bit with this movie even though it seemed to be addressing my concern.
Unlike Zaillian's film, which I guess answers my question of what a "standard issue" chess player is supposed to look like, the protagonists in the other films I've mentioned, and in "Critical Thinking," are people of color whose economical circumstances are far from ideal. This tends to be the model when minorities are seen playing chess in films, which bends the cinematic chess player cliché toward making the ability to play the game the audience's reason to offer empathy. Sure, they're broke, probably in crime-ridden areas and may even do a crime or two, but see, they're smart, so it's OK to feel for them! This line of thinking has to do with who stereotypically plays chess and who does not.
Leguizamo's Mr. Martinez speaks to this early in "Critical Thinking" by asking why chess is never associated with brown people despite a Latin man playing a major role in its evolution. "Why don't you think we know about him?" he asks the students in his critical thinking class before delivering a great, pointed monologue that speaks about how history is taught in schools. The script by Dito Montiel has some sharp commentary about the education system, from what gets funded to the over-reliance on test scores to the differences between Martinez's inner city school and the posh preppy institutions who fall victim to our heroes on the tournament circuit. There's a bit more bite than you may be expecting, and the writing is just prickly enough to balance out the moments when the film dives headfirst into its tropes. And there are numerous tropes to swim in; not only is this a sports movie, it's also an entry in the "Beloved Teacher" genre.
Our chess champion team is comprised of Sedrick Roundtree (Corwin C. Tuggles), Ito Paniagua (Jorge Lendeborg Jr.), Gil Luna (Will Hochman), Rodelay Medina (Angel Curiel) and later, Marcel Martinez (Jeffry Batista) who joins the team after dispensing a hustler's ass-whipping in a speed chess match. Their dialogue is peppered with the language the PG-13 won't allow but realism will. Martinez is often telling them "watch your mouth" in his class, even if, in his less guarded moments, he's prone to occasional profanity. Leguizamo gets good performances from each of them, especially in moments where you really feel the bond between teammates, both in the tournaments and in the streets. When they tell each other that they've got each other's backs, there's a real emotional pull that emanates straight from the actors.
Though this is an inspirational movie, Leguizamo and Montiel never sugarcoat the dangers of the environment their characters inhabit. The potential for violence, temporary homelessness, crime, and police harassment are always hovering in the margins, sometimes even invading the safe space of Martinez's class or the school. An early sequence that shockingly ends in violence shows how good Leguizamo is at quickly establishing the audience's tie to a character. When Rivera (Dre C) is thrown into critical thinking class after a disciplinary problem ("my class is not detention!" Martinez yells at frenemy Principal Kesler [Rachel Bay Jones]), he immediately runs afoul of Ito. Rivera's lack of response is due to Spanish being his primary language, which may also have something to do with the infraction that got him sent to this class. Martinez talks to him in Spanish, lectures Ito and all seems well.
Rivera is then brutally assassinated in broad daylight after accidentally bumping into another person on the street. The film is barely 15 minutes old when this happens, but it immediately establishes that "Critical Thinking" has no plans of abandoning reality for its feel-good message. That sense of realism extends to the way the characters bond with, rib, and defend each other. Additionally, Leguizamo plays Martinez as someone who understands the temptations and frustrations of his students' world. He challenges them to do for themselves because he knows all too well that the system has no intention of lending a helping hand.
Like Nair does in "Queen of Katwe," Leguizamo also blatantly refuses to impose on poverty any notions of shame or requests for pity. "Chess is the great equalizer," Martinez tells his team as they navigate snooty tournament heads and appearances against challengers from much posher 'hoods. Even when things get expectedly dire for some of the characters, "Critical Thinking" remains focused on the characters' response to the situation, never once stripping them of their dignity for cheap emotional manipulation.
Of all the team members, Sedrick has the most detailed arc. He has a girlfriend, Chanayah (Zora Casebere), who is supportive and tougher than she looks, and a father (Michael Kenneth Williams) whose sole job here is to fill that chess movie trope of the angry guy who uses chess as a means of brutal domination. Williams is an always welcome presence, but I could have done without him. Still, there is one very good moment where he shows some growth, and his son makes a snide comment that he silently acknowledges as being right.
The chess scenes are good even if you know nothing about chess. I've been playing since I was five, so of course I wanted more detailed representations than Leguizamo provides. I found his classroom lessons and the team's banter about moves fascinating, and every time I was given a good look at a chessboard, I got closer to the screen to investigate. And yet, despite its acknowledgement of my aforementioned issues, I still felt a little itchy watching "Critical Thinking." I am always game for a movie that makes me reckon with my personal feelings and biases, and I'm glad this one exists because representation will always speak volumes. If nothing else, "Critical Thinking" reminds you what a chess player can look like.