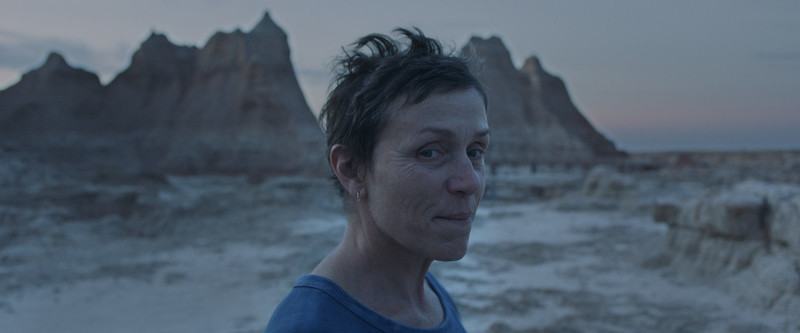 Matt writes: Despite the COVID-19 pandemic preventing our writers from attending the 2020 Toronto International Film Festival in person this year, our Managing Editor Brian Tallerico is still screening all of the highlights remotely. Keep your eyes peeled each day for his latest dispatches from the festival, which kicked off September 10th and runs through Sunday, September 20th. A few of the hotly anticipated titles he's reviewed thus far are Francis Lee's "Ammonite," starring Kate Winslet and Saoirse Ronan, Regina King's "One Night in Miami," starring Leslie Odom Jr., and Chloé Zhao's "Nomadland," starring Frances McDormand. Zhao will be this year's recipient of the TIFF Ebert Director Award during tonight's awards telecast airing at 7pm CT on CTV and everywhere CTV content can be found (you can read the full announcement here). Tallerico awarded "Nomadland" four stars, writing, "I love everything about it."
Trailers
Nomadland (2020). Written and directed by Chloé Zhao (based on the book by Jessica Bruder). Starring Frances McDormand, David Strathairn, Bob Wells. Synopsis: Follows a woman in her sixties who, after losing everything in the Great Recession, embarks on a journey through the American West, living as a van-dwelling modern-day nomad. Opens in the US on December 4th, 2020.

The Glorias (2020). Directed by Julie Taymor. Written by Julie Taymor and Sarah Ruhl (based on the book by Gloria Steinem). Starring Alicia Vikander, Julianne Moore, Janelle Monáe. Synopsis: The story of feminist icon Gloria Steinem's itinerant childhood's influence on her life as a writer, activist and organizer for women's rights worldwide. Debuts on Amazon Prime on September 30th, 2020.
I Am Greta (2020). Directed by Nathan Grossman. Synopsis: Documentary follows teenage climate activist Greta Thunberg on her international crusade to get people to listen to scientists about the world's environmental problems. Debuts on Hulu on November 13th, 2020.
2067 (2020). Written and directed by Seth Larney. Starring Kodi Smit-McPhee, Ryan Kwanten, Leeanna Walsman.Synopsis: One man's journey to the future to save a dying world. Debuts in the US on October 2nd, 2020.
Rebecca (2020). Directed by Ben Wheatley. Written by Jane Goldman, Joe Shrapnel and Anna Waterhouse (based on the novel by Daphne Du Maurier). Starring Lily James, Armie Hammer, Keeley Hawes. Synopsis: A young newlywed arrives at her husband's imposing family estate on a windswept English coast and finds herself battling the shadow of his first wife, Rebecca, whose legacy lives on in the house long after her death. Debuts on Netflix on October 21st, 2020.
Billie (2020). Directed by James Erskine. Synopsis: Documentary on the famed jazz singer, Billie Holiday. US release date is TBA.
Yellow Rose (2020). Directed by Diane Paragas. Written by Diane Paragas, Annie J. Howell and Celena Cipriaso. Starring Lea Salonga, Eva Noblezada, Gustavo Gomez. Synopsis: A Filipina teen from a small Texas town fights to pursue her dreams as a country music performer while having to decide between staying with her family or leaving the only home she has known. Debuts in the US on October 9th, 2020.
The Comeback Trail (2020). Directed by George Gallo. Written by George Gallo and Josh Posner. Starring Robert De Niro, Morgan Freeman, Tommy Lee Jones. Synopsis: Two movie producers who owe money to the mob set up their aging movie star for an insurance scam to try and save themselves. But they wind up getting more than they ever imagined. Debuts in the US on November 13th, 2020.
The Projectionist (2020). Directed by Abel Ferrara. Synopsis: The film director converses with the proprietor of a Cinema complex in Queens about the 1970s era of film making and exhibition in New York City, when things were edgier and sleazier than they are in today's cleaned up scene. US release date is TBA.
Sportin' Life (2020). Directed by Abel Ferrara. Synopsis: Filmmaker Abel Ferrara documents his experiences screening 'Siberia' at the Berlin Film Festival in 2020 before being forced in quarantine during the Coronavirus outbreak. US release date is TBA.
Truffle Hunters (2020). Directed by Michael Dweck and Gregory Kershaw. Synopsis: Deep in the forests of Piedmont, Italy, a handful of men, seventy or eighty years young, hunt for the rare and expensive white Alba truffle-which to date has resisted all of modern science's efforts at cultivation. Debuts in the US on December 25th, 2020.
Hubie Halloween (2020). Directed by Steven Brill. Written by Tim Herlihy and Adam Sandler. Starring Peyton List, Adam Sandler, Julie Bowen. Synopsis: Despite his devotion to his hometown of Salem, (and its Halloween celebration), Hubie Dubois is a figure of mockery for kids and adults alike. But this year, something is going bump in the night, and it's up to Hubie to save Halloween. Debuts on Netflix on October 7th, 2020.
Mandibles (2020). Written and directed by Quentin Dupieux. Starring Adèle Exarchopoulos, Dave Chapman, India Hair. Synopsis: Two simple-minded friends discover a giant fly in the trunk of a car and decide to domesticate it to earn money with it. US release date is TBA.

Freaky (2020). Directed by Christopher Landon. Written by Christopher Landon and Michael Kennedy. Starring Vince Vaughn, Kathryn Newton, Alan Ruck. Synopsis: After swapping bodies with a deranged serial killer, a young girl in high school discovers she has less than 24 hours before the change becomes permanent. Debuts in the US on November 13th, 2020.
Friendsgiving (2020). Written and directed by Nicol Paone. Starring Malin Akerman, Kat Dennings, Christine Taylor. Synopsis: Molly and Abbey, along with their crew of close friends and acquaintances, host a dysfunctional, comical and chaotic Thanksgiving dinner. Debuts in the US on October 23rd, 2020.
Charm City Kings (2020). Directed by Angel Manuel Soto. Written by Sherman Payne. Starring Teyonah Parris, Jahi Di'Allo Winston, Milan Ray. Synopsis: Fourteen-year-old Mouse desperately wants to join the Midnight Clique, an infamous group of Baltimore dirt-bike riders who rule the summertime streets. Debuts on HBO Max on October 8th, 2020.
Wireless (2020). Directed by Zach Wechter. Written by Zach Wechter and Jack Seidman. Starring Andie MacDowell, Tye Sheridan, Francesca Reale. Synopsis: A self-obsessed college student stranded in the Colorado mountains, whose only hope for survival is the tool he has spent his whole life learning to use: his smartphone. Now streaming on Quibi.
Dune (2020). Directed by Denis Villeneuve. Written by Denis Villeneuve, Eric Roth and Jon Spaihts (based on the novel by Frank Herbert). Starring Zendaya, Rebecca Ferguson, Timothée Chalamet. Synopsis: Feature adaptation of Frank Herbert's science fiction novel, about the son of a noble family entrusted with the protection of the most valuable asset and most vital element in the galaxy. Debuts in the US on December 18th, 2020.
"Mr. Soul!" in Virtual Cinemas
Matt writes: Melissa Haizlip's acclaimed documentary, "Mr. Soul!", which was executive produced by Chaz Ebert and received four stars from our critic Glenn Kenny, has been extended in virtual cinemas through Thursday, September 24th (read the full announcement here).
Matt writes: Our critic Odie Henderson recently penned a beautiful tribute to Diana Rigg, the brilliant and versatile star of "The Avengers" and "Game of Thrones," who passed away on September 10th at age 82. You can watch her conversation from last year with BBC2's Stephen Smith embedded above.
Free Movies
Sister My Sister (1994). Directed by Nancy Meckler. Written by Wendy Kesselman. Starring Julie Walters, Joely Richardson, Jodhi May. Synopsis: Two sisters separated in childhood reunite years later as servants at a household in France. Their happiness to be reunited spirals into an incestuous relationship.
The Acid House (1998). Directed by Paul McGuigan. Written by Irvine Welsh. Starring Stephen McCole, Maurice Roëves, Garry Sweeney. Synopsis: Three twisted tales of abuse, drugs, displaced personalities, and insect life by Scottish writer Irvine Welsh.
The Map of Sex and Love (2001). Written and directed by Evans Chan. Starring Victor Ma, Cherie Ho, Bernardo Chow. Synopsis: A filmmaker goes to Hong Kong with hopes of documenting the creation of a Disneyland there, but is distracted by the people he encounters