Short Films in Focus: Summer Hit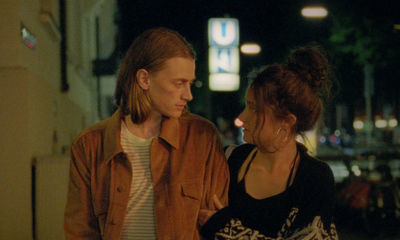 Berthold Wahjudi's intimate and humorous "Summer Hit" takes us back to a time when it wasn't unusual to come home to an apartment full of dudes, some of whom sleep on the floor at random times during the day while others get high in the kitchen. Only in your early-to-mid 20s is this socially acceptable. It is also that time in your life when you navigate serious relationships for the first time as an adult, thinking you know exactly what you're doing, when in reality you're just as clueless as when you were in high school.
The film follows the end of a summer fling between two college students, Emil (Atli Benedikt) and Laia (Martina Roura), who are from Iceland and Spain, respectively, and are spending the summer in Munich. They live separately and have had sex a few times. They seem to enjoy each other's company and both have agreed that this would be temporary and nothing serious. But one morning, Emil professes his love for Laia and, in a panic, she runs away and stops answering his texts, even though she left her wallet at his place. How long can this go on?
Wahjudi captures that feeling of a youthful romantic bond between two people who are trying to act like adults, but don't quite have the maturity necessary to take the relationship to the next level. Benedikt and Rourna have an easygoing charm and chemistry that makes you believe they have been together a while, even though they'll probably move on from each other and start new lives separately. But they'll always have Munich.
Interestingly, "Summer Hit" makes Munich look like a sun-drenched haven of romantic possibilities, something one probably doesn't always associate with that city. You sometimes forget they're not in Paris or Barcelona, as this movie conveys a feeling of a lighthearted, rom-com travelogue through those city streets. It's also a wise movie about how sex attaches people, quite incidentally, and also how it is used to solve all arguments, if only temporarily.
"Summer Hit" is a perfect short to watch in August, just as the summer starts to die down and, were it a more ideal world, we find ourselves struggling to return to our normal lives.
Q&A with writer/director Berthold Wahjudi
How did this come about?
"Summer Hit" is my second year film of my directing degree at the University of Television and Film Munich. We had a very limited budget so I wrote this script to fit the resources that were available to us as students. Plus, I always wanted to make a romantic-comedy. The genre has a really bad reputation, especially amongst art school students here in Germany. But I grew up watching loads of rom-coms and wanted to prove that you can bend its genre conventions to honestly portray our generations insecurities when it comes to matters of love and sex.
Laia and Emil seem to have a natural chemistry in their most intimate moments. Can you talk about how you worked with the cast and what the collaboration was like?
Casting was probably the most stressful aspect about putting this film together. We were dead set on finding actors from the characters' respective countries (Spain and Iceland) but did not have any money to go there and look for actors. Luckily, Berlin-based casting agent Liza Stutzky agreed to help us look online for young Scandinavian and Spanish actors. I conducted auditions and then rehearsals via Skype. We were incredibly lucky to find Martina Roura and Atli Benedikt. They were both first-timers but incredibly talented. Since we didn't have any money to put them up in a hotel, we all stayed in a flat together and rehearsed there for three days before the shoot. It was all very much like Laia's messy flat in the film but I believe it helped in creating a world which the actors could inhabit.
The flavor of this film reminds me of a kind of '60s-era, European film and I think the score has a lot to do with that. Can you tell me about some of your influences here?
We wanted this film to convey a sense of nostalgia, as though one was remembering a summer fling from long ago. We pursued a distinctly Nouvelle Vague flavour, which is why we decided to shoot on film. In terms of the score, we drew from the great European film composers like Georges Delerue, Nino Rota, and Martial Solal. I always wanted the score to be in stark contrast to the titular summer hit. Our composers Nils Wrasse and Florian Paul come from a jazz background. Being able to work with them and sit in on the recording sessions was one of the greatest pleasures in making this film. It was important to me, to tell a positive, almost aspirational European story at a time when issues like Brexit and right-wing populism dominate the news. There is so much to be gained from Europe's diversity and sometimes it's just nice to see Europe being fun.
The movie touches on the idea of songs that keep people together (even if they hate the song). At the risk of getting a little too personal, can you think of a song that takes you back to someone you once knew (or still know)?
I don't have a song, but a film: Wong Kar-Wai's "Chungking Express," which was introduced to me by the woman I love when we first started going out. This was in the early days of my filmmaking endeavors and this film has since grown into a beloved companion over the years.
What has the response to the film been like?
We have been very blessed with a long festival run, including the sadly cancelled SXSW 2020 and prizes at Palm Springs Shortfest and Premiers Plans in Angers amongst others. Wherever we travel with this film, I am always pleased to discover that people all over the world appear to enjoy a good fart joke.
What's next for you?
I am working on a concept for a TV show loosely based on this short, which is in development with a production company here in Germany. And I am currently finishing off a feature script which will hopefully turn into my thesis film if I can secure some additional funding.