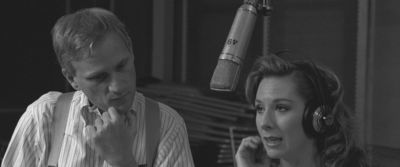 The night that writer/lyricist Howard Ashman and composer Alan Menken won their first Oscar, for "The Little Mermaid'"s reggae-inflected "Under the Sea," Ashman told his longtime writing partner there was something they had to talk about. Ashman had AIDS. He kept it a secret for as long as he could, and in "Howard," the new documentary about Ashman, we learn that some of the Disney animation team thought he was just being temperamental by insisting that they pack up all of their storyboards in Los Angeles and fly out to his home in upstate New York. He was sick. And soon everyone would know as he continued to work even in the hospital as he was dying.
"Howard" is more than a documentary about the lyricist/writer/producer of "The Little Mermaid," "Beauty and the Beast," "Aladdin," and "Little Shop of Horrors." It is a companion piece to "Waking Sleeping Beauty," also directed by Don Hahn, the documentary about the second wave of Disney animation blockbusters, after the disappointment of films like "The Black Cauldron" and "The Fox and the Hound." Hahn, who produced "Beauty and the Beast" and "The Lion King," is one of the Disney insiders who share their memories in the film, along with Ashman's friends and family. He wisely lets us see Ashman's lyrics on screen, the better to marvel at the intricacy of the interior rhymes and the witty vocabulary. Who else would have a song about Aladdin use the word "coterie"? But most of all, this film is a tribute to the imagination and dedication that goes into the innumerable tiny decisions that make the difference between the beautifully drawn but listless "Black Cauldron," and the timeless, heartwarming appeal of the Ashman-era films.
Ashman's sister, Sarah Gillespie, tells us she was his first audience. He turned his bedroom into an enchanted land, decorating his plastic cowboy and Indian figures with glitter and tissue paper costumes to bring her inside the story he wanted to tell. "He was using every creative part of himself to do that." His mother laughs remembering how he would use "every bedspread I ever had" to create his home theatrical productions. Ashman remembers immersing himself so completely in theater when he was a teenager that he would even "musicalize my laundry list."
He studied theater in college and graduate school, then moved to New York. Ashman and his then-boyfriend started their own theater in a tiny space above a donut shop. It was there that Ashman, who had thought of himself as a playwright, discovered that what he loved most was writing lyrics. No one thought that an obscure, darkly comic, low-budget horror film from Roger Corman could inspire an off-Broadway musical, but "Little Shop of Horrors" became a, well, monster hit, and then a popular film, which Roger Ebert praises in a clip from "At the Movies." Ashman and Menken gave it pop-style songs and a heightened, self-aware tone. As Ashman said, "the dark side of 'Grease.'" Corman wryly noted the appropriateness of the show's location: "It's perfect. You walk out of the theater and you're on Skid Row."
Ashman's next show seemed like it couldn't miss, with music by Marvin Hamlisch and a book based on the beauty pageant satire, "Smile." It flopped, just as then-Disney executive Jeffrey Katzenberg called to invite Ashman and Menken to California. And there, Ashman said, he discovered that feature-length animation was the closest there was to the kind of musical theater storytelling he loved.
Anyone who has seen "Waking Sleeping Beauty" has a sense of how much struggle went into bringing the magic back to Disney animation, and the best part of this film is the glimpse we get of the transformational ideas that Ashman brought through his deep understanding of musical theater, including importing Broadway actors who could sing (not, as one points out, singers who could act). "He literally taught us how to tell a story with songs," Hahn says. Ashman insisted Ariel needed an "I want" song, like Eliza Doolittle's "Loverly." This is how we learn who the character is and what her dreams are. But he still had to fight for "Part of His World," (sung by Jodi Benson, brought in from his cast of "Smile").
"Everybody would rather write for Captain Hook than Peter Pan," Ashman said. He loved writing for a sophisticated villain who could believably sing, a hyper-verbal song urging Ariel to agree to become mute: "And after all dear, what is idle prattle for?" "Poor Unfortunate Souls" served all three musical theater functions at once: character, comedy, and driving the plot forward.
The film lightly touches on the question of any political messages in the lyrics, especially the mob song in "Beauty and the Beast." It seems more likely that the closest Ashman got to a message was in the Oscar-winning love song, "Beauty and the Beast," perhaps a tribute to his long-time love, architect Bill Lauch. We also see the "show must go on" appearance at a 92nd Street Y event hours after learning of his AIDS diagnosis, a thoughtful conversation that gives no hint of the news he has received. And we hear about Ashman working from his hospital bed to finish a song just before he died.
In the first scene we watch Ashman give notes to Paige O'Hara in a recording session for the animated "Beauty and the Beast." I'm not sure anyone who is not a singer or a songwriter can even understand the subtle guidance he is giving her about the words "quiet" and "provincial." But she understands, and all of a sudden it becomes the song as we all know it, as it seems it has always been waiting to be sung. Later in the film we return to the recording sessions for a thrilling glimpse of "Be Our Guest," with Ashman working with Angela Lansbury and Jerry Orbach. These moments make it clear that the film is not just a love letter to Ashman's extraordinary talent, but to all those who will not give up until a story has all of their own imagination, heart, and empathy.
Now streaming on Disney+.