Haunted From All Sides: On the History Behind This Week's Lovecraft Country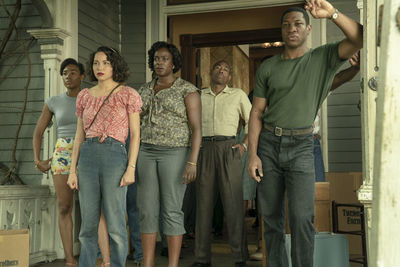 Haunted house films typically operate as endurance tests. Take John Hough's "The Legend of Hell House," which features mediums committing to investigate a legendary haunted manor and outlast its spirits. Or the first "Paranormal Activity," which showed a young couple weathering the ghosts that inhabit their newly moved-in house. While there's rarely any reason for why the tenants stay as long as they do, some films like "The Amityville Horror" or "The Conjuring" posit characters who have sunk every penny into their new residents and are therefore forced to stay. Seldom do two opposing forces—occurring outside and inside the home—haunt the characters. And rarely do these films feature African-American homeowners.
In fact, a running joke among African-American viewers when watching scary movies begins with, "If they had been Black … " When Black people are the homeowners, it's usually done as a spoof of their white counterparts. The Marlon Wayans comedy "A Haunted House" parodies movies like "Paranormal Activity." Though Wayans' character Malcolm partly stays in the house due to its bottom-market value, he also remains to protect his girlfriend Kisha (Essence Atkins), who the ghost is infatuated with. Other African-American haunted house stories like "Halloween Resurrection"—in which Sean Patrick Thomas and company stay in a possessed home as part of a game show—and "Saw 4" with Lyriq Bent employ a mixed-race cast rather than all-Black protagonists.
"Lovecraft Country" changes that with its third episode, "Holy Ghost." By combining Chicago's unsavory history of violent redlining with a haunted house construct, creator Misha Green retools the subgenre to examine the ghastly manifestation of racism.
Months after enduring sundown towns and white supremacist cults with Atticus (Jonathan Majors), Montrose (Michael K. Williams), and Uncle George (Courtney B. Vance), "Holy Ghost" finds Leti (Jurnee Smollett) back home in Chicago. Though she's a perpetual financial burden on her sister Ruby (Wunmi Mosaku), always borrowing money from her, Leti has come into some money and decides to buy a house for herself and her sister. Unfortunately, her purchase comes with a few problems: The victorian manor is dilapidated, haunted, and located in a white North Side neighborhood. Why is "haunted" listed before "white neighborhood"? Because the dangers posed by both are equal in measure.
The ghosts inhabiting the home are Hiram Winthrop and his Black victims. Hiram was a scientist who routinely ventured to the city's South Side to kidnap Black people for experimentation. Medical and scientific experimentation is unfortunately not a new phenomenon for Black people. Without her permission, scientists stole Henrietta Lacks' cells to use for drug trials while she battled for her life against cancer. Between 1932 and 1972, doctors purposely infected Black men with syphilis without their knowledge during Tuskegee Syphilis Study. And with regards to the kidnapping of African Americans, as ABC News reported as late as last year, "Despite making up only 13% of the total U.S. population, more than 30% of all missing persons were Black in 2018 … Only about one-fifth of these cases are covered by the news." Racism doesn't solely reside in the epitaph, or the single violent act, but the systematic belief of our expendability.
Like with other haunted house stories, Hiram's heinous murders trapped the spirits of his traumatized victims in the residence. At first—as is always the case in these works—Leti doesn't notice the specters around her. As she shows Ruby the house's elevator, Leti is nearly decapitated when the elevator mysteriously free falls. Later, while she sleeps, a Black woman with a mutilated face sits at the foot of her bed, while floating severed hands slowly pull her covers off. It's not until she visits the basement, and sees the restless spirits attempting to escape from a lower cellar, that she realizes it's haunted. But even with that knowledge, Leti isn't quite sure if the Black ghosts, or Hiram, who mean her harm.
Leti can't leave the property for financial reasons. To buy the home, she agreed to an "an installment contract." For decades, if Black people wanted to buy a home they had to agree to a high-interest loan and expect to pay 20-40 years worth of monthly payments. If they missed one installment, they were immediately evicted, and the pernicious real estate agent would play the same con on the next unsuspecting African American dreaming of buying a house. The tactic was just one of the tools used to profit off redlining. Chicago in particular relegated Black people to the South Side and elevated whites toward the North, and is still considered one of the most segregated cities in America.
White residents of segregated neighborhoods enforced redlining practices, too. At one point, Ruby warns Leti against moving to the North Side by alluding to the 1953-1954 Trumbull Park Homes. Taking place on the South Side—while the area is predominately Black, white pockets such as Bridgeport do exist—a riot occurred when a light-skinned Black woman moved into a white housing complex. The Trumbull riots weren't an isolated case. In 1951, in the Chicago suburb of Cicero, 4,000 whites attacked an apartment building housing one Black family. The rioting lasted for three days, and the Illinois National Guard was called in. Leti finds her own trouble when her white neighbors tie bricks to their steering wheels, so their car horns blare night and day. Soon they begin posting lawn signs reading: "We are a white community. Undesirables must go." Later, during a housewarming party, they erect a burning cross on her lawn.
The combination of the ghosts within the house, and the unrepentantly racist white neighbors across the street, makes the home haunted not just by what's lurking on the inside, but the outside. When Hiram's spirit viciously attacks Leti, Atticus, and the voodoo spiritualist trying to cleanse the manor—and when three white young men enter the house with baseball bats—we discover the Black ghosts aren't the ones to fear. Hiram is the true threat, as his wrathful spirit and grotesque experiments are the manifestations of the same hate felt by the area's residents against African-Americans. The Black spirits—one with a grown man's body and a baby's head—then purge the white intruders from the house. And later their bodies, reconstituted as their former selves, cast out Hiram through use of a prayer circle.
This ham-fisted ending, with the racists cast away by the healing power of magic, almost obscures the finer point. When Hiram's specter is no more, and the ghosts remain as protectorates of the house, this manor on Chicago's segregated North Side now turns into a beacon of safety for Black people from the area's prejudice surroundings. Once a trap set by an unscrupulous realtor supported by Chicago's extralegal housing practices, the home still resides with Leti. And it's not just some conjuring, but Leti's unrelenting ability to endure that saves the day. The weakness of a protagonist in a haunted house—the unwillingness to give up—becomes her greatest strength. Because to combat racism is to never leave the fight, no matter what frights await, inside or out.