Chadwick Boseman: 1976-2020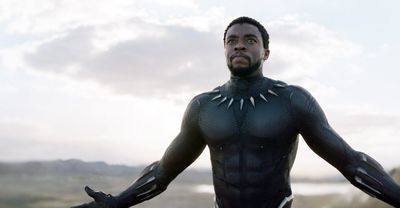 My writing partner in crime and fellow Ebert contributor Steven Boone and I used to joke about Chadwick Boseman's penchant for seemingly playing practically every famous Black person in history onscreen. We wrote about his work in "42" as Jackie Robinson, and as the fictional Marvel hero T'Challa in "Black Panther." In addition, Boseman also played James Brown and Thurgood Marshall, Black men so stylistically different that the chasm between their personalities seemed insurmountable for a mere mortal of an actor. "Eventually, he'll play my light-skinded ass," I joked. "And he'll be a better me." I was only kidding, but in hindsight, I realize I would have liked to see the attempt. Alas, I will not get the chance. Unbeknownst to the public world, Chadwick Boseman spent the last years of his life battling colon cancer while still appearing in films and giving his undisputed best to the efforts he presented onscreen. On August 28, 2020, the disease emerged victorious. He was 43 years old.
Since his appearance in "42" back in 2013, Chadwick Boseman achieved a mythical status, a shorthand that Spike Lee tapped into when he cast him as Stormin' Norman in his Vietnam-era action drama "Da 5 Bloods." Norman has a symbolic weight to carry in that film, and knowing what we know about Boseman's prior roles contributes greatly to the narrative without requiring further explanation: He played American heroes, Black bastions of glory who meant something. People who changed the world. In "Da 5 Bloods", he is an idolized figure, a teacher of Black history and the leader of his ragtag platoon. He is also a specter of guilt, an unflinching carrier of Black pride, a bearer of racial reparations and, ultimately, a beacon of forgiveness. This is a lot for one actor to play in a short period of time onscreen, but myth packs light and travels fast. When Lee holds on the image of Norman reaching out to fist bump his aggrieved company, Boseman effortlessly sells the legend with his powerful stillness.
To know that Boseman played this part while realizing his time was limited only makes it more poignant and iconic. He received his original diagnosis four years ago, which means that "Marshall", "21 Bridges" (which he also produced) and his appearances as T'Challa in the MCU were all executed with the unthinkable notion that time may be running out. With the exception of the biopic, these are films of intense action and derring-do, so one cannot fathom the fortitude Boseman held in his reserves while making them. When I made this connection, I immediately thought of the Howard Ashman documentary "Howard," where we see the acclaimed lyricist willing himself through agonizing circumstances, even on his deathbed, to ensure his legacy lives on. Like Ashman, Chadwick Boseman represented something much bigger than his work, that is, a sense of pride that reverberated through a marginalized community, inspiring its denizens to consider the viability of their potential greatness. That he managed to cement this artistic immortality is a bittersweet comfort that only slightly eases the sadness of his passing.
Cinematically, Brian Helgeland's "42" was where Boseman first stepped into big screen prominence. After years of tolling on TV and in a few smaller parts in films, the role of Jackie Robinson presented the actor with the same challenge that Will Smith faced in Michael Mann's "Ali": How do you play a legend who has already played himself in a biopic? (Robinson starred in 1950's far more sanitized "The Jackie Robinson Story.") Having the most prominent screen role thus far only added to the pressure to prove oneself.
Boseman succeeded by doing something he would continuously do throughout his short career. He embraced the myth of his characters while grounding them in complex, charitable performances. "42" is unabashedly, wonderfully corny in the way that good Hollywood products with staying power tend to be, but it's anchored by the love story between Boseman and Nichole Beharie as Jackie's wife, Rachel. The duo are so charismatically entwined that, in the film's tensest scene between Robinson and Alan Tudyk's Ben Chapman, the viewer believes that Rachel can telepathically send her strength from the stands to her agonized husband on the baseball diamond. It works because they make us believe so strongly in the mutual give-and-take of their bond.
Boseman's next target on the list of Black icons was James Brown, another person who had previously played himself on screen (and far better than Ali or Robinson, I may add). Nobody is James Brown but James Brown, but in "Get On Up," very little suspension of belief is required to buy into an incredible facsimile thereof. Boseman has clearly done his homework, and when director Tate Taylor gives us the rare moment where we can see all of his lead actor, there's a real charge of electricity in the mimicry of the dance moves. Boseman even masters the wild, manic energy that played across James Brown's face when he was in the throes of his raucous live concerts. This is a gigantic performance, the kind that threatens to eclipse everything else in it, and yet, it's the quiet moments, the ones where Brown is off-duty as the Godfather of Soul, where the performance really shines. Boseman also finds sneaky ways to let fellow performers like Jill Scott and the late Nelsan Ellis steal scenes from him.
Charitable though he may have been, he wasn't going to let you steal his movie. This is best evidenced in Brown's reunion with his mother. Mama Brown is played by the High Priestess of "I'ma Run Off With Your Movie," Viola Davis. Davis is halfway out the door with "Get On Up" in her back pocket before Boseman's gentle underplaying earns it back. It's a very wise choice; he may be Soul Brother No. 1 to the world at large, but in front of his Mama, he's just a son. Full disclosure (and my review on this very site) forces me to mention that I gave this film a negative review based on my intense aggravation with the director's tendency to whitewash Brown's legacy. But Chadwick Boseman's work won't let you forget Brown's unshakeable Blackness.
Staying on the list of real-life American heroes, Boseman tackled a young Thurgood Marshall in Reginald Hudlin's 2017 film "Marshall." Like "42", the film is intentional in its evocation of the old Hollywood studio film tropes, and not the Stanley Kramer-style ones you'd expect from "Important True Stories About Black People!" "Marshall" is oftentimes outrageous, proving that truth is stranger than fiction as its biggest surprises were not made up. And Boseman makes an interesting, daring choice in how he plays the lead of this origin story: His Thurgood Marshall is kind of a butt! In his review here, Matt Zoller Seitz nails my sentiment far more eloquently:
"It's more of a classic Hollywood alpha male badass performance, in the vein of Humphrey Bogart, Paul Newman, and other 20th century white superstars who reveled in playing sarcastic, sexy, domineering jerks, but were so exciting to watch—whether orating, listening, smoking a cigarette in a jazz club, or just wearing an impeccably tailored suit and walking from point A to point B—that you enjoyed them no matter what their characters did."
Coincidentally, Sidney Poitier also played Thurgood Marshall, older and wiser but no less charismatic, so Boseman's nod to Poitier's Studio System contemporaries—the ones who were allowed to be far looser and more fun than Poitier was ever allowed to be—is a nice touch here. If I ventured a guess, I'd say this is the most fun the actor has with his myth making.
Speaking of myth, this leads us to "Black Panther" and the appearances in the MCU by its lead, T'Challa, King of Wakanda. I flatly refuse to review Marvel or DC movies, so I am sure our beloved Brian Tallerico thought I'd lost my damn mind when I asked to do "Black Panther." For starters, I knew nothing about the character outside of his brief appearance in "Captain America: Civil War" back in 2016. But by this point, I not only was a huge fan of director Ryan Coogler, I was firmly on the Boseman bandwagon. Either this was going to be special, or we were never going to see another Black-themed superhero movie again.
Of course, "Black Panther" went on to make history, both at the box office and the Oscars. More importantly, Coogler bent the normally rigid boundaries of the MCU, recasting them in his own image by highlighting the important themes of Blackness and Black life that have permeated his work since "Fruitvale Station." The director brought along the DeNiro to his Scorsese, Michael B. Jordan, as a superb antagonist for his unforgettable hero. At the forefront was Boseman, better than he's ever been in a movie. T'Challa was such an inspiration there were grown-ass men crossing their arms and yelling "Wakanda Forever" like they'd reverted to the towel-as-cape playtimes of their childhood bedrooms. He was so big that his surprise appearances to greet fans were met with jaw-dropping responses of love and affection.
In "Black Panther," Chadwick Boseman more than held our gaze despite dealing with every possible thing designed to pull attention away, things like special effects, a damn fine villain performance and a losing battle with the Empress of "I'ma Run Off With Your Movie" Angela Bassett AND her hat. Boseman was regal, sexy, exciting, conflicted, angry, seductive, unafraid to cede the spotlight from all the women who acted and kicked ass alongside him.
And he was suffering from cancer.
Boseman's last role was in the upcoming adaptation of August Wilson's "Ma Rainey's Black Bottom," proving once again that he just couldn't stay away from American greatness and Black heroes. For now, however, I must with heavy heart say goodbye to Chadwick Boseman, Howard University alum, spectacular thrower of shade (see his response when "Green Book" won Best Picture), brilliant actor and forever king of a Black paradise so many of us wish existed. Back in his Howard days, Boseman received an all-expenses paid semester of theater classes at Oxford University. The trip was paid for by another actor of exceptionally high regard, Denzel Washington. So even before he was famous, Boseman managed to cross paths with legends. They've inspired him and benefitted him, and until his last day, he paid it all forward. Chadwick Boseman played heroes onscreen. He was the real deal off of it.
Rest in Peace, Our King.