As Delightful As It Is Insufferable: On the Complex Joy of Diva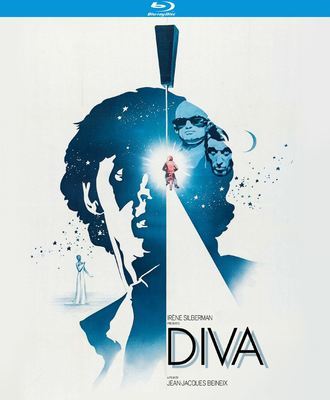 "Diva," one of the defining works of the French "Cinema du Look" movement, simultaneously is and isn't what it looks like. It's a lighthearted chase movie, adapted from Daniel "Delacorte" Odier's breezy novella. It's also a post-modern manifesto and warning from co-writer/director Jean-Jacques Beineix, making his directorial feature debut after working for nine years as an assistant director for renowned filmmakers like Claude Berri, René Clement, and Jerry Lewis.
A few American critics—including Vincent Canby, Roger Ebert, and Pauline Kael—hailed "Diva" upon its initial 1982 release for its stylish post-punk view of Paris. American literary critic Frederick Jameson also hailed "Diva" as one of the first really post-modern films, even though Beineix's movie, like the other defining Cinema du Look movies (by Luc Besson and Leos Carax), was a response to, and in some ways rejection of the style and ideals of the French New Wave.
"Diva" is both a lament and celebration of creative freedom, and the many ways that artists and their work are indistinguishable from the technology that they use. "Diva" is also about how art is inseparable from its creator's personal, and often ignoble motives. It's also a breezy thriller where several interested parties, including a French mail courier, an African-American soprano, and a pair of Taiwanese record executives, all chase after a bootleg recording of a relatively obscure opera aria.
If you're a movie buff of a certain age, you might remember "Diva" as an event, if not a milestone, of '80s arthouse cinema. You might also recall the movie's sketchy post-feminist politics, especially given Beineix's depiction of Alba, Vietnamese actress Thuy Ann Luu's defiantly sexual teenage shoplifter and amateur music lover. "Diva" is still ahead of its time; it's also reactionary, nostalgic, and a little unbearable.
I recently recorded an audio commentary for "Diva" (included in Kino Lorber's new Blu-ray, out this week), a process that made me feel closer to a movie that left a big impression on me when I was a teenage cinephile (ask me about my Criterion laserdisc). As usual, I made sure to do my research, which helped to open the movie up for me. There's some revealing interview footage with Beineix included, which I recommend if you're curious about his intentions and reading of the film.
There's also a lot of fascinating, nuanced writing about the movie going back to 1982, especially regarding the movie's depiction of Paris, opera, women, and technology. Phil Powrie's writing is worth seeking out, if only because he's Beineix's most devoted champion, as is writing on "Diva" by Veronica Geng, W.M. Hagen, and our site's much-missed founder. These writers—and others that I mention in my commentary—have compelling, thoughtful readings of "Diva", some of which forced me to adjust what I thought the movie was about, as well as why it works, and how it was previously received.
I tried to approach this commentary like a collage, throwing in excerpts and paraphrases from my reading in an attempt to show how "Diva" contains multitudes. I'm obviously fond of Beineix's movie, but I also tried to point out how hard it is to love parts of it, especially Luu's character, both in Odier's book and Beineix's adaptation. I also tried to present the movie as the work of an ingenious tyro who, despite some behind-the-scenes disagreements with producers Irene and Serge Silberman, fought to make a movie that essentially argues: pop art is art first, and then something to sell.
"Diva" is an idiosyncratic cri de cœur, one whose playful tone is matched by Beineix's sometimes overwhelming precision as a story-teller and image-maker. "Diva" is also pretty weird given some of Beineix's creative choices: casting newcomers, like Wilhelmenia Fernandez, Frédéric Andréi, and a young Dominique Pinon, and pitting them against beloved leading man Jacques Fabbri, playing against type as a corrupt police commissioner; focusing on and fetishizing an aria from a Catalani opera that's so rarely performed that it couldn't possibly overcome its general obscurity; and pinning everything to a light, farce-like plot that revolves around double-crosses, reversals of fortune, and other beach-read-friendly twists.
In "Diva," a 1954 Citroën 11 Normale is a work of art, recorded music is a copy that's indistinguishable from the original, and sex is an implicitly commodified form of personal expression. "Diva" is, in that sense, an appropriately overwhelming expression of Beineix's obsessive will, but it also wouldn't be what it is without Philippe Rousselot's gorgeous cinematography, Hilton McConnico's evocative production design, Vladimir Cosma's Satie-like theme, and Fernandez's stage presence, to say nothing of her fellow cast members' charming performances.
"Diva" is a tough movie to embrace, but it helps to look at it as an open canvas, especially given the movie's fixation with geographic, and very literal space as an expression of who controls what we see, and how we look at things. I'm obviously painting with broad strokes here because I hope you check out my commentary, which I'm proud of. I also don't want to be a killjoy, and trample all over a brittle, unique film like "Diva", a movie that still means a lot to many cinephiles.
I just want to add that "Diva" is a movie about self-fashioning, and art as a product of a specific time and place. It's a prickly, sometimes confounding collection of stuff as disparate as then-contemporary video games and 19th century opera, Gauguin paintings and buttered baguettes, the Louvre and the Paris metro. It can be as simple as it looks, or as complicated as all that sounds. "Diva" is pretty special in that way, a time capsule that's still as delightful as it is insufferable. I love it, it's ridiculous, why aren't we watching it right now?