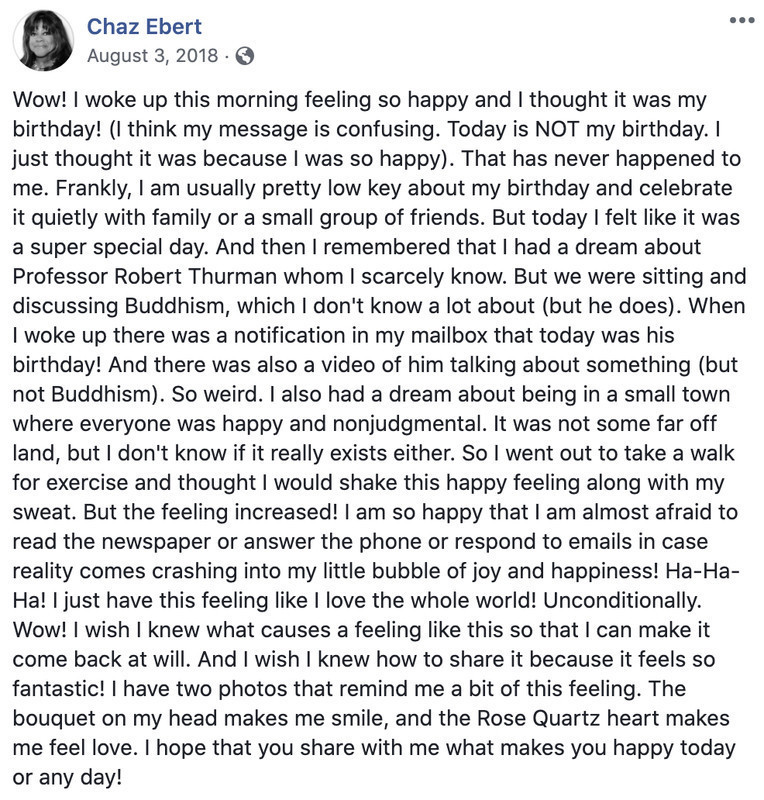 Matt writes: Earlier this month, Chaz Ebert invited readers to share about their own "Happy Place," which can be any form of escape from our current quarantine. In her initial Happy Place column, Chaz asked readers to write about "a movie, TV show, book, play or song; or even a recipe, remembrance, person, dream or life's experience that takes you to your Happy Place." Responses can be as short as a brief sentence, and we encourage you to email them to editor@ebertdigital.com. You can find the first few submissions Chaz received in her second Happy Place column. Below, you'll find the Facebook post that Chaz shared while describing her own Happy Place, along the paragraph she wrote about it…
"The second event that took me to my #HappyPlace was a reminder from a friend of what happened to me in August of 2018. I had a dream that it was my birthday and that I woke up so happy. In the dream I was having tea with the Buddhist Scholar, Professor Robert A.F. Thurman. We were sitting at a table discussing Buddhism. After our talk, I went to a small town nearby and as I walked among the people I became aware that I could read their thoughts or feel their emotions. I noticed that there was no judgment, only feelings of kindness and compassion. It was extraordinary. When I wrote about my dream I got messages on social media that it was Professor Thurman's birthday! And then he wrote to me that he had a dream the same night that he was having tea at a table with a goddess deity. Still generates endorphins when I think about it."
Trailers
I'm thinking of ending things (2020). Written and directed by Charlie Kaufman (based on the book by Iain Reid). Starring Jessie Buckley, Jesse Plemons, Toni Collette. Synopsis: Full of misgivings, a young woman travels with her new boyfriend to his parents' secluded farm. Upon arriving, she comes to question everything she thought she knew about him, and herself. Debuts on Netflix on September 4th, 2020.

The Garden Left Behind (2020). Directed by Flavio Alves. Written by Flavio Alves and John Rotondo. Starring Michael Madsen, Edward Asner, Carlie Guevara. Synopsis: A young Mexican trans woman and her grandmother navigate life as undocumented immigrants in New York City. US release date is TBA.
Judas and the Black Messiah (2021). Directed by Shaka King. Written by Shaka King and Will Berson. Starring Daniel Kaluuya, LaKeith Stanfield, Dominique Fishback. Synopsis: The story of Fred Hampton, Chairman of the Illinois Black Panther Party, and his fateful betrayal by FBI informant William O'Neal. US release date is TBA.
Bad Hair (2020). Written and directed by Justin Simien. Starring Zaria Kelley, Corinne Massiah, Elle Lorraine. Synopsis: In 1989 an ambitious young woman gets a weave in order to succeed in the image-obsessed world of music television. However, her flourishing career may come at a great cost when she realizes that her new hair may have a mind of its own. Debuts in the US on October 23rd, 2020.
The Way I See It (2020). Directed by Dawn Porter. Synopsis: Former Chief Official White House Photographer Pete Souza's journey as a person with top secret clearance and total access to the President. US release date is TBA.
Robin's Wish (2020). Directed by Tylor Norwood. Synopsis: The story of what really happened to one of the greatest entertainers of all time – and what his mind was fighting. Debuts in the US on September 1st, 2020.
The Devil All the Time (2020). Directed by Antonio Campos. Written by Antonio Campos and Paulo Campos (based on the novel by Donald Ray Pollock). Starring Robert Pattinson, Tom Holland, Sebastian Stan. Synopsis: Sinister characters converge around a young man devoted to protecting those he loves in a postwar backwoods town teeming with corruption and brutality. Debuts on Netflix on September 16th, 2020.
Unpregnant (2020). Directed by Rachel Lee Goldenberg. Written by Jenni Hendriks, Ted Caplan, Rachel Lee Goldenberg, Bill Parker and Jennifer Kaytin Robinson. Starring Haley Lu Richardson, Giancarlo Esposito, Mary McCormack. Synopsis: This is with a 17-year old Missouri teen named Veronica discovering she has gotten pregnant, a development that threatens to end her dreams of matriculating at an Ivy League college, and the career that will follow. Debuts on HBO Max on September 10th, 2020.
The Mole Agent (2020). Directed by Maite Alberdi. Synopsis: A private investigator in Chile hires someone to work as mole at a retirement home where a client of his suspects the caretakers of elder abuse. US release date is TBA.
Critical Thinking (2020). Directed by John Leguizamo. Written by Dito Montiel. Starring John Leguizamo, Rachel Bay Jones, Michael Kenneth Williams. Synopsis: The true story of the Miami Jackson High School chess team which was the first inner city team to win the U.S. National Chess Championship. Debuts in the US on September 4th, 2020.
The War With Grandpa (2020). Directed by Tim Hill. Written by Tom J. Astle and Matt Ember (based on the book by Robert Kimmel Smith). Starring Robert De Niro, Uma Thurman, Christopher Walken. Synopsis: Upset that he has to share the room he loves with his grandfather, Peter decides to declare war in an attempt to get it back. Debuts in the US on October 9th, 2020.
Scare Me (2020). Written and directed by Josh Ruben. Starring Aya Cash, Rebecca Drysdale, Chris Redd. Synopsis: During a power outage, two strangers tell scary stories. The more Fred and Fanny commit to their tales, the more the stories come to life in their Catskills cabin. The horrors of reality manifest when Fred confronts his ultimate fear. US release date is TBA.
Alone (2020). Directed by John Hyams. Written by Mattias Olsson. Starring Jules Willcox, Marc Menchaca, Anthony Heald. Synopsis: A recently widowed traveler is kidnapped by a cold blooded killer, only to escape into the wilderness where she is forced to battle against the elements as her pursuer closes in on her. Debuts in the US on September 18th, 2020.

The Owners (2020). Directed by Julius Berg. Written by Julius Berg and Mathieu Gompel. Starring Maisie Williams, Sylvester McCoy, Rita Tushingham. Synopsis: A group of friends think they find an easy score at an empty house with a safe full of cash. But when the owners, an elderly couple, come home early, the tables are suddenly turned. Debuts in the US on September 4th, 2020.
Magic Camp (2020). Directed by Mark Waters. Written by Micah Fitzerman-Blue, Noah Harpster, Matt Spicer, Max Winkler, Dan Gregor and Doug Mand. Starring Adam Devine, Jeffrey Tambor, Gillian Jacobs. Synopsis: Andy, at the urging of his former mentor and Magic Camp owner Roy Preston, returns as a counselor to the camp of his youth hoping to reignite his career. Now streaming on Disney+.
All Together Now (2020). Directed by Brett Haley. Written by Brett Haley, Marc Basch and Matthew Quick. Starring Auli'i Cravalho, Justina Machado, Judy Reyes. Synopsis: An optimistic high schooler with musical aspirations must learn to accept help from her friends to overcome her personal hardships and fulfill her dreams. Debuts on Netflix on August 28th, 2020.
You Cannot Kill David Arquette (2020). Directed by David Darg and Price James. Synopsis: Actor David Arquette attempts a rocky return to the sport that stalled his promising Hollywood career. Debuts in the US on August 28th, 2020.
Mulan (2020). Directed by Niki Caro. Written by Rick Jaffa, Amanda Silver, Elizabeth Martin and Lauren Hynek. Starring Yifei Liu, Donnie Yen, Li Gong. Synopsis: A young Chinese maiden disguises herself as a male warrior in order to save her father. Debuts on Disney+ (for a fee) on September 4th, 2020.
Chloé Zhao To Win TIFF Ebert Tribute Award
Matt writes: Chloé Zhao, the acclaimed filmmaker of 2017's Cannes prize-winner, "The Rider," will become this year's recipient of the TIFF Ebert Director Award during a televised presentation of the 2020 Toronto International Film Festival's Tribute Awards on Tuesday, September 15th. Read Chaz Ebert's full announcement here as well as Godfrey Cheshire's four-star review of "The Rider" here.
New Dates for Ebertfest 2021
Matt writes: The newly revised dates for our next installment of Ebertfest are September 8-11, 2021. You can find our official announcement here, which is accompanied by various nostalgic snapshots of past years at the festival.
Free Movies
The Nature of the Beast (1988). Directed by Franco Rosso. Written by Janni Howker. Starring Lynton Dearden, Paul Simpson, Tony Melody. Synopsis: A boy reads about the attacks of a unknown animal on livestock in the town. He plans to run his own investigation. The so called beast however is also used as a metaphor for every day problems the townsfolk face.
Nothing Personal (1995). Directed by Thaddeus O'Sullivan. Written by Daniel Mornin. Starring Ian Hart, John Lynch, Michael Gambon. Synopsis: A raw depiction of the Belfast, Northern Ireland "troubles" as savage tribal warfare. Set shortly after the 1975 cease fire, this movie focuses on the tribulations of Kenny, Protestant leader of a group of Shankill Road Loyalists, and his one-time friend Liam, a Catholic.
Late Night Shopping (2001). Directed by Saul Metzstein. Written by Jack Lothian. Starring Luke de Woolfson, James Lance, Kate Ashfield. Synopsis: Four young friends have tedious night jobs and meet every night after work in a café. Sean hasn't met his girlfriend in three weeks, Vincent flirts with everybody, Lenny is too afraid to ask a girl at work on a date and Jody can't admit that she shows up at the café every night, although she was fired some time ago.