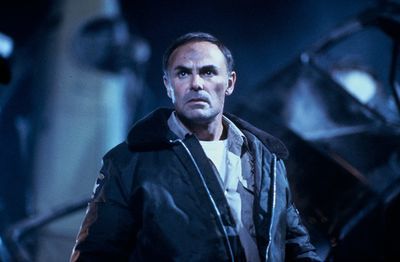 They killed John Saxon again?
That was my first thought upon learning that Saxon (birth name: Carmine Orrico) died from pneumonia over the weekend in his Murfreesboro, Tennessee home. You might remember Saxon, a Stella Adler-trained character actor, from "Enter the Dragon." Saxon plays Roper, a cocky American gambler and martial artist, opposite Bruce Lee and Jim Kelly. Or maybe you know John Saxon as Donald Thompson in "A Nightmare on Elm Street," one of a handful of moody cops that Saxon played over the course of his 50+ year-long film career. Saxon's character was part of the suburban posse that originally killed Freddy Krueger. Robert Englund's undead villain returned the favor in "A Nightmare on Elm Street 3: Dream Warriors," but Saxon came back anyway in "Wes Craven's New Nightmare," playing himself.
Saxon was a fixture of beloved genre films and TV shows, some more memorable than others: he's Anthony Franciosa's murderous literary agent in "Tenebre"; the frustrated cop who tries to protect Margot Kidder from a deranged killer in "Black Christmas"; the dependable physician/love interest who stands by Letícia Román in "The Girl Who Knew Too Much"; and so much more. Saxon had a bounce in his step, chest hair to match his caterpillar eyebrows, and a mischievous quirk in his smile that made him stand out in an estimated 200+ roles. In real life, he knew judo and tai chi. He also had great teeth. No, seriously: John Saxon's gone.
Saxon was born in Brooklyn on August 5th, 1935, the son of the Calabria-born Antonio and Anna Orrico. He caught an early break as a male model ("Modern Romance, all the Macfadden publications"), and, at the age of 17, was discovered by Hollywood agent Henry Willson, who also helped to launch the careers of Rock Hudson and Tab Hunter. Willson noticed Saxon on the cover of a detective magazine, where Saxon posed as "a Puerto Rican guy" who gets shot and falls over a garbage can while his girlfriend looks on, aghast.
Saxon would go on to play a few more ethnically ambiguous tough guys, like in "The Appaloosa," a 1966 western where Saxon, as Mexican horse thief Chuy Medina, defeats Marlon Brando in a high-stakes arm-wrestling contest involving poisonous scorpions and glistening brows. Saxon was nominated for a Golden Globe for "Best Supporting Actor" that year; he had previously won the "Best New Star of the Year" award in 1958. Other recipients of that award include: Paul Newman (1957, for "The Silver Chalice"); James Garner (1958, "Sayonara"); Brad Dourif (1976, "One Flew Over the Cuckoo's Nest"); Arnold Schwarzenegger (1977, "Stay Hungry"); James Earl Jones (1971, "The Great White Hope"); and Ben Kingsley (1983, "Gandhi").
Then again, Saxon's career was not the kind whose successes could be tracked using awards or marquee-topping work, but rather sheer endurance. At 17, he changed his name (inspired by the Brooklyn roller hockey team "The Saxons"), and moved to Hollywood. He took acting classes while under contract at Universal, where he was paid $150 per week for 40 weeks per year. He played angry young men in the 1955 juvie delinquent drama "Running Wild" as well as the 1956 B-noir "The Unguarded Moment," where he, a creepy football player, peeps on Esther Williams, and then tries to murder her. "The Unguarded Moment" was sadly not a hit. Saxon went on to woo and/or menace several other starlets, including Sandra Dee ("The Reluctant Debutante"), Debbie Reynolds ("This Happy Feeling"), and Fay Wray ("Rock, Pretty Baby" and its sequel, "Summer Love").
On screen Saxon broke hearts, but in real life, he didn't leave much of an impression on the weekend box office reports. His contract at Universal wasn't renewed, so he spent the 1960s playing cops, heavies, and killers in dozens of B-movies. Movies with titles like "Posse from Hell," "Blood Beast from Outer Space," "The Ravagers," and "Queen of Blood." Saxon was also a regular TV guest star; he played Marco Polo in an episode of "The Time Tunnel," a reckless young star with daddy issues in "Dr. Kildare," and a mercenary gunfighter named Screamer in "Cimarron Strip." A job was a job, and Saxon always showed up to work.
In real life, Saxon practiced karate for about a decade until the late '60s, a skill which would later get him noticed by Bruce Lee (more details in Bruce Lee Lives' terrific interview with Saxon). On screen, Saxon's performance in "Enter the Dragon" made him a face to remember, though that project wasn't an easy sell for Saxon. "Any decent stuntman could play the part [as it was originally written]," Saxon noted years later, at a standing room only screening of "Enter the Dragon" at Graumann's Egyptian Theatre. Then again, hindsight is 20/20, and, at the time, Lee's star was still rising. Saxon's agent supposedly described "Enter the Dragon" as a star vehicle for some "cockamamie Chinese guy," so why not fly out and get paid: "It's in Hong Kong—nobody will ever see it."
Saxon showed up, and, with the help of tai chi instructor James Woo Wing, helped to plan the only scene in the film that wasn't choreographed by Lee, the one where Roper brawls with a couple of debt-collecting heavies on a golf course. Saxon also suggested that Roper "take some 'lumps'" during his pre-tournament fight, in order to inflate the betting odds against his character. Saxon, from Bruce Lee Lives: "I prevailed to the extent that the beating Roper took was long enough for it to be the only humorous scene in the movie." Saxon's wife Gloria Martel, years later in the Spring Hill Home Page: "I think they missed out putting him in more films with humor."
Indeed, while "Enter the Dragon" provided a big boost to Saxon's career, his ensuing roles were never intentionally funny. He had five separate parts to play in "Gunsmoke," with names like Dingo and Gristy Calhoun, and two different roles in as many episodes of "The Six Million Dollar Man," including a two-part, Bigfoot-centric crossover with "The Bionic Woman." Saxon was a great villain, though technically not a successful one: he shot back at "A Special Cop in Milan" and "The .44 Specialist," sieg-hieled at Lynda Carter's "Wonder Woman," and was the prime suspect in an especially racy/grubby episode of "Quincy M.E." He fought "The Bees," and tried to drive pro-racer William Smith to an early grave in "Fast Company," an early (and understandably unsung) David Cronenberg programmer. Saxon also stole scenes in bigger stars' vehicles, like "The Electric Horseman," featuring Robert Redford and Jane Fonda, and "Shalimar," co-starring Rex Harrison and Bollywood's self-described "He-Man," Dharmendra. Saxon also took on Joe Don Baker in "Mitchell," as "Mystery Science Theater 3000" fans remember. On "MST3K," Saxon's character dies in a scene that was cut for time. "Wasn't John Saxon in this movie?" Tom Servo wonders aloud.
But for many movie lovers, Saxon will always be Roper from "Enter the Dragon," including Luz Leguizamo, who named her son John after Saxon (from my interview with John Leguizamo: "She liked that dark, brooding type"). He was handsome and muscular, though sometimes his physique was more hindrance than help, according to Gloria Martel: "John worked out all the time and some producers thought he was too big." Saxon played up his sex appeal in a few daytime soaps throughout the '80s and '90s, including recurring roles on "Dynasty," "Another World," and "Melrose Place."
Saxon always stood out in a crowd—a Variety review of "Enter the Dragon" noted that Saxon is "surprisingly adept in his action scenes"—so it's not surprising that his career lasted long enough to earn him recognition. He formally retired in 2015, and moved to a Brentwood retirement home one year later. His neighbors celebrated him with a five-day John Saxon film festival in 2017, including "The Unguarded Moment," "Portrait in Black," and "Enter the Dragon," of course. In recent years, Saxon always spoke about Lee reverently, and with his characteristically well-oiled diction, for which he took lessons. He sometimes recalled a dream he had ("And I'm a big believer in dreams"):
I dreamt I was in a dark parking lot, just one light, walking to my car. As I took out my keys, a guy jumped out and pointed a gun at my head and said: 'Give me all your money or I'll kill you right here—hey, you're John Saxon! What was it like working with Bruce Lee?'
Saxon is survived by his wife Gloria, his son Antonio, and his daughter Dolores. He'll be missed.