Home Entertainment Guide: July 23, 2020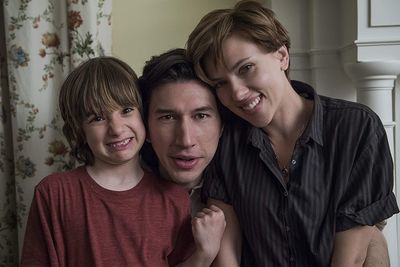 5 NEW TO NETFLIX
"Funan"
"How Do You Know"
"The Lorax"
"The Notebook"
"Pride & Prejudice"
6 NEW TO BLU-RAY/DVD
"Bacurau"
Kleber Mendonça Filho's latest has been a surprisingly resilient film, premiering over a year ago at Cannes 2019, getting renewed buzz after being well-received at the fall festivals like TIFF, and then being released virtually early in 2020. When the midpoint of the year arrived and people were naming the best films of this strange year at halftime, this one popped up on a lot of lists. It feels like a genuine word of mouth hit, the kind of thing that more and more people are finding every day, typically via recommendation from a friend or someone on social media. Now it's finally on Blu-ray and you have no more excuses. This daring, John Carpenter-esque genre hybrid is unforgettable, unlike anything else you could watch this weekend. And then tell your friends.
Special Features
Bacurau on the Map
Kleber Mendonca Filho, Juliano Dornelles and Sonia Braga in conversation
Booklet Essay by film critic Fabio Andrade
Theatrical trailer
New interview with Kleber Mendonca Filho and Juliano Dornelles
Mens sana in corpore sano (2011)
Audio commentary by co-director and co-writer Kleber Mendonca Filho
"Clueless: 25th Anniversary Edition"
It's hard to believe that it's been a quarter-century since Amy Heckerling's brilliant adaptation of Jane Austen's Emma, the movie that turned Alicia Silverstone and Paul Rudd into stars. Unlike a lot of movies of its era, it's stood the test of time strongly enough to justify two 25th anniversary editions, a standard and a steelbook collector's edition. Neither include anything new in the special features department other than a digital copy, but the film itself is worth revisiting if you haven't seen it recently. It's still razor sharp and playful in ways that not a lot of comedies about teenagers are allowed to be.
Special Features
Clue or False Trivia Game
The Class of '95 – A Look at the Cast, Then and Now
Creative Writing with Writer/Director Amy Heckerling
Fashion 101
Language Arts
Suck 'N' Blow – A Tutorial
We're History – Stories from the Cast and Crew
Trailers
"The Lady Eve" (Criterion)
The chemistry between Barbara Stanwyck and Henry Fonda is electric in this story of a woman who plots to swindle a naive heir but ends up falling for him, before having to then swindle him again. Of course, bring a Preston Sturges movie, it's just brilliant in terms of dialogue and plotting. Fonda and Stanwyck are simply perfect here, particularly in an early scene in which she flirts with him after a scare involving his pet snake (yes, an actual snake). It's a funny, sexy scene, and one of Sturges' best. Criterion had released this on DVD before but have given it more than just an HD upgrade for its move to Blu-ray, providing new special features this time, including a new essay and a new conversation with Sturges' biographer, James L. Brooks, Leonard Maltin, Kenneth Turan, Peter Bogdanovich, and more. Everyone loves Preston Sturges for a reason.
Special Features
New 4K digital restoration, with uncompressed monaural soundtrack on the Blu-ray
Audio commentary from 2001 featuring film professor Marian Keane
Introduction from 2001 by filmmaker Peter Bogdanovich
New conversation among writer-director Preston Sturges's biographer and son Tom Sturges; Bogdanovich; filmmakers James L. Brooks and Ron Shelton; film historian Susan King; and critics Leonard Maltin and Kenneth Turan
New video essay by film critic David Cairns
Costume designs by Edith Head
Lux Radio Theatre adaptation of the film from 1942 featuring Barbara Stanwyck and Ray Milland
Audio recording of "Up the Amazon," a song from an unproduced stage musical based on the film
English subtitles for the deaf and hard of hearing
PLUS: An essay by critic Geoffrey O'Brien and a 1946 profile of Preston Sturges from LIFE magazine
"Marriage Story" (Criterion)
The existence of Netflix films on Criterion Blu-ray has remained a controversy, with some suggesting that the company should use their clout on smaller and international films instead of what could be called the blockbusters of the streaming world. However, I find the collaboration encouraging for the future of physical media. Anyone who loves Noah Baumbach's Best Picture nominee can just watch the film whenever they want on Netflix, but collectors and those who really adore the film can now own it for themselves, and dig into lengthy special features about the making of the movie. I wish there was a commentary track but the many interviews on the release offer everything that would probably be contained in one. I'm curious to see if Netflix ever offers alternate cuts or even deleted scenes—actual film footage that isn't on the streaming service—and just to see how this partnership plays out, especially with the changing market in 2020.
Special Features
New 4K digital transfer, supervised by director Noah Baumbach, with 5.1 surround DTS-HD Master Audio soundtrack on the Blu-ray
New interview with Baumbach
The Players, a new program featuring interviews with actors Scarlett Johansson, Adam Driver, Laura Dern, Alan Alda, Julie Hagerty, and Ray Liotta
The Filmmakers, a new program about the production of the film, featuring interviews with Baumbach, editor Jennifer Lame, production designer Jade Healy, costume designer Mark Bridges, and producer David Heyman
The Making of "Marriage Story," a new program featuring behind-the-scenes footage
New interviews with composer Randy Newman and Baumbach about the film's score
New program featuring Baumbach walking the viewer through a key location from the film
Trailers
English subtitles for the deaf and hard of hearing
PLUS: Notes on the film by novelist Linn Ullmann
"Taste of Cherry" (Criterion)
Abbas Kiarostami's 1998 drama remains one of Roger Ebert's most controversial reviews, but it's one of the reasons I love even when I disagree with Roger. In his one-star review, Roger opens with an anecdote from Cannes about arguing about the film with Jonathan Rosenbaum and Dave Kehr, who think the movie is a masterpiece. He opens by making it clear that not everyone feels the same way about this movie as he does, and then goes on to make his case that Kiarostami's work is a "lifeless drone." Clearly, Criterion disagrees (and I do too), restoring the movie with a new transfer and including a new interview with an Iranian scholar about the movie, as well as an entire Kiarostami short called "Project," which was a sketch for this completed work. Even in his pan, Roger admitted that just making this film took "courage." See if you agree with him or Mr. Rosenbaum as to whether or not that courage was misplaced.
Special Features
New 4K digital restoration, with uncompressed monaural soundtrack
Project, Abbas Kiarostami's 39-minute 1997 sketch film for Taste of Cherry, made with the director's son Bahman Kiarostami
New interview with Iranian film scholar Hamid Naficy
Rare 1997 interview with Abbas Kiarostami, conducted by Iranian film scholar Jamsheed Akrami
Trailer
New English subtitle translation
PLUS: An essay by critic A. S. Hamrah
Diao Yinan's latest is a color-soaked neo-noir thriller about a gang war that turns one of the main players, Zenong Zhou (Hu Ge), and a stranger (Gwei Lun Mei) into a couple on the run. After a territory fight explodes into bloodshed and the death of a couple of police officers, Zenong sends for his wife, who he hasn't seen in five years. Through a complex series of betrayals, he ends up with a different woman, someone looking for safety of her own. It's a stylish, tense crime movie that deserves to find a bigger audience on Blu-ray and streaming services.
Special Features
Diao Yinan Behind-the-Scenes Featurette
Interview with stars Hu Ge and Gwei Lun Mei
Bonus Short Film — The Goddess