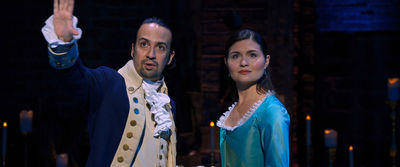 Just in time for the Fourth of July, Disney+ is doing a solid for anyone who couldn't get a ticket to the Broadway sensation known as "Hamilton." All 160 minutes of it, including a very brief intermission and some minor censoring of language, will be streaming on the service starting July 3rd. Shot over two nights in 2016 with most of the original cast, including all its Tony winners, this is more than just a filmed performance. Great care has gone into making this as cinematic as possible. The camerawork, editing and direction also bring the one thing you couldn't get at the Richard Rogers Theatre: a closeness that allows you to see the emotions (and the sweat) on the performers' faces. Director Thomas Kail (who also helmed the stage production) uses his close-ups judiciously, but manages to keep this level of intimacy even when we're able to see the entire stage and all its performers.
With its PG-13 rating, this is the most adult movie to appear behind the Walt Disney castle logo. It's certainly raunchy in ways Uncle Walt wouldn't have approved, most notably in depicting the adulterous events that led to the Reynolds pamphlet, a Sidney Sheldon-worthy tell-all published by its protagonist, Alexander Hamilton (Lin-Manuel Miranda). "Well, he never gonna be President now," sings Thomas Jefferson (Tony winner Daveed Diggs), a conceit that seems particularly quaint and hilarious when you consider who was elected to that office the year "Hamilton" won 11 Tonys and the Pulitzer Prize.
In fact, the timing of this release continues to put the musical in conversation with current events, specifically the recent spate of stories of people of color being delegitimized in, or completely left out of, boardrooms, writers' rooms and other places where decisions were made. When Aaron Burr (Tony winner Leslie Odom, Jr.) sings about wanting to be in the "room where it happens," the lyrics are accompanied by the deliberately loaded image of a Black man singing them. "Hamilton"'s casting of mostly Black, Latinx and Asian performers to portray real-life people we knew were White (and, lest we forget, slaveowners) is questionable only if one doesn't consider that a major theme of Miranda's book is not only who gets to tell this American story, but also that the subjects themselves don't really have any control over the storyteller. With the past few weeks filled with White voiceover artists voluntarily stepping aside to let Black artists voice their Black characters, I'm sure this casting conceit will be litigated once again in the whataboutism court of public opinion.
But I digress.
Since the "Hamilton" soundtrack has been on the charts since its release, a lot of viewers will finally have a visual context for the lyrics they know by heart. Starting with the opening number, "Alexander Hamilton," Miranda crams an ungodly amount of exposition and history into his lyrics, often using rap as a means to his end. Odom's Burr, the self-proclaimed "damn fool that shot" Hamilton and the cast detail the early years of our hero, tracing him from the Caribbean to New York City. It's our first look at Paul Tazewell's costume design and Howell Binkley's lighting, both of which will be showcased by cinematographer Declan Quinn and Kail's superb framing. We're also introduced to the main actors' voices, each distinct and wonderful in their own right. This opening, and other detail-filled songs, are to millennials what "Schoolhouse Rock" was to my generation, though ABC would have found this too dangerous to spring on us kids.
The greatness of Miranda's songs lies in the diversity of their musical styles and the choices he makes for each number. Since almost every word in the musical is sung, it's a lot of fun discovering what combination of rap, r&b, gospel and power ballad he'll employ. He gives the one truly old-school Broadway show tune, the catchy yet terrifying "You'll Be Back" to King George III (a deliciously snarky Jonathan Groff), as if symbolizing the difference between the old country and the scruffy colonists who are rebelling against it. Miranda effortlessly changes gears when he wants to reach for the larger emotional moments that resonate all the way to the back of the theater, most notably in the songs of the Schuyler sisters, Angelique (Tony winner Renée Elise Goldsberry), who pines for Hamilton and Eliza (Phillipa Soo), who marries him.
Again, the intimacy of Kail's camera works wonders here. The emotions on the actors' faces as they sing are so lovingly embraced, especially when they're pouring out their hearts. He captures the paternal love in Burr's eyes when he sings to the daughter he hopes to live long enough to see grow old. We're close enough to see Eliza's mind working as she wonders if she can compete with her husband's ambitions of not throwing away his shot. Angelique practically vibrates with love and protection for her younger sister. And every beautiful smirk of Diggs' face is captured, whether he's Lafayette in the first act or Thomas Jefferson in the second. As the latter, Diggs wears a purple outfit that looks lifted from one of Prince's Paisley Park walk-in closets.
As Hamilton, Miranda is excellent, giving himself a line about immigrants that's bound to stick in the craw of some people. He's in a carefully calibrated co-lead with the spectacular Odom. Burr wins the duel here, but Miranda is the show's MVP and its creative genius. The one place where "Hamilton" falters slightly—and I had this problem on Broadway as well—is in its depiction of George Washington. Christopher Jackson is wonderful in the role (my God, this man can sing) but while everyone else gets dinged enough to balance their legends with their humanity, Washington kind of gets a pass. He's seen reverentially, which works quite well with Jackson's larger-than-life portrayal, but whereas everyone else breaks free from the bland lessons I got in history class, Washington feels like he's still trapped in my textbook.
The viewer is always aware that this is a live production filmed with an enthusiastic audience. There's applause after every number, and in wide shots that capture the turntable portions of the set, we can occasionally see the audience and the orchestra pit. This adds a welcome "you are there" feeling to the proceedings. It's said that live theater is like catching lightning in a bottle in that every night is different and can never be repeated. It's nice to have a bit of that lightning at your disposal courtesy of this movie.
Even nicer is how the representation provided by the actors of color forces the viewer to consider what might have happened if people who looked like the performers were actually allowed to take part in crafting the American ideals and the laws of this then-burgeoning nation. Our ancestors built this country, and their descendants are still begging for equality, still fighting to be in the room where it happens. No matter how entertaining this iteration of "Hamilton" is—and it's massively entertaining—these ideas are always lurking nearby, demanding consideration.