Ennio Morricone: 1928-2020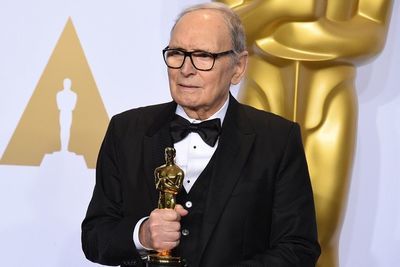 "I'm convinced my music is not just for films; it has its own life. It can live far away from the images of the movie."
Any Monday morning would be brightened by the accompaniment of the iconic music of Ennio Morricone, but today it is played in remembrance. The great composer has died in Rome at the age of 91 from injuries sustained after a fall. Born in the city in 1928, Morricone composed music for many mediums, but his most famous works were for film, particularly his scores for the spaghetti westerns of Sergio Leone that successfully merged rock sensibilities with his favored avant-garde experimentation.
Morricone studied at Accademia Nazionale di Santa Cecilia in the 1940s, taking a particular liking to the trumpet, which he would play in the avant-garde collective Gruppo di Improvvisazione Nuova Consonanza in the '50s. His attention then turned to other mediums, initially collaborating on music for radio before going on to write songs for vocalists such as Paul Anka and Helen Merrill. From there his journey to film music was inevitable, and he scored his first picture in 1961, the war thriller "The Fascist".
Ennio Morricone would go on to compose the scores for over five hundred films and television series, working with celebrated filmmakers such as Brian De Palma ("The Untouchables"), Terrence Malick ("Days of Heaven"), Samuel Fuller ("White Dog"), John Carpenter ("The Thing"), and of course, Quentin Tarantino, who had used Morricone's scores as needle drops in his films before helping the composer win his only competitive Oscar in 2016 with "The Hateful Eight". Morricone was also known for his scores in the Italian Giallo subgenre, working with directors such as Dario Argento, Lucio Fulci, and Paolo Cavara on films like "The Bird With the Crystal Plumage," "A Lizard in a Woman's Skin," and "Black Belly of the Tarantula," and also had a successful relationship with Giuseppe Tornatore, beginning with the wonderful "Cinema Paradiso" in 1988. Morricone would go on to score all of Tornatore's pictures, finishing with "The Correspondence" in 2016.
The spaghetti western turned out to be the perfect canvas for the composer to explore the relationship between music and sound effects. His first western score came in 1963, with the Albert Band picture "Gunfight at Red Sands," but it was the following year that saw him make his mark with his first collaboration with Sergio Leone, "A Fistful of Dollars". Credited as Dan Savio, Morricone was originally asked to come up with something inspired by Dimitri Tiomkin's score to "Rio Bravo," but what the composer created was a fusion of traditional instruments, guitar, a cracking whip, chanting, and a melody whistled by musician Alessandro Alessandroni, who himself became a celebrated film composer.
Morricone would score the next two installments of the "Dollars" trilogy, 1965's "For A Few Dollars More" and 1966's "The Good, the Bad and the Ugly," with the latter defining the composer's career – its main theme quickly became pop culture shorthand for any kind of standoff while its bizarre vocal intonations still feel fresh today. The score is still a huge influence. For decades, California metal band Metallica have opened their live shows with the cue "The Ecstasy of Gold," and as such you can often hear their fans loudly singing what might possibly be il Maestro's greatest composition, reverberating around the arena. Morricone also collaborated with other directors in the genre, such as Sergio Sollima (1966's "The Big Gundown") and Sergio Corbucci (1968's "The Great Silence"), as well as scoring two other westerns for Leone – "Once Upon A Time in the West" and "A Fistful of Dynamite" – as well as his 1984 gangster epic "Once Upon A Time in America".
Morricone was fiercely protective of his music and had recently won a long-standing legal battle that saw him reclaim the rights to several of his scores. Across his career, he won a cavalcade of awards. A lifetime achievement Oscar was awarded in 2007, and he also received several Golden Globes, Grammies, BAFTAs, Silver Ribbons, a Golden Lion, and a star on the Hollywood Walk of Fame. His soundtrack records have sold countless millions, and in 2017 he became a Knight of the Grand Cross of the Order of Merit of the Italian Republic.
He is survived by his wife Maria, whom he married in 1956, and their four children Marco, Alessandra, Giovanni, and Andrea, who himself is a composer and collaborated with his father on "Cinema Paradiso".
It's still hard to find the words to describe such a magnificent career. However, when words are scarce, his music certainly speaks for him. Perhaps a line from "Cinema Paradiso" best describes Ennio Morricone's philosophy and career, something that always shined through the composer's music, wherever it came from.
"Whatever you end up doing, love it."