Denise Ho: Becoming the Song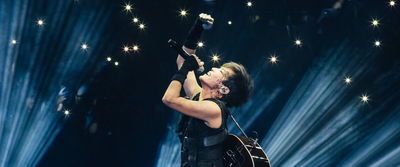 "In the name of democracy, let us all unite!"—Charlie Chaplin in "The Great Dictator"
It was eighty years ago that the Jewish barber in Chaplin's scathing masterpiece delivered his prophetic monologue revolting against the intolerance of dictators, and his words are no less timely today. As China's new national security law threatens to weaken support for Hong Kong's pro-democracy protestors, whose funding has been frozen by the Trump Administration, it's easy to become overwhelmed with discouragement. July 1st marks the 23rd anniversary of Britain's 1997 handover of Hong Kong to China, in which the region's inhabitants were promised that they would have the freedom to govern themselves, a commitment that Beijing's central government clearly had no intention to keep.
I can't imagine a better day for Sue Williams' documentary "Denise Ho: Becoming the Song" to be released in virtual cinemas, since its titular subject's songs serve as soul-shaking epiphanies that transcend all cultural barriers with their messages of empowerment and resilience. I went into the film knowing nothing about the Cantopop star, and came away from it as an instant fan rejuvenated by my connection to every soul throughout the world currently fighting to preserve human rights against the rising tide of totalitarianism.
Back in 2017, I reviewed Joe Piscatella's enlightening Netflix documentary "Joshua: Teenager vs. Superpower," which profiled another hero of Hong Kong's pro-democracy movement, student activist Joshua Wong. During his teenage years, he led successful efforts to halt a National Education plan fraught with patriotic propaganda from having mandatory implementation in Hong Kong schools. Wong turns up around the midpoint of Williams' film, just as Ho begins her final steps toward shedding the persona that initially brought her fame. After spending a decade feeling beholden to Anita Mui, the late Cantopop diva who served as her hero and mentor, Ho garnered the courage to express her own individuality, becoming Hong Kong's first celebrity to publicly acknowledge her lesbianism.
Though she had previously deemed her revolutionary posturing at concerts as a form of role play, Ho eventually joined the peaceful protestors occupying the region's central business district, hence "becoming the song." It was her 2014 on-camera arrest for her participation in the Umbrella Movement—where protestors formed a colorful canopy of resistance shielding them from the police's pepper spray—that resulted in her being banned from China. Global brands that cut ties with Ho, in a cowardly move to appease authoritarian overlords, included L'Oréal, affirming the cosmetic company's stance that democracy isn't "worth it" after all. Bookending the picture are last year's demonstrations that overturned an extradition bill, which would've given China the ability to deport virtually anyone they deemed a threat to the mainland.
Part of the reason why Williams' film hit me harder than Piscatella's film did is the fact that its footage of police brutality against protestors is practically indiscernible from what we've recently seen occurring throughout America in recent weeks. The cold hand of oppression has repeatedly beaten down unarmed and elderly citizens, leaving them to bleed on the streets. The end goal of Hong Kong's pro-democracy protests suddenly seems not all that different from the desire of the Black Lives Matter movement to hold America accountable for the promises it has never fulfilled. These movements are, to quote one of Ho's uplifting tunes, "taking different paths" while "speaking the same language."
Whereas Wong remained largely enigmatic in his own documentary, Williams provides us with a vivid sense of what makes Ho tick, exploring how her schooling in Montreal caused her to value individuality. She becomes so tearful while attempting to perform a song named after the Canadian town that she finds herself unable to continue, prompting an audience member to quip, "Try Toronto!" Ho's independent spirit was present from the beginning, as evidenced by her refusal to conform to the demands of record companies capable of launching her career a few years earlier, following her triumph in a 1996 singing contest. We even see Mui tell a visibly uncomfortable Ho that she must wear dresses during a television interview, an instruction that the disciple would heed for years, much to her chagrin.
Williams does a fine job of juxtaposing Ho's evolution with a history lesson on Hong Kong, though there are occasions where its series of title cards can veer close to a PowerPoint presentation. 1984's Sino-British Joint Declaration that upheld the "one country, two systems" principle, assuring Hong Kong that it would be granted autonomy following the Handover, was swiftly undermined by the massacre of pro-democracy protestors by police just five years later in Tiananmen Square. The government's blocking of a legislative law against LGBTQ+ discrimination is ultimately what inspired Ho to come out of the closet, lending new meaning to her first single "Thousands More of Me," an ode to the brave multitudes whom she stands with in solidarity.
The film's exhilarating highpoint is unquestionably the sequence centering on Ho's return to the Hong Kong Coliseum in the fall of 2016, where she performed a four-day concert entitled, "Dear Friend," her last major stadium event permitted in the region. Over three hundred businesses stepped up to sponsor the crowdfunded labor of love, and their spirit is felt in the song Ho belts about the region's everyday heroes, some of whom we glimpse in an accompanying montage. Lyrics for each of Ho's numbers materialize in a cursive font placed in various corners of the screen that enable the viewer to fully appreciate the singer's performance, as well as the layered meaning within her poetry. Williams wisely lingers on Ho's face as the crowds' rapturous response to her song causes her to become doubled over with emotion. In an insightful interview excerpt, Ho observes that the cheering audience is actually applauding the hidden person within themselves that they see reflected within her artistry.
Solidarity among the people is precisely what oppressive governments fear, whether it be in China or here in America. Our president's defunding of COVID-19 testing sites and stigmatizing of those citizens who choose to wear masks is merely his latest attempt to divide a populace that obviously has a shared interest in survival. The triumph of Williams' film is in how it illustrates that the fight for democracy unfolding around the world is one and the same. Unity can be achieved when we find ourselves reflected in someone else's song, and Ho's indelible music could very well be the definitive anthem of our collective struggle.