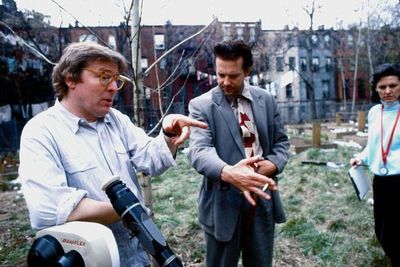 When looking at the filmography of Alan Parker, the celebrated British director who passed away today at 76, the word "eclectic" seems inadequate. Films as different as "Bugsy Malone" (1976), "Midnight Express" (1978), "Fame" (1980), "Pink Floyd: The Wall" (1982), "Angel Heart" (1987), "Mississippi Burning" (1988), "The Commitments" (1991) and "Evita" (1996) hardly seem to belong together in the same IMDb listing. But they were all made by a filmmaker who approached each project with passion, excitement and commitment.
Born in Islington, England on February 14, 1944, Alan Parker claimed to have had no particular interest in the cinema when he was growing up. At 18, he went to work in the advertising industry as an office boy and later graduated to copywriter. At the Collett Dickenson Pearce firm, he would meet two men who would go on to have important roles in his career, future film producers David Puttnam and Alan Marshall. Parker eventually began directing commercials as well and joined forces with Marshall to form their own ad company. With Puttnam's encouragement, Parker wrote the screenplay for "Melody" (1971), a romantic comedy told entirely from the perspective of schoolchildren. From there, Parker directed a couple of films for British television, the second of which, "The Evacuees" (1975), won the BAFTA for best Television Drama and the Emmy for International Drama.
He made his big screen directorial debut with one of the oddest films of the '70s, "Bugsy Malone," a spoof of '30s-era American gangster dramas and musicals in which all of the characters were portrayed by children and the machine guns shot wads of whipped cream at their victims. At a time when the phrase "family film" meant Disney vehicles involving place-kicking mules, shaggy district attorneys, and the continuing adventures of Herbie the Love Bug, Parker's ambition was to create a film that kids would enjoy as a big silly goof and their parents, who might have actually seen the movies it was spoofing, would get a kick out of as well. Parker fully commits to the strange concept without ever winking to the audience. That, a spirited performance by Jodie Foster (the same year as "Taxi Driver") and an infectious song score by Paul Williams kept it from degenerating into ghastly kitsch. Although it sank quickly at the American box-office, it was a hit in England and marked Parker as a director to watch.
For his next effort, Parker went in a completely different direction with "Midnight Express," the true story of Billy Hayes (Brad Davis), an American student who was arrested for trying to smuggle hashish out of Turkey and thrown into a violent prison where he endured torture before finally managing to escape. Although the film earned much praise at the time of its release—Oliver Stone would go on to win his first Oscar for writing the screenplay—it also received a lot of criticism for its deviations from Hayes's actual story as well as its depiction of Turks as degenerate monsters. Seen today, those flaws are even more pronounced, and there are times when it is almost too offensive to be believed. And yet Parker tells the story with undeniable skill and power, aided in no small part by the famous throbbing synthesizer score by Giorgio Moroder. The film was a box-office hit and got six Oscar nominations, including Best Picture and Parker's first nod for Best Director.
From there, he went on to make "Fame," a sort-of musical that followed the lives of a number of students at New York City's High School of Performing Arts over the course of one school year. Although it did delve into melodrama at times, the film as a whole was a high-spirited work brimming with energy and excitement and a spontaneous feel that made one feel as if they were watching a documentary involving real students of the school. Once again, the result was a hit, one that would go on to inspire a long-running TV spinoff and a much-less-effective 2009 remake.
1982 would see the release of two of the very best films of his entire career. First up was "Shoot the Moon," a harrowing story of the family strife that develops as a Northern California couple (Albert Finney and Diane Keaton) find their long marriage deteriorating into affairs, separation and divorce as their four children bear witness. Unlike similar films such "Kramer vs Kramer" (1979) and "Ordinary People" (1980), this was a story of a family under emotional siege in which the events had the messy feel of real life and never felt like screenplay contrivances. Parker showed he was capable of capturing the rhythms of ordinary life in a knowing and touching manner, and got stunning performances from the entire cast as well. (If Keaton's performance is not the single best of her entire career, it comes very close to that.)
His other film that year was "Pink Floyd—The Wall," a project that he originally was only going to produce and wound up taking over when the original director left the project. The battles that developed between Parker, Roger Waters and animator Gerard Scarfe over the course of the film's tumultuous production have been well-documented elsewhere. The result was a masterpiece, a one-of-a-kind exercise in sensory overload that is as bleak and despairing as any movie musical ever made, but also filled with memorable images that demand to be seen on the biggest screen imaginable, with the sound cranked up.
For his next two projects, Parker adapted a couple of novels, though once again, they could not have been more dissimilar in story or tone. "Birdy" (1984) was based on the 1978 William Wharton novel about the long-running friendship between two teenaged boys, one, Al (Nicolas Cage) brimming with self-confidence and the other, Birdy (Matthew Modine), shy, withdrawn, obsessed with birds and convinced he can fly. Wharton's narrative was not particularly cinematic—most of the story was anchored in the mind of Birdy, whose emotional traumas have left him mute—but Parker wisely put the focus on the strong performances by Cage and Modine. The film is a stirring experience that, while a commercial flop, is worthy of rediscovery.
"Angel Heart," by comparison, was a looney and lurid '50s-set horror/noir hybrid in which a New York detective (Mickey Rourke at his grubbiest) is hired by a mysterious man (Robert De Niro, doing a wicked parody of Martin Scorsese) to track down a man named Johnny Favorite. The investigation takes him down to New Orleans and involves him in a series of bloody killings before arriving at one of the silliest conclusions you will ever see. Before that finale, however, the film is a brilliant exercise in pure style. Although there was much controversy at the time of its release thanks to a bloody sex scene involving Lisa Bonet, then at the height of her stardom on "The Cosby Show," the film was not a hit, though it would soon become a cult classic.
Parker's next two films dealt with shameful examples of 20th century American history. First up was "Mississippi Burning," a loose interpretation of the investigation of the murders of civil rights activists James Chaney, Andrew Goodman and Michael Schwerner in Mississippi in 1964, in which the case in investigated and cracked by a couple of visiting FBI agents, a good-ol-boy type played by Gene Hackman and a by-the-book type played by Willem Dafoe. Although the performances by Hackman and Frances McDormand, as the terrified wife of a local Klan member, are good, they cannot overcome the grotesque and at time obscene distortion of the historical record presented here. (Coretta Scott King, NAACP executive director Benjamin Hooks and the relatives of Chaney, Goodman and Schwerner all protested the film.) Inevitably, it was a hit and earned seven Oscar nominations, including nods for Hackman, McDormand and Parker. By comparison, his next film, "Come See the Paradise" (1990), was a braver and less garish historical drama, showing how Japanese-Americans were treated in the United States in the wake of Pearl Harbor as they were stripped of civil liberties and placed in internment camps.
The next year saw the arrival of "The Commitments," the most joyful film of Parker's career. An adaptation of Roddy Doyle's novel about a group of young working-class Irish youth who come together to form a soul band, the film is a hymn to the power of music and a celebration of the people who make it. The ease with which Parker achieves the comedic beats is impressive, especially considering that his previous efforts were not always famous for their humor, and the performances from the cast of then-unknowns (including such future stars as Maria Doyle, Bronagh Gallagher, Glen Hansard and Andrea Corr) are fun and engaging. "The Road to Wellville" (1994), on the other hand, was a weird mess based on T. Coraghessan Boyle's novel about a group of people (including Matthew Broderick, John Cusack and Bridget Fonda) visiting a sanitarium run by health food fanatic and cereal magnate Dr. John Harvey Kellogg (Anthony Hopkins).
Parker's last great film was "Evita" (1996), his screen adaptation of the hugely popular Tim Rice-Andrew Lloyd Webber musical inspired by the life of Eva Peron. Although he was one of the few A-list filmmakers with live-action musical experience and his cinematic style seemed perfectly in tune with the admittedly bombastic nature of the material, he only wound up getting hired for the long-gestating project after Oliver Stone left it. (Parker had been asked about doing "Evita" back in 1980 but did not want to do another musical right after "Fame.") The end result was a genuine screen spectacle, handsomely mounted, staged with great energy, and anchored by charismatic performances by Madonna as Eva (arguably her best screen performance to date and one of the few where her rock star charisma suits the role), Antonio Banderas as Che and Jonathan Pryce, who quietly steals scenes as a surprisingly sympathetic Juan Peron. Although dismissed by many as little more than an extended music video, this was a classy and stylish work that goes for a sense of epic grandeur throughout. and for the most part achieves it.
"Angela's Ashes" (1999) was an eagerly awaited adaptation of Frank McCourt's best-selling memoir about the hardship that he and his family endured when they were forced to move from their new home in American back to Limerick, Ireland. The result was not a bad film—it is handsomely mounted (perhaps too much so, considering the subject) and has good performances from Joe Breen as the young version of Frank and Emily Watson as his long-suffering mother—just a curiously inert one, capturing little of the humor that McCourt deployed on the page that kept hist story from being too grim to bear.
If "Angela's Ashes" was a failure, at least it was an honorable failure, which is more than can be said for what would unfortunately prove to be his last film, "The Life of David Gale" (2003), a mystifying, convoluted and tasteless film in which Kevin Spacey plays an anti-capital punishment activist sentenced to death for killing a fellow activist (Laura Linney), opposite Kate Winslet as a reporter investigating the case as the execution date approaches.
Parker's career may have had an unfortunate conclusion, but that does not in any way diminish the career that preceded it. Decades from now, moviegoers will still be cheerfully perplexed by the existence of "Bugsy Malone," devastated by the emotional truths at the heart of "Shoot the Moon" and overwhelmed by the excesses of "The Wall." His best work brims with an energy that can still be felt today. He proved it was possible to make films that were both deeply felt and commercially successful.