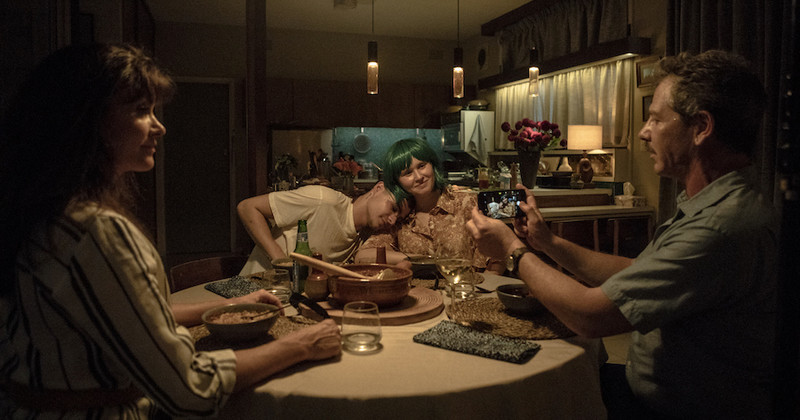 Matt writes: Carl Reiner, the towering comedic genius responsible for creating "The Dick Van Dyke Show," died last week at the age of 98. He remained uproarious and brilliant to the very end, and there's no question that his work will keep us entertained for the next 2000 years. Two days before his passing, he tweeted, "Nothing pleases me more than knowing that I have lived the best life possible by having met & marrying the gifted Estelle (Stella) Lebost—who partnered with me in bringing Rob, Annie & Lucas Reiner into this needy & evolving world." Be sure to read Nell Minow's tribute to Reiner as well as Donald Liebenson's recent interview with the television icon. Below is an excerpt from Roger Ebert's glowing review of Reiner's warmhearted 1977 film, "Oh, God!"…
"Carl Reiner's credits as a director include the immortal 'Where's Poppa?' (1970), a masterpiece of comic bad taste. So there was reason to anticipate a showdown again this time between the sacred and the profane. As an idea, indeed, 'Oh, God!' must have seemed almost impossibly supplied with ways to go wrong. But it doesn't. Reiner is superb at establishing the right tone for this very difficult material, and the casting of George Burns as God is an inspiration. 'I took this form,' God explains, 'because if I showed myself to you as I am, you wouldn't be able to comprehend me.' He chose his form well. God, as Burns, recalls some of his miracles (the 1969 Mets), some of his mistakes (tobacco, giraffes, and avocados — 'I made the seeds too big'), and some common misconceptions about himself ('To tell you the truth, I spent the first five days thinking and created everything on the sixth'). And he has such quiet authority, such wonderfully understated humor, such presence. John Denver, too, is well-cast: Sincere, believable, with that face so open and goofy. They work with Reiner, and with Larry Gelbart's screenplay, to create a movie that takes a really risky comic gamble, and wins."
Trailers
Respect (2020). Directed by Liesl Tommy. Written by Tracey Scott Wilson. Starring Jennifer Hudson, Forest Whitaker, Audra McDonald. Synopsis: The life story of legendary R&B singer, Aretha Franklin. Debuts in the US on December 25th, 2020.

An American Pickle (2020). Directed by Brandon Trost. Written by Simon Rich. Starring Sarah Snook, Seth Rogen, Sean Whalen. Synopsis: An immigrant worker at a pickle factory is accidentally preserved for 100 years and wakes up in modern day Brooklyn. Debuts on HBO Max on August 6th, 2020.
Bloody Nose, Empty Pockets (2020). Directed by Bill Ross IV and Turner Ross. Synopsis: A look at the final moments of a Las Vegas dive bar called 'The Roaring 20s'. Debuts online on July 10th, 2020.
Boys State (2020). Directed by Amanda McBaine and Jesse Moss. Synopsis: A thousand 17-year-old boys from Texas join together to build a representative government from the ground up. Debuts in the US on July 31st, 2020.
Mortal (2020). Directed by André Øvredal. Written by André Øvredal, Geoff Bussetil and Norman Lesperance. Starring Nat Wolff, Priyanka Bose, Iben Akerlie. Synopsis: Fantasy adventure origin story about a young man discovering he has God-like powers based on ancient Norwegian mythology. US release date is TBA.
Just Noise (2020). Directed by Davide Ferrario. Written by Jean Pierre Magro. Starring Harvey Keitel, Malcolm McDowell, Tom Prior. Synopsis: A chronicle of how the citizens of Malta fought for independence from Britain in 1919. US release date is TBA.
Father Soldier Son (2020). Directed by Leslye Davis and Catrin Einhorn. Synopsis: When Sgt. First Class Brian Eisch is critically wounded in Afghanistan, it sets him and his sons on a journey of love, loss, redemption and legacy. Debuts on Netflix on June 19th, 2020.
Made in Italy (2020). Written and directed by James D'Arcy. Starring Liam Neeson, Valeria Bilello, Micheál Richardson. Synopsis: A bohemian artist who travels from London to Italy with his estranged son to sell the house they inherited from his late wife. Debuts in the US on August 7th, 2020.
Rebuilding Paradise (2020). Directed by Ron Howard. Synopsis: The community of Paradise, California, a town in the Sierra Nevada foothills, attempts to rebuild after devastating wildfires in 2018. Debuts in the US on July 31st, 2020.
The Go-Go's (2020). Directed by Alison Ellwood. Synopsis: This looks into the success of the Go-Go's. They made history as the first all-female band to play their instruments, write their songs, and achieve a No. 1 album. Debuts on Showtime on August 1st, 2020.
Amulet (2020). Written and directed by Romola Garai. Starring Imelda Staunton, Alec Secareanu, Carla Juri. Synopsis: An ex-soldier, living homeless in London, is offered a place to stay at a decaying house inhabited by a young woman and her dying mother. As he starts to fall for her, he cannot ignore his suspicion that something sinister is going on. Debuts in the US on July 24th, 2020.
Mucho Mucho Amor: The Legend of Walter Mercado (2020). Directed by Cristina Costantini and Kareem Tabsch. Synopsis: Every day for decades, Walter Mercado — the iconic, gender non-conforming astrologer — mesmerized 120 million Latino viewers with his extravagance and positivity. Debuts on Netflix on July 8th, 2020.
Retaliation (2020). Directed by Ludwig Shammasian and Paul Shammasian. Written by Geoff Thompson. Starring Orlando Bloom, Janet Montgomery, Charlie Creed-Miles. Synopsis: An adult victim of childhood sexual abuse confronts the horrors of his past. Debuts in the US on July 24th, 2020.

CREEM: America's Only Rock 'N' Roll Magazine (2020). Directed by Scott Crawford. Synopsis: Capturing the messy upheaval of the '70s just as rock was re-inventing itself, the film explores CREEM Magazine's humble beginnings in post-riot Detroit, follows its upward trajectory from underground paper to national powerhouse – spotlighting iconic features, interviews, and anecdotes along the way – then bears witness to its imminent demise following the tragic and untimely deaths of its visionary publisher, Barry Kramer, and its most famous alum and genius clown prince, Lester Bangs, a year later. Debuts in the US on August 7th, 2020.
The Tax Collector (2020). Written and directed by David Ayer. Starring Shia LaBeouf, Lana Parrilla, Chelsea Rendon. Synopsis: A "tax collector" for a crime lord finds his family's safety compromised when his boss's old rival shows up in LA and upends his business. Debuts in the US on August 7th, 2020.
Fatal Affair (2020). Directed by Peter Sullivan. Written by Rasheeda Garner and Peter Sullivan. Starring Nia Long, Omar Epps, Stephen Bishop. Synopsis: Ellie tries to mend her marriage with her husband Marcus after a brief encounter with an old friend, David, only to find that David is more dangerous and unstable than she'd realized. Debuts on Netflix on July 16th, 2020.
Black Water: Abyss (2020). Directed by Andrew Traucki. Written by John Ridley and Sarah Smith. Starring Jessica McNamee, Luke Mitchell, Amali Golden. Synopsis: Five friends exploring a remote cave system in Northern Australia find themselves threatened by a hungry crocodile. Debuts in the US on August 7th, 2020.
The Kissing Booth 2 (2020). Directed by Vince Marcello. Written by Vince Marcello and Jay S Arnold (based on the book by Beth Reekles). Starring Joey King, Jacob Elordi, Joel Courtney. Synopsis: Following the love adventures of Elle, Noah, and Lee. Debuts on Netflix on July 24th, 2020.
Matt writes: Filmmaker Shannon Murphy spoke with Michael Frank about her brilliant debut feature, "Babyteeth" (click here for the full interview), which was praised by our critic Sheila O'Malley (you can read her review here).
Modern Magic of the Drive-In
Matt writes: Drive-ins across the country are currently keeping the communal moviegoing experience alive during the COVID-19 pandemic. I recently spoke with Scott Dehn, owner of the McHenry Outdoor Theater in northern Illinois, about the safety measures he has put in place to ensure that his venue remains open throughout the summer. You can read the full article here.
Free Movies
The Road Home (1988). Written and directed by Jerzy Kaszubowski. Starring Zygmunt Bielawski, Jerzy Binczycki, Mieczyslaw Janowski. Synopsis: Eight-year old Jerzy returns home at the end of WWII to a joyful reunion with his long-lost mother and grandfather. But problems arise as he is taunted by his peers and, longing for his missing father, burns with resentment for his new communist stepfather.
The Fool (1990). Directed by Christine Edzard. Written by Christine Edzard and Olivier Stockman. Starring Derek Jacobi, Cyril Cusack, Ruth Mitchell. Synopsis: A costume drama and satire about financial skull-duggery, and confidence tricksters in both the upper and lower classes in Victorian London. A working class man impersonates a Lord who is supposedly very rich, and a financial wizard. As such, he is invited to all the best peoples' parties. In fact, he is not, and his wealth and expertise are more in the minds of his associates than in reality.
Immaculate Conception (1992). Written and directed by Jamil Dehlavi. Starring James Wilby, Melissa Leo, Shabana Azmi. Synopsis: A childless Western couple visit a fertility shrine in Karachi run by eunuchs and set off a huge culture clash.