Joel Schumacher: 1939-2020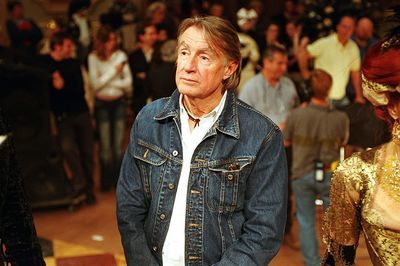 Joel Schumacher, who passed away today at the age of 80 following a year-long battle with cancer, had a long and varied career that saw him directing a number of very successful films, but he is probably most (in)famous among cinema fans for having directed "Batman & Robin" (1997), a film that continues to be regarded by many as one of the worst movies ever made. To reduce his entire career to that one film would be to do a great disservice to both the man, who would prove to be a genuine trailblazer in Hollywood for not only being an openly gay man in the industry at a time when such things were still often kept hidden from the public but for infusing many of his works with an overt and positive gay sensibility to boot, and his filmography, which proved to be more interesting and varied than those of most of his contemporaries. He displayed an uncanny talent for finding and nurturing new talent—future stars like Julia Roberts, Matthew McConaughey, Colin Farrell, Kiefer Sutherland and others received invaluable career boosts after working with him.
He was born in New York City on August 29, 1939 and would go on to study at the Parsons School of Design and the Fashion Institute of Technology, financing his studies by designing clothes for Revlon as well as edgy and controversial window designs for Bendel's department store. Eventually, he decided that his future was in film and moved to Los Angeles, where he began his career designing costumes for "Play It as It Lays" (1972), "The Last of Sheila" (1973), "Blume in Love" (1973), "The Prisoner of Second Avenue" (1975) and two films for Woody Allen, "Sleeper" (1973) and "Interiors" (1978). From there, he began to climb his way up the ladder in Hollywood, writing and directing the television movies "Virginia Hill" (1974) and "Amateur Night at the Dixie Bar and Grill" (1979). In 1976, his screenplays for "Sparkle" and "Car Wash" resulted in popular hits and, presumably because those films centered around African-American characters, he was hired to adapt "The Wiz" (1978) to the big screen for director Sidney Lumet.
He made his feature directorial debut when he replaced John Landis on "The Incredible Shrinking Woman" (1981), a comic riff on the classic Richard Matheson novel The Shrinking Man. Although the resulting film was never quite as funny as one might have hoped, considering the combination of its premise and star, Schumacher demonstrated an interesting visual style—virtually everyone and everything on display was done up in color shades rarely seen outside of a pack of Necco wafers—and a flair for character-based comedy. His next film, "D.C. Cab" (1983), which he wrote as well as directed, was an overt attempt to replicate the success of "Car Wash" by focusing on the raucous drivers for a third-rate Washington D.C. cab company struggling to survive against the better-funded competition. The result was fairly dire and pretty sloppy but to give it credit, some of its slobbo jokes did hit their marks and the proceedings certainly livened up whenever co-star Mr. T came on screen.
Schumacher's first major hit as a director came in 1985 with "St. Elmo's Fire," a coming-of-age drama centering on the trials and tribulations of a group of close-knit friends, all recent graduates of Georgetown, as they deal with life, love and finding their way into adulthood. To play the characters, Schumacher cast a group of young actors who had not quite made their big breakthroughs—Rob Lowe, Emilio Estevez, Judd Nelson, Andrew McCarthy, Mare Winningham, Ally Sheedy and Mare Winningham. Even if it hasn't held up well, Schumacher had clearly tapped into the zeitgeist—by the time it was released, his stars were now known as members of the so-called "Brat Pack"—and it proved to be hugely popular with young audiences.
His next film was "The Lost Boys" (1987), a very successful horror/comedy hybrid about a couple of brothers (Jason Patric and Corey Haim) who move with their mother (Dianne Wiest) to a beach town in California that is being preyed upon by a group of hot and edgy vampires (led by Kiefer Sutherland). Schumacher handled the material with a lot of flash and style and did not shy away from the homoerotic underpinnings that other filmmakers would have taken great pains to avoid. If nothing else, the success of the film no doubt helped him to get his next project, "Cousins" (1989), made. The film was an Americanized remake of the 1975 French comedy "Cousin Cousine" and starred Ted Danson and Isabella Rossellini as two people who meet at the wedding that makes them cousins-by-marriage, discover that their spouses (Sean Young and William Petersen) are having an affair and end up falling in love themselves. The kind of gentle, moderately-scaled adult comedy that has all but ceased to exist in contemporary Hollywood (and which was getting pretty rare even then), "Cousins" was a real delight and remains one of Schumacher's best films.
Schumacher returned to the blockbuster stage the next year with "Flatliners" (1990), which at times felt like a supernatural version of "St. Elmo's Fire" with its story of a group of impossibly attractive (at least physically) med students performing clandestine experiments in death. It came out a few months after co-star Julia Roberts had her breakthrough hit with "Pretty Woman" (1990) and her presence helped make it into a success. The next year, Schumacher and Roberts, now arguably Hollywood's biggest female star, reunited for "Dying Young" (1991), but the heavily hyped romantic melodrama—the title is not exactly subtle—wound up being a critical and commercial disappointment. Going in a decidedly different direction with his next film, "Falling Down" (1993) was a violent and sometime darkly funny story about an aggrieved but otherwise unexceptional white make (played, almost inevitably, by Michael Douglas) who finally snaps at a world he no longer understands and goes on a day-long and increasingly violent trek on foot across Los Angeles.
Schumacher went on to direct a series of high profile commercial entertainments that would largely define his entire career in the minds of many. First up was "The Client" (1994), an adaptation of the John Grisham best-seller about an 11-year-old kid (the late Brad Renfro, making his acting debut) who witnesses the suicide of a mob lawyer and hires a recovering alcoholic lawyer (Susan Sarandon) to help protect his interests from both an ambitious US attorney (Tommy Lee Jones) and mob types who are worried that the kid may know too much. Like most movies based on Grisham books, the film is a lot of hooey but Schumacher seems to have realized that as well and spends more time focusing on the relationship between the kid and the lawyer, which is transformed into something close to convincing thanks to the nice performances from Sarandon and Renfro, not to mention a scene-stealing turn from Jones.
Next, Schumacher was tapped by Warner Brothers to take over the Batman franchise and steer it in a more colorful and family-friendly direction in the wake of the dark and disturbing "Batman Returns" (1995). Yes, "Batman Forever" (1995) was definitely different from that but other than that, it would prove to be the most anonymous of all the Caped Crusader's big-screen escapades—the whole thing was a noisy and overstuffed grab bag of big stars and overblown action sequences that did little more than swell the studio coffers. Schumacher returned to Grisham the next year with "A Time to Kill" (1996), a courtroom drama about a white Southern lawyer (Matthew McConaughey) hired to defend a black man (Samuel L. Jackson) on trial for murdering the men who raped his young daughter. Nominally more serious than Grisham's usual material, the story often veered between the superficial and the disturbing (it seemed pretty comfortable with the idea of vigilante justice) but Schumacher kept it humming along and got a star-making performance out of McConaughey that helped it to become a major hit.
Which brings us, at last, to "Batman & Robin," a film which could pretty much be taught in schools as an example of how to take a seemingly foolproof blockbuster film and turn it into one of the all-time disasters. Rushed into production following the success of "Batman Forever," the studio apparently insisted that Schumacher aim the film more towards kids in order to sell more toys, video games and CDs in the name of corporate synergy. Schumacher agreed and elected to go for a more campy approach reminiscent of the tone utilized by the famous 1960s-era television show. Schumacher goes into exactly how it all went wrong on his must-hear audio commentary, but, as awful as it is, it still manages to exude a strange fascination—once you have seen it, you will never, ever forget it.
Although Schumacher would continue to work consistently in the wake of the conspicuous failure of "Batman & Robin"—which also proved to be a surprising failure commercially as well as critically—the subsequent projects would not always be as high profile, though many were still of interest. In 1999, he released "8mm," an exceedingly grim and effective thriller written by "Seven" scribe Andrew Kevin Walker with Nicolas Cage as a private detective who finds himself involved in a case that takes him into the world of snuff films, and "Flawless," a touching character-based comedy-drama about a cop (Robert De Niro) who suffers a stroke that paralyzes the right side of his body and employs a drag queen neighbor (Phillip Seymour Hoffman) to help him regain his ability to speak properly. "Tigerland" (2000) was a period drama about a group of soldiers who are training in preparation to be sent off to Vietnam—despite strong reviews, the film was inexplicably barely released despite the electrifying performance from its star, the then-unknown Colin Farrell. His next two films both found their original release dates postponed in result to real-life events—the forgettable CIA action-comedy "Bad Company" (2002) was delayed from its original November 2001 release in the wake of 9/11 while "Phone Booth" (2003), his clever Hitchcockian-styke thriller about a sleazy publicist (Farrell) trapped in a phone booth by an unseen sniper who will kill him if he tries to leave or explain what is happening, was put off for a few months in the wake of the 2002 sniper attacks in the Washington DC area. By comparison, "Veronica Guerin" (2003), a biopic of the crusading Irish journalist whose investigations into the drug trade led to her murder in 1996, proved to be much less controversial and not nearly as interesting—although Cate Blanchett is good in the title role, the film itself proved to be devoid of any trace of passion on Schumacher's part, whose work here was serviceable and nothing more.
His last stab at a big-scale blockbuster was the long-awaited screen version of Andrew Lloyd Webber's "The Phantom of the Opera" (2004) but his heart simply did not seem to be in it—other than a cheerfully flamboyant supporting turn from Minnie Driver in full diva form, the film was a resounding botch that might have become the "Cats" of its day if it hadn't been so insanely boring. "The Number 23" (2007), on the other hand, was just insane—a head-scratching psychological thriller with Jim Carrey as a man who becomes obsessed with the number 23, which is somehow connected to everything in the universe, and a book that he is given that inexplicably seems to mirror his own life—though Schumacher does have some fun with the more noirish elements of the increasingly scrambled narrative. "Blood Creek" (2009) was a weird, low-budget horror film featuring a pair of brothers (Dominic Purcell and Henry Cavill) who stumble upon a monstrous and ongoing experiment involving the Third Reich—believe me, there is a reason why you haven't heard of this one. "Twelve" (2010) was another attempt to tap into the youth zeitgeist that he had mined so successfully in the past but this sordid tale involving rich young twerps, sex, drugs and violence was the kind of pseudo-harrowing dud that made one long for the subtlety of something like "Havoc." His final film was "Trespass" (2010), a deeply silly home invasion thriller that he and co-stars Nicolas Cage and Nicole Kidman were inexplicably roped into doing even though it must have been obvious from early on that not even their combined talents could begin to make much out of it.
So yes, Joel Schumacher will go down in screen infamy for having made "Batman & Robin" but in hindsight, there are worse things to hang on a filmmaker when looking back at their career. For all of its garish excesses, it does have a distinctive personality that separates it from so many of the formulaic and forgettable blockbusters that are churned out regularly these days. However, he did a lot more than just that particular film and at his best—such as "Cousins" and "Falling Down"—he proved himself to be a filmmaker of undeniable skill and style who may not have always gotten the credit that he deserved at the time but has gone on to form a considerable and undeniable legacy