Home Entertainment Guide: June 25, 2020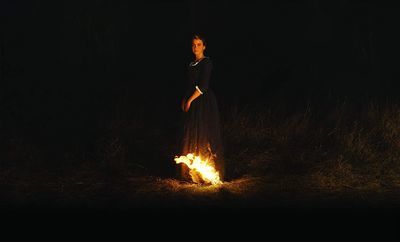 10 NEW TO NETFLIX
"Baby Mama"
"Before I Fall"
"Charlie St. Cloud"
"The Darkness"
"An Evening with Beverly Luff Linn"
"Frost/Nixon"
"The Nut Job"
"Okko's Inn"
"Orgazmo"
"V For Vendetta"
6 NEW TO BLU-RAY/DVD
"The Cameraman" (Criterion)
There are a healthy number of Charlie Chaplin films already released on Criterion Blu-ray but it took until June 2020 for a Blu-ray Criterion release of a Buster Keaton film, and it's arguably his best. The first film that Keaton made after signing with MGM, this silent masterpiece is peak Keaton, a great film to introduce people to the star. The set pieces are fantastic, it flies by at just over an hour, and the Criterion release contains a brand new score along with a TON of special features, including a new documentary and the MGM film that Keaton made after this one, "Spite Marriage." Yes, the entire film. In terms of supplemental material, this is one of the best Criterion releases of the year.
Buy it here

Special Features
New 4K digital restoration undertaken by the Cineteca di Bologna, the Criterion Collection, and Warner Bros.
New score by composer Timothy Brock, conducted by Brock and performed by the orchestra of the Teatro Comunale di Bologna in 2020, presented in uncompressed stereo on the Blu-ray
Audio commentary from 2004 featuring Glenn Mitchell, author of A–Z of Silent Film Comedy: An Illustrated Companion
Spite Marriage (1929), Buster Keaton's next feature for MGM following The Cameraman, in a new 2K restoration, with a 2004 commentary by film historians John Bengtson and Jeffrey Vance
Time Travelers, a new documentary by Daniel Raim featuring interviews with Bengtson and film historian Marc Wanamaker
So Funny It Hurt: Buster Keaton & MGM, a 2004 documentary by film historians Kevin Brownlow and Christopher Bird
The Motion Picture Camera (1979), a documentary by A.S.C. cinematographer and film preservationist Karl Malkames, in a 4k restoration
New interview with James L. Neibaur, author of The Fall of Buster Keaton: His Films for MGM, Educational Pictures, and Columbia
PLUS: An essay by film critic Imogen Sara Smith
There has been a bit of a reckoning lately with older films in terms of how they have (or haven't) stood the test of time. Two Paramount films getting this treatment lately are Best Picture winners that happen to now be 25 and 20 years old, and both were released recently in 4K Steelbook editions to mark the occasion. "Braveheart" may have its fans (although its creator certainly complicates the legacy of that film), but "Gladiator" is the superior film, and the 4K edition proves it. Not only does it look simply stunning, but the release includes all previously available special features, including a great audio commentary from Scott on the extended edition. Ridley Scott, King of the Extended Edition.
Special Features
Theatrical Edition Audio Commentary
Extended Edition Audio Commentary
Visions from Elysium
Strength and Honor: Creating the World of Gladiator
Abandoned Sequences & Deleted Scenes
"Jaws"
What could possibly be said about "Jaws" that hasn't been said before? If you don't own "Jaws," what's wrong with you? And this is the only version to get now if you have a 4K player/TV. It looks amazing. If you do own "Jaws," you may still want to update your collection for the new booklet, cool packaging, and pristine transfer. Listen, when memes go around about "perfect movies," this is often the first film that comes to mind. There's not a single shot or beat that I would change. It's a film I watch probably every 18 months or so and every time I stumble upon it on cable. And this is the best version now available for this giant fan of Spielberg's masterpiece. Maybe you're one too.
Special Features
HDR10+ PRESENTATION OF THE FILM
The Making of JAWS
The Shark Is Still Working: The Impact & Legacy of JAWS
JAWS: The Restoration
Deleted Scenes and Outtakes
From the Set
Theatrical Trailer
Booklet: 44-page booklet with introductions, rare photos, storyboards and more from the archives
"Portrait of a Lady on Fire" (Criterion)
Most of the Criterion Collection consists of classic films being given a new restoration or the occasional pull from international cinema of a film that you may not have seen. However, the company is clearly moving more to a current model, releasing films like "Roma" and "Marriage Story" from Netflix and partnering with Neon on a quick release of "Portrait of a Lady on Fire," only a few months after it played in American theaters. It's nice to see a modern film being given such a loving treatment by the company in that there's no better way for a film this visually striking to be appreciated than with a Criterion 4K digital master. Even fans of the movie probably will find new things to appreciate with this technical precision, and the special features are hefty with new interviews with key players involved with the film. No one wants Criterion to stop emphasizing older films but bestowing their brand and expertise on new releases can bring rewards too.
Special Features
New 4K digital master, with 5.1 surround DTS-HD Master Audio soundtrack on the Blu-ray
New conversation between director Céline Sciamma and film critic Dana Stevens
New interviews with actors Adèle Haenel and Noémie Merlant
Interview with cinematographer Claire Mathon from the 2019 Cannes Film Festival
Interview from 2019 with artist Hélène Delmaire on creating the paintings for the film
PLUS: An essay by film critic Ela Bittencourt
"Tokyo Olympiad" (Criterion)
The world should be experiencing the 2020 Summer Olympics about now but won't be because of the international outbreak of COVID-19. While the Criterion release of this 1965 documentary should have been a companion, it can now be an interesting replacement for what could have been. What's remarkable about Kon Ichikawa's epic doc is the degree of access granted to the filmmaker, who used a massive team, especially for 1964, to document his country's time on the international stage. It's a massively influential documentary in the sports world, bringing a sense of humanistic storytelling to the form that is still being used today. And the Criterion release contains not only a new restoration but over an hour of additional material from the Tokyo Games.
Special Features
New 4K digital restoration, with uncompressed monaural soundtrack on the Blu-ray
Audio commentary from 2001 by film historian Peter Cowie
New introduction to the film by Cowie
Over eighty minutes of additional material from the Tokyo Games, with a new introduction by Cowie
Archival interviews with director Kon Ichikawa
New documentary about Ichikawa featuring interviews with camera operator Masuo Yamaguchi, longtime Ichikawa collaborator Chizuko Osada, and the director's son Tatsumi Ichikawa
New interview with restoration producer Adrian Wood
Trailers
PLUS: An essay by film scholar James Quandt
"The Universal Horror Collection: Volume 5"
The Universal Horror Collection has been a wonderful way to be introduced to films from the studio's vast catalog that have generally been forgotten by history. At the beginning, these 4-film releases often had a title or two that were at least relatively familiar, sometimes a work by a household name like Vincent Price or Bela Lugosi, but those days are over. I had never heard of the four releases in the latest edition, and there's probably a reason for that. A film like "The Monster and the Girl" may boast an exciting premise like a mobster's brain being put inside that of an ape, but it's shockingly boring for at least an hour. All four films here seem to be riffing on the success of "King Kong," and while I appreciate fans of unheralded classics now being able to have them on Blu-ray, they really just made me want to watch "King Kong" again.