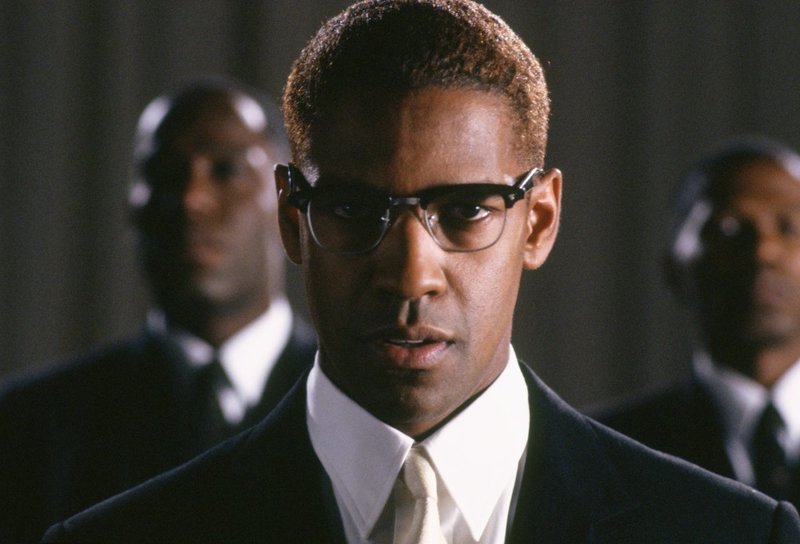 Matt writes: In light of the anti-racism protests that have swept our nation, triggered by the murder of George Floyd at the hands of police, it is a perfect time to revisit Spike Lee's 1992 masterpiece, "Malcolm X." In addition to Roger Ebert's four-star review of the epic film, as well as his interviews with Lee and the film's star, Denzel Washington, be sure to read the new essay penned by our Far Flung Correspondent, Omer M. Mozaffar, in which he hails the movie as a "timeless sermon." You can read the full article here and find an excerpt below…
"It seems that nothing has changed in a century. When I ask young people—even children in 2016 who grew up under an Obama presidency—to describe someone 'American,' they unanimously describe someone White. Today, my social media is peppered with a mosaic of faces of dozens of young Black men who have been killed, with their killers seeming to escape consequence. The overarching message is that our system crushes people, especially African Americans. Even though none of us started the system, we—especially members of other communities—are complicit as beneficiaries."
Trailers
John Lewis: Good Trouble (2020). Directed by Dawn Porter. Synopsis: The film explores Georgia representative's, 60-plus years of social activism and legislative action on civil rights, voting rights, gun control, health care reform, and immigration. Debuts online on July 3rd, 2020.

Runner (2020). Directed by Bill Gallagher. Synopsis: A refugee marathoner strives to raise his new country's flag at the Olympics. US release date is TBA.
Another Round (2020). Directed by Thomas Vinterberg. Written by Thomas Vinterberg and Tobias Lindholm. Starring Mads Mikkelsen, Thomas Bo Larsen, Lars Ranthe. Synopsis: Four friends, all high school teachers, test a theory that they will improve their lives by maintaining a constant level of alcohol in their blood. US release date is TBA.
Run With the Hunted (2020). Written and directed by John Swab. Starring Ron Perlman, Michael Pitt, Mark Boone Junior. Synopsis: Oscar, a young boy, defends his best friend, Loux, and kills her abusive father in the process, forcing him to run away from his rural hometown. His innocence slips away as he is introduced to love, crime and corruption. 15 years later, he has all but forgotten his past and become the leader of a band of lost children. Debuts online on June 26th, 2020.
Daddy Issues (2020). Directed by Laura Holliday. Written by Laura Holliday and John Cox. Starring Jo Ashe, Rachael Barry, Rachel Barry. Synopsis: When her emotionally distant father dies and leaves her his company, a 20 something, hapless stand up comic must move to LA to take over the family business and try to win her father's approval, even after his death. US release date is TBA.
Enfant Terrible (2020). Directed by Oskar Roehler. Synopsis: The life and the impact of iconic German New Wave director, Rainer Werner Fassbinder. US release date is TBA.
The Surrogate (2020). Written and directed by Jeremy Hersh. Starring Jasmine Batchelor, Chris Perfetti, Sullivan Jones. Synopsis: A 29-year-old Brooklynite volunteers to be the surrogate/egg donor for her two best friends, a male couple. US release date is TBA.
Murder Manual (2020). Directed by Michael Escobedo, Kelly Hallmark, Matt Newton, Sam N. Powell, Toni Tikkanen and Nour Wazzi. Written by Shirine Best, Eleanor Emptage, Michael Escobedo, Matt Newton, Sam N. Powell, Toni Tikkanen, Nour Wazzi and Alison Yates. Starring Emilia Clarke, Hadley Fraser, Sylvia Panacione. Synopsis: Creepy, terrifying chapters from our book of horror include a little girl's journey from a world of nightmares into the nightmare of reality, a gay couple's romantic getaway in Palm Springs that turns murderous, a young woman whose rideshare turns deadly, and a girl who is held captive by a circus that must be rescued by her husband. Now available online.
Summerland (2020). Written and directed by Jessica Swale. Starring Gemma Arterton, Gugu Mbatha-Raw, Penelope Wilton. Synopsis: During World War II, an Englishwoman opens her heart to an evacuee after initially resolving to be rid of him in this moving journey of womanhood, love and friendship. Debuts in the US on July 31st, 2020.
Jeffrey Epstein: Filthy Rich (2020). Directed by Lisa Bryant. Synopsis: Survivors worldwide reveal the manipulation, abuse and emotional scars suffered at the hands of wealthy convicted pedophile Jeffrey Epstein. Their stories expose a sex trafficking ring of powerful enablers leading up to his 2019 arrest. Now available on Netflix.
A Film by Errol Morris (2020). Directed by Errol Morris. Synopsis: Asks the question why Leary, the High Priest of LSD, became a narc in 1974 and seemingly abandoned the millions he urged to turn on, tune in and drop out. Was his "perfect love" Joanna Harcourt-Smith a government pawn, as suggested by Allen Ginsberg? Or was she simply a rich, beautiful, young woman out for the adventure of a lifetime? US release date is TBA.
Ete 85 (2020). Written and directed by François Ozon. Starring Valeria Bruni Tedeschi, Melvil Poupaud, Isabelle Nanty. Synopsis: What do you dream of when you're 16 years old and in a seaside resort in Normandy in the 1980s? A best friend? A lifelong teen pact? Scooting off on adventures on a boat or a motorbike? Living life at breakneck speed? No. You dream of death. Because you can't get a bigger kick than dying. And that's why you save it till the very end. The summer holidays are just beginning, and this story recounts how Alexis grew into himself. US release date is TBA.
True Mothers (2020). Directed by Naomi Kawase. Synopsis: A woman with an adopted child is contacted unexpectedly by the child's birth mother. US release date is TBA.

Mr. Topaze (1961), digital restoration. Directed by Peter Sellers. Written by Pierre Rouve (based on the play by Marcel Pagnol). Starring Peter Sellers, Nadia Gray, Herbert Lom. Synopsis: When aspiring musicians Lars and Sigrit are given the opportunity to represent their country at the world's biggest song competition, they finally have a chance to prove that any dream worth having is a dream worth fighting for. US release date is TBA.
End of Sentence (2020). Directed by Elfar Adalsteins. Written by Michael Armbruster. Starring John Hawkes, Logan Lerman, Sarah Bolger. Synopsis: After being widowed, Frank Fogle reluctantly embarks on a journey to honor his wife's last wish of spreading her ashes in a remote lake in her native Ireland and a promise of taking his estranged son, Sean, along for the trip. As Sean steps out of prison the last thing on his mind is a foreign road trip with his alienated father. US release date is TBA.
Yes, God, Yes (2020). Written and directed by Karen Maine. Starring Christian Adam, Susan Blackwell, Alisha Boe. Synopsis: After an innocent AOL chat turns racy, a Catholic teenager in the early 00s discovers masturbating and struggles to suppress her new urges in the face of eternal damnation. US release date is TBA.
Clementine (2020). Written and directed by Lara Gallagher. Starring Sydney Sweeney, Otmara Marrero, Will Brittain. Synopsis: Reeling from a one-sided breakup, heartbroken Karen breaks into her ex's lake house. There, she strikes up a complicated relationship with provocative younger woman Lana. Now available online.
Unhinged (2020). Directed by Derrick Borte. Written by Carl Ellsworth. Starring Russell Crowe, Jimmi Simpson, Caren Pistorius. Synopsis: A psychological thriller that takes something we've all experienced – road rage – to an unpredictable and terrifying conclusion. Debuts in the US on July 1st, 2020.
Matt writes: Our contributor Roxana Hadadi recently penned an excellent, in-depth essay on Gus Van Sant's 1997 Oscar-winner, "Good Will Hunting," in which Robin Williams received the best scene of his career (pictured above). You can find the full article here.
Matt writes: Since Spike Lee was supposed to become the first African-American jury president in the history of the Cannes Film Festival, had COVID-19 not caused the annual event's cancellation, let's take a look back at Chaz Ebert's video diary (embedded above) that includes her coverage of Lee's 2018 film, "BlacKkKlansman." It went on to earn Lee the Grand Prize at Cannes as well as his first, long-belated competitive Oscar for Best Adapted Screenplay.
Free Movies
The Good Father (1985). Directed by Mike Newell. Written by Christopher Hampton (based on the novel by Peter Prince). Starring Anthony Hopkins, Jim Broadbent, Harriet Walter. Synopsis: Bill is a man who's very bitter about his divorce and losing custody of his son. So, when one of his friends is being sued for divorce by his wife, so that she can enter into a lesbian relationship, Bill decides to help his friend gain custody of his son in any way that they can devise, including using a sleazeball lawyer. But while Bill feels that feminism has robbed him of his family, he begins to be appalled at what he and Roger have done.
Smack and Thistle (1991). Written and directed by Tunde Ikoli. Starring Charlie Caine, Rosalind Bennett, Patrick Malahide. Synopsis: With a drug-addled lifestyle and a prison sentence firmly behind him, Abel is determined to go straight and stay clean… as soon as he's seen to one final heist. In the house that he burgles he comes across Elizabeth – rich, desperate, hopelessly addicted to a heroin and unconscious. Saving her from the clutched of an overdose, Abel stays out of compassion which eventually evolves into attraction.
Friends (1993). Written and directed by Elaine Proctor. Starring Kerry Fox, Dambisa Kente, Michele Burgers. Synopsis: Three female friends, at the end of the eighties, share a house in Johannesburg, South Africa. Each of them has her own way to live with apartheid: Thoko is a black teacher and practices non-violent passive resistance; the Afrikaner, Aninka, takes refuge in archaeology in order to avoid the reality; Sophie is a white militant, planting bombs in public places. Each of them respect the other two's ideas, but one of Sophie's bombs will change everything.