Unbreakable Kimmy Schmidt: Kimmy vs. the Reverend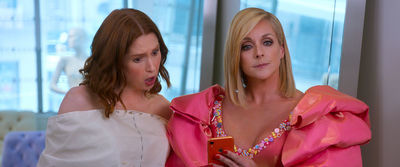 Interactive special "Unbreakable Kimmy Schmidt: Kimmy vs the Reverend," a fabulous coda worthy of the whimsical heroine, finds the Kimster (Ellie Kemper), now a bestselling author, some time after she prematurely departed from our screens last year following the Netflix show's neatly wrapped, fourth season finale. "It's a miracle" we get one last hoorah.
Improving profoundly on the previous conclusion, this choose-your-own-adventure epilogue wrestles with Kimmy's traumatic past at the hands of a vile manipulator in a way that enables her to positively impact other women's futures, while also having a chance at romantic companionship with someone on her peculiarly jolly wavelength: Prince Frederick (Daniel Radcliffe)— a good lad 12th in line to the British throne.
Radcliffe, with his "cartoon fox Robin Hood voice," fits right into the colorful realm; so much so that one can easily picture him having been part of it prior to this project. Unafraid of odd parts, the actor milks Frederick for all his man-boy quirks. It's his arrested development from a dysfunctional childhood that links him so strongly to Kimmy, a pivotal touch for us to instantly believe they are meant for each other.
Consistent with the series, the absurd and the topical converge throughout the new bonus chapter for a magic trick of tone. Claire Scanlon, an established TV director who commanded a handful of "Unbreakable" episodes across multiple seasons, leans into her familiarity to nail the quick-paced humor with the extra complication of having to block and execute scenes according to their function in relation to the plot variants. Candy-colored sets and bright costumes remain unchanged staples.
Once you've seen it on multiple occasions the subtleties of the puzzle-like framework reveal it to be a wacky feat. Decisions range from a grave moral crucible to deceivingly mundane possibilities in this multi-verse movie designed for at least two viewings, with a few extra tidbits to be discovered when revisited again to go into roads untaken.
Such a playful, game-like format testing the consequences of alternative destinies feels delightfully appropriate for these exuberant characters, conscious that the person they've become is an amalgamation of all they've endured. It's reminiscent of the show's "Sliding Van Doors" episode, an ingenious parody of 1998's fantastical rom-com "Sliding Doors," where Kimmy and Tituss experience opposite versions of themselves as result of a significant changes to their origin myths.
Select between a fun and a formal wedding dress before Jan S. Port, Kimmy's adorable backpack—a puppet that's the embodiment of her limitless imagination—unpacks an old paperback book titled "The Mystery of the Mysterious Spy," which doesn't belong to her. Whether she reads it or not, this artifact guides her back to her now imprisoned victimizer, Richard Wayne Gary Wayne (Jon Hamm), for a journey through Red America to find the tome's owner. Hamm, in his most memorable post-"Mad Men" performance, continues to play the despicable antagonist with admirable silliness, yet a much needed moment of seriousness comes when the monster is finally confronted with one of his victims without charades.
Over the years, the Tina Fey and Robert Carlock-created work has been praised, and equally criticized, for its approach to real-life social conundrums, from racism to immigration. "Unbreakable Kimmy Schmidt" debuted during the Obama presidency and has traversed the Trump era using sharp gags to address our tumultuous times unabashedly. That remains the case here, where the screenplay obliterates preposterous claims aimed to invalidate #MeToo and the Time's Up movement and questions the system that allows mediocre, but confident white men to thrive at the expense of more talented individuals.
Similarly, a scene in a West Virginia bar, one at a failed Fyre Festival-type music event, another at a Johnny Knoxville-fronted gas station, and mentions of Mike Pence and Hilary Clinton poke fun at the class divide polarizing the country, but, as it has been the case before, the story uses small town-natives Kimmy and Tituss to smooth out some of the edginess and find common ground through comedy.
At the center of this odd universe, Kemper has settled into Kimmy's earnest ability for wonder and her resolve to not fall prey of hatred for others' offenses. It's a tricky role to handle, because such inspiring spirit has to be almost immune to the cynicism around her and still appear as a human being susceptible to unpleasant emotions. For this special, the brilliant actress yields a slightly more mature Kimmy, one who, depending on what we click on, may be capable of violence. It's surprising that the creators ventured into that darkness. Note that her precision and timing in a "The Silence of the Lambs" joke will weird you out with laughter.
No longer a tugboat-dwelling unemployed diva, Tituss (Tituss Burgess in another award-deserving showcase) is set to star in a testosterone-loaded, Mark Wahlberg-ready action extravaganza. But that's a lot of work. Going along with Kimberly seems less extenuating. The King Midas of dialogue, Burgess takes the writers' text and turns each line into a zany treasure with his signature charming apathy. The entire running time is a feast of quotable lines on par with the best zingers from the series, but watch out specifically for a "read" on a baby and a Pennywise reference.
Sufficiently present for us not to miss them too much, the two other parts of the "Unbreakable" quartet, Jacqueline (Jane Krakowski) and Lillian (Carol Kane) have separate subplots tailor-made for the strengths, whether that's stalling on a movie set or teaching loyalty about everyday struggles. Seeing how much great material the creators had to work with, it's impossible not to ponder if all of it could have unfolded in more detail over another season, even if this concept is incredibly fun.
Dead ends in this quest often mean literal death, and in the end, in true Kimmy fashion, only the sensible picks lead to happiness and a clear conscience. Faced with her nemesis, Kimmy must choose how to deal with her warranted anger, and it's up to us to lead her down a vengeful path or keep her honest to the person we've loved for so long. Beautifully, it all comes full circle when she reaches out a hand to bring others out of the same tragedy she experienced, instead of seeking gun justice.
Since we met her, Kimmy has stood as an antidote for despair, not because she is oblivious to human cruelty or because she has fully forgiven all the wrongs committed against her, but because despite them she chooses to believe in the inherent good of the world. From the "mole woman" we first encountered to the writer behind "The Legends of Greemulax" to fight toxic masculinity, hers has been surely been "a fascinating transition" to say the least.
A "fudging" good time, "Unbreakable Kimmy Schmidt: Kimmy vs the Reverend" is a ceaselessly riotous and uplifting sendoff to one of television's most infectiously goodhearted characters, a survivor who plays the game of life (and who never cheats at Clue!) with immense optimism that makes us believe in the best of people. If we could all have one glittery ounce of Kimmy's hard-earned wisdom or see others with the same evil-proofed eyes, maybe we would be just as indestructible.
Premieres on Netflix today, 5/12.