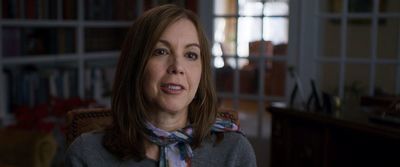 At times unfocused, Netflix's latest docuseries "Trial by Media" struggles to bring its six stories together under the same umbrella but contains enough insight to warrant a look and possibly spark conversation. As with any project that hires six directors to tell six different stories, there are highs and lows, but the latter never really sinks below interesting television, even if you're sometimes struck with the fact this is all a little more superficial than it needed to be. The media influences high-profile cases. That's common knowledge in 2020, right? But what "Trial by Media" lacks in insight it makes up for in the chapters that tell stories that you may not remember. Honestly, I wanted to take the six chapters and shape them into one film – a study of the media's impact on the legal process. As is, overall conclusions about the positive and negative impact of cases that are tried on a public stage is left up to the viewer.
If I did re-edit the six chapters of "Trial by Media," I would also restructure them and start with the best episode, chapter five, "Big Dan's Tavern." In 1983, in New Bedford, Massachusetts, a woman stopped in a local tavern near her home for cigarettes. She was gang-raped when she tried to leave, and the other bar patrons watched and cheered. In the mid-'80s, 24-hour news was a relatively new concept and the idea of putting cameras in a courtroom hadn't really been considered before, but that's exactly what happened, with people around the world watching the case unfold in relatively real time. The judge who made the decision is interviewed in this segment and he alone could carry a feature film with how that choice has clearly weighed on him. The press had all agreed not to release the woman's name for example, so he didn't consider the fact that it would appear in testimony until it basically aired on live TV. It's also fascinating to consider how the exposure for the case changed the conversation around immigration – the assailants were Portuguese and that community became a target – and violence against women. There's a lot to unpack in it.
The same can't be said for every episode, and some don't even really seem to fit the umbrella concept. For example, the case of Robert Scrushy, the CEO of HealthSouth who was accused of rampant corruption, could just as easily fit in a docuseries about creative defense strategies. His charismatic team of high-paid attorneys played the media card but they also spun downhome stories about Southern family traditions and one literally wrapped himself in a flag to impress the jury. Other episodes, including one about the Jenny Jones murder trial and one that should hit close to home for Chicago readers about Rod Blagojevich's relationship with the media have a thinness in terms of information for anyone who knows these stories. Talk shows can play with human emotions in a way that lead to tragedy and our President watches a lot of FOX News. We know that. Now what?
Of course, a good docuseries doesn't have to present entirely new information as long as it shapes it into interesting television, and I have to admit to never really being bored during "Trial by Media." Maybe it's just that I'm too cynical. We have a "Presidency by Media" in 2020. If this series had come along even ten years ago it may have felt more impactful. At this point in the game, media coverage doesn't just influence major cases, it is often one of the most important elements for a defense attorney or a prosecutor. And any discussion over whether or not this is the way it "should be" seems to miss the fact that there's no going back. Perhaps that's why that fifth episode is so strong because it discusses the day cameras went into a courtroom for the first time and realizes that the legal process in this country really changed forever the minute a TV producer hit record while a judge was speaking. The best elements of "Trial by Media" understand that this is the new reality and don't really consider the idea of changing it as much as how we're going to adjust to it moving forward.
Premieres on Netflix today, 5/11.