Telling Lies is a Video Game Based on Conversation, Performance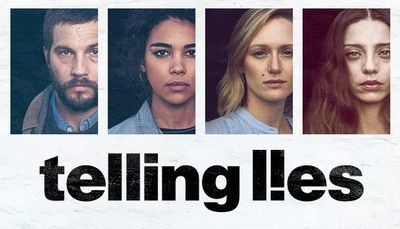 Cinematic language and video gaming aesthetics merge in Annapurna Interactive's "Telling Lies," an intimate experience that has already won awards. It's one of those games that seeks to rewire what one expects to happen when they have a video game controller in their hands. The vast majority of the time, holding a controller is about hand-eye coordination and timing. Neither of those things matter here in the slightest. Creator Sam Barlow is working with a different template, trying to access a different area of the gamer brain, one interested in making connections and dissecting human behavior. If someone saw you playing "Telling Lies" through a window, they would almost certainly not think it was a game. It's a series of connected videos, and the only thing you really control is the order in which in they play and how you put together the story of what happened to these characters.
You are dropped in front of a computer that has a data dump of videos of private conversations. You can search term through those conversations, picking out words that seem interesting from thin air or from what you're watching. For example, it starts with a search for "Love," which produces a bunch of clips of complete strangers to you in which that word is used. At one point, someone said they weren't a "Snow White" and so I highlighted "Snow" and hit search again to see if that phrase had been used another time. And so on, down a rabbit hole of conversations (although a catch is that you only get five videos per search, so you have to keep fine-tuning.) The process introduces you to four major characters, played by Angela Sarafyan, Alexandra Shipp, Kerry Bishé, and what could be called the protagonist of the game played by Logan Marshall-Green.
The excellent star of "Upgrade" and "The Invitation" has won awards for his work here, and it's easy to see why. He's truly excellent in a series of scenes in which he has no partner—you only hear one side of each conversation, although you will sometimes stumble on the other side and be able to piece the two together in your head. From his first scene, Marshall-Green is doing something fascinating in terms of performance, balancing what he says and what he withholds. He draws you into the game, trying to figure out how he's related to the other characters, and even what has happened that has led to an NSA dump and your interest in these wandering souls. I keep waiting for Marshall-Green to find just the right part to make him a star or allow him to work with our truly best directors. I feel like it's right around the corner.
At times, "Telling Lies" can feel a little frustrating in terms of stakes and intensity. Call me old-fashioned, but, especially at a time when my attention span is lowered by the state of the world, sometimes I need art to grab me, at least at first, instead of just force me to figure out why I should care. Barlow seems so intent on forcing you to do the investigative journalism that the game sometimes feels like it's putting up walls to stop you. Conversations can be a little purposefully obtuse to keep the player guessing, although one could argue every game has a little bit of that embedded in its structure. The degree of difficulty isn't due to a violent boss at the end of a level, but the way people can be withholding even in private conversations.
As with so many things lately, "Telling Lies" gets an added layer because of timing. Watching people alone, speaking over FaceTime or other forms of video chat feels different knowing how many people are stuck by themselves right now because of the pandemic. The footage is also clearly private, adding a layer of voyeurism to the whole affair—why are these people even being taped in the first place? "Telling Lies" is like nothing else I've played this year.