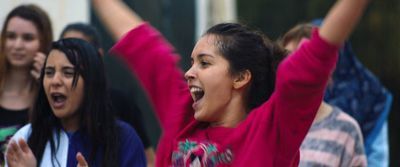 Brisk, confident, and atmospheric, Mounia Meddour's feature debut "Papicha" promptly brings to mind certain female driven films of the 21st century, centered on young women's camaraderie, resistance and unique struggles—movies like Deniz Gamze Ergüven's moody "Mustang," Margaret Betts' somber "Novitiate," Peter Mullan's devastating "The Magdalene Sisters" and even Talya Lavie's darkly comedic "Zero Motivation." While set in different eras and dissimilar in tone, all these deeply feminist films share a language in speaking to the challenges (and in some cases, violence), teenaged and twenty-something women face in their respective cultures, guided by strict cultural or religious codes.
Meddour announces early on that we'd be settling in something fearless and rare along these lines. In a pulsating opening sequence set after dark, we hear distant Ezan (call to prayer) sounds as a pair of college-aged female friends break out of their boarding school and make a run for a taxi cab that would take them to a bustling nightclub. In the backseat, they quickly change into body-conscious, sparkly dresses and apply make-up on each other. Soon enough, the Ezan sounds get drowned out by Technotronic's "Get Up." And despite the brief disturbance on the way—patrols stop the car to inspect the situation, with the girls conservatively covered up in their haiks just in time—they make it to the club. This is Algeria of the '90s and these women have clearly embarked on this innocent enough escapade before. It's a routine part of their existence as they study French and dream of a future increasingly threatened by their conservative country's escalating Islamic fundamentalism in the midst of the Algerian Civil War.
One of the clubbers in this opening, Nedjma (played by a fierce Lyna Khoudri, whose star quality will soon be seen in Wes Anderson's "The French Dispatch"), still makes it work somehow. An aspiring fashion designer, she envisions a fruitful career as a dressmaker; but not one who runs away from homeland to abroad in order to study the craft. Nedjma wants to stay in Algeria, redefine "the Algerian dream" she often speaks critically of, and make a name for herself in her motherland, despite the grim circumstances she is stuck in. But her friends disagree with her stance. One calls Algeria "a big waiting room," somewhere you bide your time in until you're free to spread your wings and fly away to greener pastures.
Aided by Léo Lefèvre's glimmering cinematography that's attentive to shadows, warm colors, and reflections (in a way that recalls Claire Mathon's work in "Atlantics"), Meddour's world-building is detailed to such a precise degree that it's easy to understand this perception of Algeria. Speaking a mixture of Arabic and French, the girls manage to carve out their space in it and find a way to exist with some semblance of sanity—they bicker, study, flirt with love interests (that Meddour thankfully doesn't dwell on for too long), go on effervescent beach outings and buy the latest fashions on the cheap in a one-stop-shop convenience store. But the reality that unfolds around them signals that even the most inoffensive of their already diminishing freedoms could one day vanish entirely. Political posters appear around their school, in support of mandatory hijabs for women. Conservative, veiled women storm inside their classrooms, preaching stricter morals and condemning foreign languages. Tragedies strike everywhere. But none of it stops Nedjma from wanting to put on a glamorous fashion show on her school campus and display her creations made entirely by using haik as fabric—a political statement in its own right.
While making the way to the eventual fashion show, Meddour and her co-writer Fadette Drouard do a stellar job with the ensemble of girls, building each character with a well-defined journey. There is Nedjma's romantic and emotional best friend Wassila. There is the genuinely religious bride-to-be Samira, whose deep connection with her faith gives the girls a target to poke fun at (but playfully and harmlessly so). And then there is Kahina, whose only aim in life is to make it to Canada one day. Like an up-and-coming Halston, Nedjma drapes her dresses on these women one by one (Catherine Cosme's costuming is terrific), unable to foresee the grand tragedy ahead of her.
Between the reveal of an unwanted pregnancy, a case of sexual assault, and a gunned showdown in the final act, Meddour overloads the tail end of her story, loosely inspired by the filmmaker's own youth. We crave for something deeper from the tonally messy finale that all of a sudden becomes an average action film and somewhat abandons the characters "Papicha" painstakingly builds until then. Still, everything that comes before it is intensely lived-in and authentic, leaving no room for doubt that Meddour is a cinematic talent to watch with urgent things to say on the toughened and resilient female spirit.
Available on VOD today, 5/29.