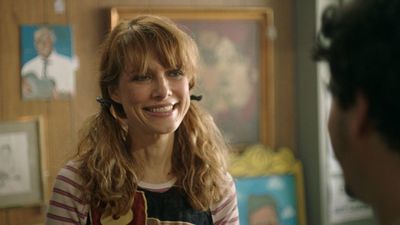 I should have written more about Lynn Shelton. One of the roles of a film and TV critic is to shine a light on the underrated creators who simply make everything better but don't become household names, and Shelton always felt like an unheralded talent who didn't get the press she deserved. Trust me – you have probably liked Lynn Shelton's work and didn't even know it. Whether it was one of her indie comedies, most of which premiered at Sundance or Toronto, or the nuance she brought to TV shows every single time her name appeared in the opening credits. She had a gift with character, finding ways to make hers sing with truth even in extreme situations. And she clearly loved (and was loved by) performers, giving them the freedom to do some of their most subtle and complex work. Her films didn't play widely and no directors TV get a lot of attention, so the name Lynn Shelton doesn't mean what it should to most people. And it's a tragedy that a true appraisal of her talent will now only come after her passing at a way-too-young age of 54 from a blood disorder.
Lynn Shelton was born in Ohio but raised in Seattle. She returned to the Midwest to attend Oberlin College before going back to the West Coast yet again for the University of Washington School of Drama. She then went to New York and obtained a Master's from the School of Visual Arts before starting her career as an editor and short filmmaker. She wouldn't start directing until her thirties, and told a podcast in 2014 that it was the relatively late start of Claire Denis that inspired her to not presume she didn't have the time left to become a director. (One more thing to thank Claire Denis for the next time you see her.)
Lynn Shelton's second feature put her on the map. After its premiere at Sundance, 2009's "Humpday" was picked up by Magnolia and became a critical indie hit. Roger Ebert called it "funny, yes, but also observant and thought-provoking." Shelton had a gift with that – embedding her gift of character work into funny, seemingly ridiculous premises like two friends who basically dare each other into a porno movie. Much of the dialogue was reportedly improvised but it was Shelton who shaped it into a hit film.
She worked pretty much constantly from there. 2011's "Your Sister's Sister" premiered at TIFF and contains arguably the best performance from Rosemarie DeWitt (whom Shelton would reunite with on Hulu's "Little Fires Everywhere," which she directed four episodes of in 2020). Shelton was a Sundance presence in the '10s with "Touchy Feely" premiering there in 2013 and "Laggies" in 2014. My favorite film of hers is her most dramatic, 2017's "Outside In," the story of a man released from prison and the relationship he forms with the woman who fought for his release. Jay Duplass and Edie Falco do phenomenal work. Her last film was 2019's "Sword of Trust," starring her partner Marc Maron. Shelton herself is in the film in a poignant, melancholy role that I imagine will be much harder to watch now.
Lynn Shelton's TV work was remarkable. She directed episodes of "Mad Men," "New Girl," "Master of None," "Maron," "Casual," "Shameless," "GLOW," "Dickinson," "The Morning Show," and more. Seeing her name on a project I had to review made me much more confident in what was to follow. And that was true pretty much every time. She was someone who would reliably draw out character work instead of playing the comedy or the situation. She understood people, how they express what they need or want through body language or what is unsaid more than they do through blunt dialogue.
It really felt like Lynn Shelton had decades of quality work ahead of her, and time for her reputation to grow. It's why this loss hurts so much – it takes so much great film and TV work from us that a part of me was looking forward to even if I didn't know it. Those of us who saw her TV work or films like "Your Sister's Sister," "Humpday," or "Outside In," just presumed there would be more chances to write about Lynn Shelton. I wish I did more of it when I had the chance.