Home Entertainment Guide: May 28, 2020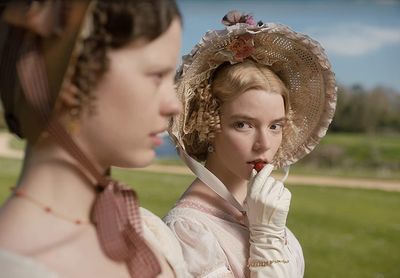 10 NEW TO NETFLIX
"Come to Daddy"
"District 9"
"I Will Follow"
"Public Enemies"
"Quartet"
"Soul Surfer"
"Trumbo"
"Uncut Gems"
"United 93"
"Wadjda"
10 NEW TO BLU-RAY/DVD
"Dance, Girl, Dance" (Criterion)
Dorothy Azner was the only female director of the Hollywood studio system in the '30s and '40s. The only one. And she helmed this backstage drama starring Maureen O'Hara and Lucille Ball as former colleagues in the world of chorus girls who become rivals in every way. Of course, it's fun to see Lucy in an earlier role, and she's fantastic here, but what really works is the serious tone that Azner takes, recognizing chorus girls as more than just eye candy or devices for humor in an era that didn't exactly take them seriously. It makes you think of all the lost perspectives stolen from movie history because it was so exclusively a boys club for so long. Note: this release also includes an essay by our very own Sheila O'Malley.
Buy it here

Special Features
New, restored 4K digital transfer, with uncompressed monaural soundtrack on the Blu-ray
New introduction by critic B. Ruby Rich
New interview with filmmaker Francis Ford Coppola
English subtitles for the deaf and hard of hearing
Plus: An essay by critic Sheila O'Malley
"Emma."
There have arguably been a few too many versions of Jane Austen's beloved comedy but director Autumn de Wilde finds new life in the old tale, and has produced arguably the most visually sumptuous Austen adaptation to date. The costume design and art direction here are impeccable, adding to the sense of a world of refined taste and the matchmaker who pictures herself above it all. Anya Taylor-Joy makes the title role her own, even if the always excellent Bill Nighy threatens to steal the movie every time he shows up.
Special Features
Feature Commentary with Director Autumn de Wilde, Screenwriter Eleanor Catton, and Director of Photography Christopher Blauvelt
Deleted Scenes
Gag Reel
A Playful Tease
The Autumn Gaze
Crafting a Colorful World
A Playful Tease
One of the best films of the short window of time when there were theatrical releases in 2020 remains this Leigh Whannell gem, proof that the horror director is now on the top tier of his genre. This is a perfectly calibrated film, one that uses space to create tension. As someone pointed out, he leaves just enough room in frame for you to keep wondering where the villain might be hiding in plain sight. And he balances his craft by directing Elisabeth Moss to one of the best performances of her career. People are going to be watching this one for generations.
Special Features
DELETED SCENES
MOSS MANIFESTED – Elisabeth Moss describes the physical and emotional challenges she faced while portraying Cecilia, a woman whose truth is constantly questioned by those around her.
DIRECTOR'S JOURNEY WITH LEIGH WHANNELL – Director Leigh Whannell acts as tour guide through principal photography, from day 1 to day 40.
THE PLAYERS – Filmmakers and cast provide an in-depth analysis of each character and how they interact with the unseen terror of THE INVISIBLE MAN.
TIMELESS TERROR – A behind the scenes look at how writer/director Leigh Whannell re-imagined this iconic character through the lens of modern technology and socially relatable themes.
FEATURE COMMENTARY WITH WRITER/DIRECTOR LEIGH WHANNELL
"Scorsese Shorts" (Criterion)
One of the best things I've seen in a very long time is Martin Scorsese's "Italianamerican," the centerpiece of five early shorts included on this Criterion release. For almost an hour, Scorsese sits down with his parents to talk about their families and growing up as children of immigrants. It is loving and beautiful, and it made me miss my Italian family in a way I can't really put into words. This wonderful set also includes "American Boy," "The Big Shave," "It's Not Just You, Murray!," and "What's a Nice Girl Like You Doing in a Place Like This?" "Italianamerican" is my personal favorite but all five are worth seeing for any fan of one of the best filmmakers of all time, which really should be everyone who likes movies.
Special Features
New conversation between director Martin Scorsese and film critic Farran Smith Nehme
New discussion among filmmakers Ari Aster and Josh and Benny Safdie
Public-radio interview from 1970 with Scorsese
English subtitles for the deaf and hard of hearing
PLUS: A booklet featuring an essay by film critic Bilge Ebiri and storyboards, treatments, and correspondence from Scorsese's archive
Again, this column is mostly made of highlights or recommendations, but times are a little strange. Sadly, "Sonic the Hedgehog" really comes apart in the middle, too reliant on dumb jokes and physical humor. But James Marsden does his best to hold it all together and almost pulls it off, even when Jim Carrey is trying to run away with it. Listen, this isn't a great or even good movie, but it's got bright colors and bad humor to keep the kids entertained. And it's better than "Scoob!"
Special Features
Audio Commentary by director Jeff Fowler and the voice of Sonic, Ben Schwartz
Around the World in 80 Seconds—See Sonic's next adventure!
Deleted Scenes—Director Jeff Fowler introduces deleted scenes
Bloopers—Laugh along with Jim Carrey and the cast
"Speed Me Up" Music Video
For the Love of Sonic—Jim Carrey and the cast discuss what Sonic the Hedgehog means to them
Building Robotnik with Jim Carrey—See Jim Carrey bring supervillain Dr. Robotnik to life
The Blue Blur: Origins of Sonic—Explore the origins of the legendary Blue Blur
Sonic On Set—Visit the set with the voice of Sonic, Ben Schwartz
"The Way Back"
Ben Affleck gives his best performance in years in this moving drama about an alcoholic trying to get his life together again after a horrible tragedy pushed him into addiction. It was billed as more of a sports movie than it really is. The basketball here, while tactile in its presentation, is kind of secondary to the human story of a man who has convinced himself that he has no value left on Earth. Even there, Affleck doesn't fall into the melodramatic traps, bringing his personal demons to a subtle, moving piece of work.
Special Features
The Way Back: This Sporting Life
Every Loss is Another Fight: The Road to Redemption
"Wildlife" (Criterion)
Paul Dano's directorial debut was one of my favorite films of 2018 and it somehow plays even better a second time on Criterion Blu-ray just a couple years later. It's a literal shame that Carey Mulligan wasn't Oscar-nominated for the best work of her career in Dano and Zoe Kazan's adaptation of a book by Richard Ford that's basically about that moment when a boy learns his parents are people too, flaws and all. Nuanced and delicate, this is the kind of film that will only grow in esteem over the years. It speaks across the generations and demographics with its compassion and brilliance. And it looks incredible on Blu-ray. A brief featurette about the history and making of the film reveals how much this was a passion project for everyone involved. And that passion led to incredible art.
Special Features
New 2K digital master, with 5.1 surround DTS-HD Master Audio soundtrack on the Blu-ray
New interviews with director Paul Dano, screenwriter Zoe Kazan, actors Carey Mulligan and Jake Gyllenhaal, cinematographer Diego García, production designer Akin McKenzie, and costume designer Amanda Ford
New conversation on the film's postproduction with Dano, editor Matthew Hannam, and composer David Lang
Film at Lincoln Center conversation from 2018 between Dano and novelist Richard Ford about the film's source material
English subtitles for the deaf and hard of hearing
PLUS: An essay by critic Mark Harris
"Days of Thunder"
"Top Gun"
"War of the Worlds
Paramount has recently released three very different Tom Cruise films on 4K Blu-ray for the first time. Of course, the biggest in the trio is a movie that defined the '80s in "Top Gun," which will have a long-anticipated sequel released (maybe) later this year. 1990's "Days of Thunder" isn't as beloved but should show off your HD TV and sound system. The best of the three is Steven Spielberg's take on the H.G. Wells classic, turning a story of the day everything changed into one of the best post-9/11 movies that's really kind of about that world-changing disaster. Tense and moving, it's perfect for 4K.