Great Chicago Architect Benjamin Marshall's Story Told in Documentary Screening For Free Online Tomorrow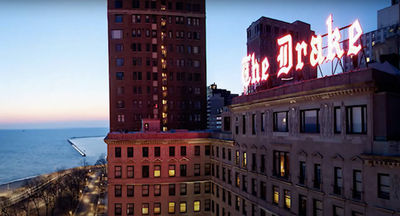 Chicago's architecture is known the world over, but few have heard of the architect Benjamin Marshall, whose style helped put it on the map.
You know Chicago's architecture at a glance, and have heard of many of the famous architects who helped make it so, like Frank Lloyd Wright, Louis Sullivan, David Adler and Mies Van Der Rohe. But until recently, not many had heard of Benjamin Marshall, a dashing early 20th century figure whose works shaped much of Chicago's architectural history. Tomorrow, on Tuesday, May 5th, in honor of his 146th birthday, the Benjamin Marshall Society will be streaming a 30-minute documentary depicting the achievements of this visionary architect. "Benjamin Marshall, Chicago Architect," will screen for free from noon to midnight on the official YouTube page of the Benjamin Marshall Society. The film will include descendants of Marshall as well as many more speaking about his influence on Chicago architecture (including me, briefly). It also includes a sad footnote in his history of the Iroquois Theater where a fire resulted in the loss of many lives. The film is narrated by Bill Kurtis.
Benjamin Marshall's designs include world famous buildings like the Drake Hotel, as well as many of the luxury apartment buildings lining East Lake Shore Drive. He also built the South Shore Community Center and the iconic 1550 N. State Parkway residences. He was the draw for many stars of stage and screen to come through Chicago and while he sometimes entertained them at his home in Wilmette like Fred and Adele Astaire, silent film star Valentino and Ethel Barrymore, he designed and built the Edgewater Beach Hotel where more performers, like the Ziegfeld Follies, would stay and perform.
His opulent architecture was also known outside of Chicago. He built the Mason Lyric Opera Theater in Los Angeles where Sarah Bernhardt performed. In St. Paul, Minnesota, he built the theater now known as the Fitzgerald. In Chicago, he also built the Blackstone Hotel and the Shubert Theater (now known as the Merle Reskin Theater.) But Marshall's significance was almost lost to history until Jane and Didier Lepauw founded the Benjamin Marshall Society in 2002. You can follow the Benjamin Marshall Society on Facebook.
<span id="selection-marker-1″ class="redactor-selection-marker"></span>



Source link