Cannes Flashback: Wonderstruck, Netflix Controversy and More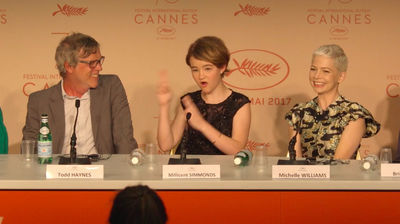 Since I would normally be broadcasting from Cannes at this time, I decided to go into the vault and share some of my cherished memories from past years spent along the French Riviera in the midday sun. The following video was originally published on May 19th, 2017 and produced by me and Scott Dummler of Mint Media Works.–Chaz Ebert
The red carpet is open for business here for the 70th edition of the Cannes Film Festival, and we are so happy to be here. And it hasn't been just the red carpet that has been rocking. The beautiful, sunny weather we've had so far has kept everything buzzing – from the beaches and boats to the casinos and the Croisette.
Security around the festival has increased quite a bit this year as well, contributing to some of the congestion in foot traffic around Cannes. In addition to more police, the festival is using metal detectors at the entrances to the Palais and supposedly even anti-drone technology in the skies. It takes a tad bit longer to get around these days, but they want us to be safe.
On day one of the festival, the competition jury, headed by legendary director Pedro Almodovar, was introduced at their first press conference – moderated by our old friend Henri Behar. It didn't take long for the conversation to get around to what everyone's been calling the "Netflix" rule: Starting next year in 2018, the competition for the Palme d'Or will not accept submissions from films that won't have a theatrical release in France. And this affects Netflix produced films almost exclusively, because the Amazon films in competition will have a theatrical release. Pedro Almodovar was in support of the rule, although actor Will Smith defended the Netflix platform. I also got a chance to talk with Jessica Chastain about her expectations as a jury member this year.
The competition for the Palme d'Or has begun with two strong films. Director Todd Haynes was the hit of Cannes a couple of years ago when he had the film "Carol" in competition. This year he tells a childhood story set in the 1970's with his film "Wonderstruck." It features supporting roles from Michelle Williams and Julianne Moore, but its real stars are the kids. It's a film about a boy who struggles with the loss of his mother, the search for the father he never knew and later the loss of his hearing. A parallel story about a deaf girl in the 1920's is woven in and out, shot almost as an homage to silent film. And the cinematography by Ed Lachman is stunning.
I wasn't sure quite how to feel about the film, until I started thinking about it as a Todd Haynes family film. Yes, the very first Todd Haynes film suitable for children. And once I saw these charming child actors from the film at their press conference, I really began to warm up to it. It's a story about isolation, imagination, making connections and making friends. It's about living in between two worlds – the worlds of the hearing and the non-hearing.
Russian filmmaker Andrey Zvyagintsev's 2014 film "Leviathan" won the Best Screenplay award in Cannes that year. He's back in competition this year with his latest film: "Loveless." It's a story about a decidedly unlikable couple going through a bitter divorce. Their fighting, and lack of attention, drive their 12-year-old son to run away from home. And the rest of the movie explores these two parents as they search for their child. Watching the film is an intensely harrowing portrait of a marriage but worthwhile experience, and one that allows for a small bit of redemption to these two very imperfect parents. In one of the first big deals of the festival, "Loveless" has been picked up for distribution by Sony Pictures Classics.
That's it for now, but we'll have more news about the stars, parties, and of course the movies from Cannes next time. Check back often at rogerebert.com/cannes for our next report as well as daily written reports by Barbara Scharres, Ben Kenigsberg and our other writers. Until then, au revoir!