Cannes Flashback: BlacKkKlansman, Fahrenheit 451 and More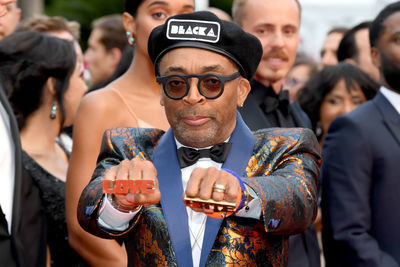 Since I would normally be broadcasting from Cannes at this time, I decided to go into the vault and share some of my cherished memories from past years spent along the French Riviera in the midday sun. The following video was originally published on May 17th, 2018 and produced by me and Scott Dummler of Mint Media Works.–Chaz Ebert
Will Cannes Do The Right Thing: Spike Lee is back in Cannes with a film about race almost 30 years after he appeared here with "Do The Right Thing," a film so powerful that my husband Roger threatened to boycott the festival when the film didn't win the Palme d'Or. "Black KkKlansman" was widely acclaimed here by both critics and audiences at its debut and is said to be a top runner for the Palme d'Or.
The film is based on the true story about Ron Stallworth, a police officer in Colorado Springs, Colorado who went undercover to infiltrate the Ku Klux Klan. What makes this story sound almost too good to be true is that Ron Stallworth is African American and was the first black officer on that police force in the 1970's. He's played by Denzel Washington's son John David Washington, who plays the role with a tremendous amount of confidence. Meanwhile, Adam Driver is his white "alter-ego", interfacing with the Klan face-to-face. Spike's take on this is filled with humor and satire, but also lays out the very real threat that hate groups like this present to our American way of life. The film is littered throughout with derogatory terms about African-Americans and Jews and when I questioned Spike about this, he said he wanted to verbalize the hate.
I also remember back to the 1989 press conference, when Spike brought "Do the Right Thing" to Cannes. Roger was there along with our friend Henri Behar and even Barbara Scharres. Spike spoke about issues that are, unfortunately, just as true today as they were then.
Although "BlacKkKlansman" is a period piece, Spike doesn't leave the situation in the past. He paves a path right to the present and lays the bricks of racism firmly at the feet of the current occupant of the White House. And he calls his film a wake-up call against hatred and alt-right groups not just in the U.S. but spreading globally. And finally, he dedicates the film to Heather Heyer, the young woman who was killed at a Klan rally in Charlottesville last year.
Will Spike take home the top prize in 2018? You never know what will happen at the Cannes Film Festival.
Screening out of competition this week was Ramin Baharani's new adaptation of Ray Bradbury's "Fahrenheit 451" for HBO. He takes the famous 1953 novel and sets it in a not-too-distant dystopian future where the fireman's slogan is "Make America Burn Again". The allusions to Trump's slogan are not by accident. In fact, Matt Zoller Seitz wrote that this film "should also be considered one of the key pop culture works of the Trump era."
Michael B. Jordan stars as one of the leading firemen in Cleveland, performing his duties as much for the news cameras as he is for the state. Michael Shannon is his boss, grooming him for a promotion.
I got a chance to congratulate Ramin at the Premiere, and chat with him a bit later the next day. I knew that he and Roger shared a love of books, and I wondered how it felt to make a movie about burning them.
One of the more controversial films at the festival this year, is Lars von Trier's "The House that Jack Built" starring Matt Dillon and screening Out of Competition. Von Trier had been banned for life in 2011 after "joking" about being a Nazi sympathizer. He's found his way back, but it's puzzling that the festival decided to do so with this film, about a serial killer who commits physical, psychological and pathological violence against dozens of women and children. In the era of #MeToo and #TimesUp, why the festival decided to showcase a film that is misogynistic by its own admission is unfortunate.
Many people walked out of the premiere, and many people simply stayed away from the later screenings. But I do have to say that Dillon gives a strong, chilling performance in the role. And Von Trier is a talented filmmaker. His "Breaking the Waves" is one of my favorite films. But his work often shows us who he is as a person. And that can be a dark place.
Finally, another strong contender for the Palme d'Or is the Japanese film from director Hirokazu Kore-eda, "Shoplifters." Like many Kore-eda films, it deals with family: specifically here a non-traditional family of grifters that finds a small girl out in the cold and decides to bring her inside to get warm. When they discover she has scars and bruises, they make the decision to take her in permanently and care for her properly. The film goes along light as air until the third act when the ruses start to fall apart and so does this family unit. But until then, each of the characters is played with so much heart and charm, it's easy to get caught up in it and not see the inevitable.
The movies keep coming here in Cannes, and so do our reports. So check back frequently at RogerEbert.com for news on Ron Howard's new Star Wars one-off: "Solo," David Robert Mitchell's "Under the Silver Lake," and the latest from female director/star Nadine Labaki "Capernaum," along with other news and reviews.