Apple TV+'s Trying is Wholly Endearing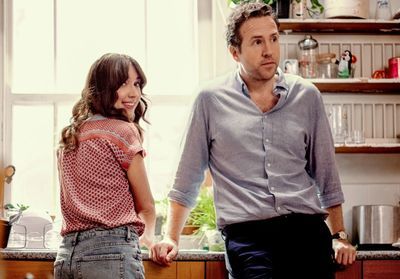 The new Apple TV+ series "Trying" recalls Amazon's "Catastrophe," another series about two people reevaluating their maturity and their lives because of the looming notion of a child. Yet while that show (the two share a director, Jim O'Hanlon) was about an unexpected pregnancy, this one is about all of the introspection and thus horror that comes trying to get approved for an adoption. It's a lot of paper work for Nikki (Esther Smith) and Jason (Rafe Spall), and each episode wisely builds from the process to show something lovely about their bond, and who they are as people in progess.
From the very beginning, Smith and Spall have winning chemistry as a couple you want to root for, hang out with, and watch fumble through this process. They're serious about wanting to adopt a child once it becomes their only option, but their natural clumsiness gets in the way. It's the cute kind of clumsiness, and with the show displaying a nice moderation with its sense of humor, it never feels forced.
In the first half of its first season, "Trying" maintains a tight focus on its couple, and that seems to be the key. It's not always funny (especially when some built-up punchlines prove predictable), but that's often the case with the characters outside of their situation, who shine even more of a light on what Jason and Nikki already have.
Created by Andy Wolton, "Trying" has a lightness to it throughout, driven by toe-tapping folk pop jingles and eschewing any big drama in its earlier episodes. Instead it's more about the little things within them that come up, as their relationship has proven healthy but now they need to work more on themselves. The series then pulls its humor out of naturally awkward moments, framing them as endearing underdogs in a daunting process.
The show deals with their personal insecurities, like Nikki has with her level of schooling as someone who never graduated from university. She works as a customer service person for a car rental service, and mentioning her job embarrasses her when attending a picnic with other potential parents in episode three. Her way of trying to "fix" this—by signing both of them up for a philosophy lecture even grad students would struggle with—is sweet and revealing of who she might want to be, but does not have to be.
The fun of "Trying" is in getting to see, bit by bit, this couple seeing that they're good enough, not just as potential parents. The series sometimes carries this over full episodes to an effective, cringe-worthy end, as in its fourth episode. When they have to present their space to a figurehead from the agency, they fumble with trying to make their space what it isn't, with explicit goals of trying to look more middle class. Take down the framed picture of them drinking, put up a boring picture of a boat. It's gently heartbreaking, but the way in which "Trying" often successfully layers awkward and genuine makes it compelling.
Half of season one screened for review. Now playing on Apple TV+.