The Clark Sisters: First Ladies of Gospel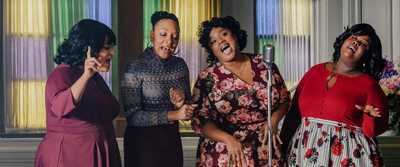 It's called "The Clark Sisters," but this movie belongs to Aunjanue Ellis, who gives a dazzling performance as the mother, choir director, and manager of five daughters who became the most successful female gospel group in history, with Grammys and crossovers to the R&B charts.
Dr. Mattie Moss Clark was a gospel choir director whose innovative arrangements transformed contemporary gospel. Part Mama Rose, part Marine drill sergeant, when she comes up with an idea for a new harmony in the middle of the night, she does not wait until morning to try it out. She wakes up the girls and brings them to the piano. They want to go back to bed. That is not going to happen. Dr. Mattie asks them, "You going to sing for the Lord or are you going to lay down for the devil?" In case they have forgotten to be grateful, the song is "What He's Done For Me."
One of the girls says it would be easier if they all sang the same note, but Mattie stops her right there. "Did you just curse in my house?" The curse word she refers to is "easy." "We don't do easy in this house. We do excellent." Her husband accuses her of wanting to be Joe Jackson and make her children into another Jackson Five. That is not it, she explains. Her girls will be better. She does not mean pop charts and arena concerts better. She means singing for the glory of God.
Ellis is electrifying. She conducts a choir with such determined ferocity we almost see her hand grabbing the notes themselves, blending them into exquisite harmonies. In a rehearsal she throws a shoe at a singer who made the mistake of chewing gum. Ellis is coiled fury in the many, many confrontations throughout the story, with bishops who tell her she is not humble enough, with a local contact who didn't provide everything the sisters needed for their performance, with her husband (soon to be her second ex) who wants her to stay home, and of course with her daughters when they fail to meet her standards. Ellis shows us Mattie's steel in every word, every gesture, in her posture and in her walk, but she also shows us the source of Mattie's strength and her power: her love of God, her love of the highest form of prayer expressed through music, and, as best as she can, her love for her daughters. She fierce and she is mesmerizing.
And then there is the music, a gorgeous, spirit-lifting celestial chorus to raise the roof. Executive producers of the film included music legends Queen Latifah, Mary J. Blige, and Missy Elliott, who are all Clark Sisters fans and call them major influences. The opening of the film is a breathtaking "Hallelujah," so purely joyous it could bring tears to the eyes of the angels. And in the midst of all of artistic, professional, medical, mental health, and family drama, we keep coming back to the impeccable harmonies of their gospel music.
About that drama—there is plenty. There is more than enough for an entire miniseries worth, with five daughters and a mother who are intertwined in a Gordian knot of boundary complications over music, family, business, and God. Daughters get married and have children. Some leave the group. Mattie gets sick. Through all of that, each of the daughters struggles with what they want versus what their mother wants and what God wants. The sisters care about each other and love making gospel music together. Their idea of rebellion is to sneak a Stevie Wonder riff into one of their songs. But it is no surprise that at some point they are going to need to tell Mattie that it is time for them to think about what they want, to have lives and families of their own. Or that she will respond by calling on a higher power than music, success, or even family. "You don't need to be pleasing me, you need to be pleasing God." Twinkie responds, "I don't know the difference…I need my mother; you just need an organ player."
So much happens to so many characters that some of "The Clark Sisters" feels rushed, especially in the last half hour. The women who play the sisters are singers, and not as experienced in acting, including Kierra 'Kiki' Sheard, who plays her mother, Karen Clark Sheard. They struggle at times with the dialogue as the film shifts quickly from one intense conflict to the next. But Ellis holds on to the movie the way Dr. Mattie held on to the music; she wills it into excellence with the help of the glorious music and the spirit that lifts it and us higher.
Available on VOD now.