Skate Freely with HBO's Excellent Betty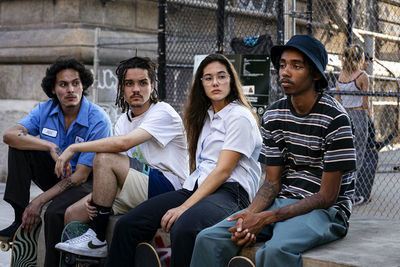 As an exploration of friendships, first-loves, and freewheeling hangouts among a group of skating teenage girls, "Betty" is totally vibrant, and its lively DNA—of clanging skateboard wheels, packed bodegas, and ollies that land on warm pavement—makes one long for playful balmy days. That joy reverberates in every shot of creator-director Crystal Moselle's new HBO series, which weaves as naturally through these teens' life experiences as their boards down a sunny summer New York City street.
Based upon Moselle's critically acclaimed film "Skate Kitchen," and utilizing the same actors and skaters, the teen drama's six half-hour episodes askew continuity. In "Skate Kitchen," Camille (Rachelle Vinberg) is very much meeting the already-established Bettys (a term used by boys to demean the skateboarding girls) for the first time; but in this reset, the Bettys haven't yet formed. Instead, the writers and Moselle save the bonding of this diverse collective for the pilot, which witnesses these girls bailing Camille out of a jam.
Jams are a constant variable in the group's adventures, as is growth. Each character grapples with a burgeoning or disintegrating relationship whose resonance quietly sneaks up on the viewer: For instance, an uncomfortable Camille initially disassociates herself from the Bettys, fearful she'll lose her place among the boys; Kirt (Nina Moran) on first blush is a gay flirtatious stoner, yet packs a volatile temper; an ebullient but soft-spoken Honeybear (Moonbear) sports a speaker hanging from her bike-chain necklace and explores her sexuality; Indigo (Ajani Russell) sells vapes as a side-hustle while hiding her wealthy background; and an all-too-trusting Janay (Dede Lovelace) confronts a hard truth.
Moreover, "fighting the patriarchy, defending the matriarchy" serves as the teen drama's clarion call, especially for Camille and Janay as they are confronted by gaslighting men. For Camille, they are the apathetic boys she hopes to appease. In Janay's case, a girl accuses her YouTube co-host Donald (Caleb Eberhardt) of sexual assault. Janay's arc perfectly illustrates the very real roadmap needed to navigate friends who are problematic or worse—from self-denial to bitter acceptance—and the steps required to detach from that person. Janay works through feelings of betrayal, anger, and guilt, and every beat hits emphatically in a sequence of emotional hairpin turns.
The other characters encounter seismic emotions too, like how Indigo struggles between earning money as a model or capitulating to a photoshoot's demand to commodify Black stereotypes for consumerism. Then there's Honeybear who considers her sexuality, and is afraid to approach her crush, fearing rejection, even though Kirt and Indigo prod her to act on her feelings. Honeybear's relationship offers the drama's sweetest warmth, mixed with all the insecurities attached to teenage first-love, and the existing complications when still closeted. Often the comic relief, Kirt ponders (while on shrooms) how her white privilege makes her less vulnerable to the authorities than her Black and Latinx friends. Though the landing is less assured, here, than the series' other components, it provides some depth to Kirt.
Moselle understands the travails of living as a teen, and she knows the difficulty girls face when pursuing their passions in the archaic archetype of a "man's world." She also cherishes the grace notes and tiny niches of life: a joke here, a cry there, a million tiny memories made everywhere. With lyrical camerawork that evocatively glides just above the pavement, a group of actors whose work pays greater dividends with every successive minute, and its sharp writing, "Betty" is a spontaneous and deeply sincere drama about living and skating freely.
Whole season screened for review.