Podcasting duo this year's CJF-CBC Indigenous fellowship recipients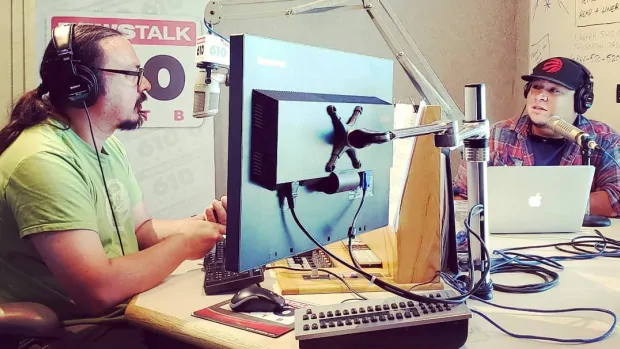 This year's Canadian Journalism Foundation-CBC Indigenous fellowship will go to a pair of podcasters from southern Ontario.
Karl Dockstader and Sean Vanderklis paired up four years ago to create a podcast called One Dish, One Mic.
"It's absolutely amazing. I still don't have words," said Dockstader.
The fellowship is a partnership between the Canadian Journalism Foundation and CBC Indigenous. It gives emerging Indigenous journalists an opportunity to spend a month working on a project under the guidance of mentors at CBC Indigenous in Winnipeg. The fellowship includes travel and accommodation as well as a $3,000 training stipend.
Dockstader is Oneida from Oneida of the Thames near London, Ont., and is program co-ordinator at the Fort Erie Friendship Centre.
Vanderklis is Anishinaabe from Curve Lake First Nation near Peterborough, Ont., and is working as a consultant on the Indigenous 150+ podcast series.
Dockstader and Sean Vanderklis started their podcast to help bridge the understanding between Indigenous and non-Indigenous people.
"For me, it really hasn't sunk in yet," said Sean Vanderklis.
"When Karl and I began four years ago our intent was to educate the general public. This fellowship will provide us just that but on a grander scale."
While Vanderklis and Dockstader have jumped into the broadcasting game without journalism backgrounds, they are hoping to use the fellowship as an opportunity to network and continue educating people.
They will be also attend the CJF awards ceremony, which was to be held in Toronto in June but has been postponed until October.