Northern crisis workers say Sask.'s response to COVID-19 outbreak too slow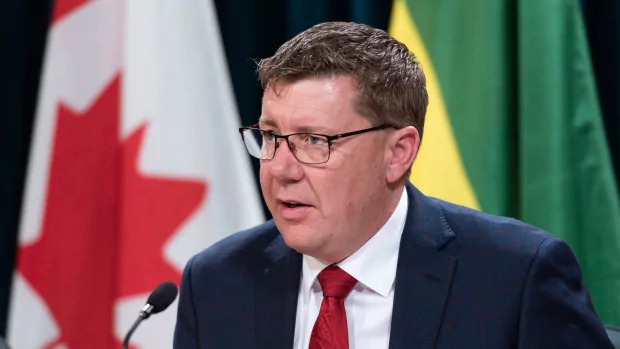 Clarence Natomagan's jubilation turned to disappointment and frustration when he saw what he called a "templated" response from the Saskatchewan government to the call for support in the north amid a COVID-19 outbreak.
Natomagan said he initially felt relieved that the calls for help were noticed.
"Premier Moe can say we're working with them, there's no refuting that, but working and doing something are two entirely different processes," said Natomagan, who is the crisis management team leader in Pinehouse. "It's sad to be honest, because they sit at the table for a matter of minutes and say we're committed to helping you but we haven't seen any results."
The community of La Loche reported 14 cases of COVID-19 on Thursday, with five in Clearwater River Dene Nation. Four cases have also been confirmed at the English River First Nation. There are 25 positive cases confirmed in the "far north" area of the province.
"There's a lot of anxious people in there because now it's in their backyard."
The premier and Minister of Government Relations Lori Carr "have been in consistent communication with municipal and First Nations leaders, including those in northern Saskatchewan," a government spokesperson said Thursday after Rick Laliberte, the head of the Northwest Incident Command Centre (NWICC), spoke out about a lack of support. NWICC represents 24 communities.
Natomagan said requests for financial resources and proposals for support have been shut down without any real justification. He said NWICC members have asked for financial support to fund their check stops that could stop the more cases coming in and PPE resources.
Yesterday, the province insisted it was providing support, but Natomagan said it was nothing more than the "usual" template response.
"All we get is this: 'Yes we're trying to help. Yes I understand. It's such a placating response from the province and there's nothing that they're doing. There's absolutely nothing that they're doing."
On Friday, Premier Moe said the province has provided La Loche with rapid testing machines for the area, but Natomagan said that's not extra help, rather it's what would be required of the province to do for any region.
As of April 24, 2020, Saskatchewan has 10 new cases of COVID-19, bringing the provincial total to 341. The total number of cases includes one new presumptive positive case.<br><br>Learn more at <a href="https://t.co/PmDnVICwq5″>https://t.co/PmDnVICwq5</a>.<a href="https://twitter.com/hashtag/COVID19SK?src=hash&amp;ref_src=twsrc%5Etfw">#COVID19SK</a> <a href="https://t.co/orc7zY6Ki9″>pic.twitter.com/orc7zY6Ki9</a>

&mdash;@SKGov
Controlling the roads
The NWICC is setting up information check stops along Highway 155. However, Natomagan said the organization has been trying to get the Ministry of Highways to shut down the roads. He said NWICC doesn't have jurisdiction to actually turn people away.
He's concerned about anglers, outfitters and travellers from the south as the province "reopens."
He said the Ministry of Highways needs to give NWICC jurisdiction and authority to stop and turn around non-permanent residents or non-essential travelers.
"They're so afraid of civil liberties, of us violating civil liberties of that person who is trying to visit or come fishing on our lakes," he said. "There's absolutely not one sentence on the table that would give us any flexibility to control traffic to our communities and thus mitigating the risk of a virus."
La Loche community efforts underway
Meanwhile, community leaders are working hard to do what they can. Martha Morin said everyone was hoping the virus wouldn't hit them — but they knew the odds were high.
Now, an outbreak grows.
"I know our community is scared. A lot of people are doing their best to try to follow the recommendations," said Morin, who has just been designated the emergency operations centre director in La Loche.
She also said Loche and Clearwater River Dene Nation began planning for the "what-ifs" in March.
"One of the major concerns we have is continuing to try to limit spread,"she said. "But also how do we take care of those who are in isolation who may have it or or are in isolation awaiting testing."
Some can't practice physical distancing properly because they don't have anywhere to go, she said, adding homelessness has been a challenge in the community for decades.
The community is now setting up comfortable and secure isolation units for people living in crowded homes and a temporary place for homeless people to go.
Morin said they are also working closely with SHA officials to try to control the spread.
"They're telling us they have a good plan in place to do contact tracing," she said. "They said they had it under control, and we just need to support that."
A team of five SHA workers is in the community doing contact tracing. As of Thursday they had done more than 130 tests.
One challenge for people in the area, Morin said, is not knowing who has the virus due to the province's privacy restrictions and protocols.
"There's a lot of fear," she said. "In our community people are very scared not knowing if they've come into contact with someone who's been positive."
Northern communities like a beehive
Natomagan said how the provincial government has responded shows it doesn't understand how northern communities are. She likened them to a beehive.
"If there's anything invasive the one bee brings into a beehive, the entire beehive gets destroyed. The entire colony dies."
He said COVID-19 in the north could be the same, which is why the region needs more support.
"We're so intrinsically intertwined," he said. "The risk level is so much higher for us to deal with."
Yesterday the NDP and northern mayors called on the province for $10 million for the north, but Premier Scott Moe declined to commit to any financial assistance.