Lac Seul First Nation going to Supreme Court of Canada in hydro dam flooding compensation case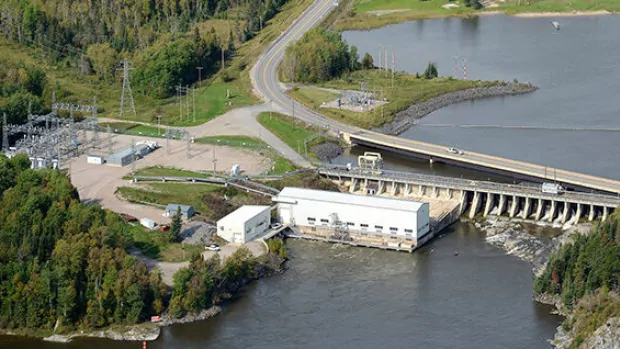 The Lac Seul First Nation in northwestern Ontario will have its case heard by the Supreme Court of Canada, tasking the court with the question of how Indigenous Peoples should be compensated by Canada for historic wrongs.
In the late 1920s, construction of the Ear Falls hydroelectric dam flooded nearly 20 per cent of Lac Seul's reserve land without the First Nation's consent, without a surrender or expropriation of the land, and without compensation.
"We have been fighting since 1985, when we first filed this claim, to find a just resolution with the federal government," wrote Chief Derek Maud in a news release.
"Thirty-five years later, we are still hoping for reconciliation."
Some of the impacts of the flooding described by Lac Seul, located 40 kilometres northeast of Sioux Lookout, include the destruction of houses and wild rice fields and the desecration of gravesites, which continue to be disturbed by fluctuating water levels.
The nation's claim also describes how flooding of the reserve has disrupted hunting, fishing and harvesting activities, arguing this loss has pushed many people off-reserve to find livelihoods elsewhere.
Council member Raymond Angeconeb said as of today, "we have about 900 residents on-reserve and there's about 2500 off-reserve, so you can see that displacement there of our people."
In 2017, the Federal Court ruled in favour of Lac Seul, finding Canada breached its duties to the First Nation with respect to the hydroelectric project, according to provisions of Treaty 3 and the Indian Act.
The reasons for judgment opened with a line from a Department of Indian Affairs memo, penned in 1937: "If it had been a white settlement, no person would have dared to flood the property, without paying compensation before flooding took place."
"I consider that these Indians have been very shabbily treated," the memo also said.
Federal Court awarded Lac Seul a fraction of damages sought
Lac Seul came to the Federal Court seeking compensation and damages totalling more than $500 million. The court decided to award the First Nation $30 million.
"What was taken and what was awarded to us is so polar opposite," said Maud.
"Sometimes I feel that there isn't even a price tag for the amount of what was stripped from our band members at the time and even until now."
How the Federal Court reached that specific amount of compensation is what Lac Seul continues to push back on and the Supreme Court's decision will likely have an impact on how historical wrongs with other First Nations are addressed in the future.
"The proposed appeal is an opportunity for this court to translate the theory of reconciliation into the practical context of compensation," stated Lac Seul in a court filing.
The filing states Lac Seul's situation is not unique as there are many First Nations that have seen their lands illegally flooded or taken unlawfully, without compensation.
Angeconeb said his nation's persistence with their case is rooted in the resolve of the people of Lac Seul.
"They always fought for what's right. If there's an injustice done, it should be corrected."
Maud said the loss of reserve lands due to flooding continues to be detrimental to Lac Seul.
"We just hope that at the end of the day, when this is all said and done, we can finally close this chapter in our story."