Join Tayarisha Poe and Chaz Ebert for a Virtual Q&A About Selah and the Spades Tonight, April 22nd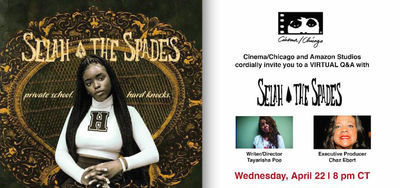 Cinema/Chicago and Amazon Studios are inviting viewers to watch a virtual Q&A at 8pm CT tonight (April 22nd, 2020) with writer/director Tayarisha Poe and executive producer Chaz Ebert about their acclaimed film, "Selah and the Spades," which is currently streamable on Amazon Prime Video following its premiere this past Friday, April 17th. Viewers can join the conversation on YouTube here, where they can type questions into the Chat Box, which will be relayed to Poe and Ebert by moderator Mimi Plauché, Artistic Director of the Chicago International Film Festival and Cinema/Chicago. Audience members are encouraged to stream the film on their own time here prior to tonight's conversation.
Lovie Simone earned raves for her lead role as Selah Summers, a steely and ambitious teenage girl at a prestigious Pennsylvania boarding school, Haldwell, where the student body is run by five factions. Selah runs the most dominant group, the Spades, which supplies students with illegal alcohol and pills. Tensions between the factions escalate, and when Selah's best friend Maxxie (Jharrel Jerome, Emmy-winner for Ava DuVernay's "When They See Us") becomes distracted by a new love, Selah takes on a protégée, enamored sophomore Paloma (Celeste O'Connor), to whom she imparts her wisdom on ruling the school.
"Selah" was named one of the 20 best films at Sundance by The Hollywood Reporter, with its critic Beandra July writing that it "signals a bright future for a promising young filmmaker." You can view the trailer below…