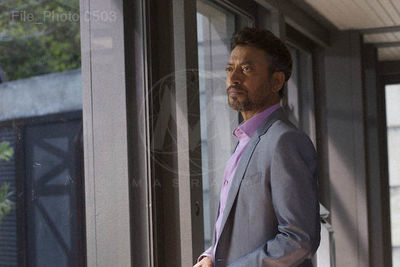 Some actors have what can only be called presence. When Irrfan Khan entered a scene, your eyes were immediately drawn to him. What's he thinking? What's he feeling? What's he going to do next? As a performer, he knew the art of physical acting, whether it was in the way his character carried himself or something conveyed merely through his incredibly expressive eyes, which could alternate from a withering rebuke to comforting compassion with one slight alteration. A big star in Bollywood, Khan became internationally renowned in all kinds of films from Oscar winners like "Slumdog Millionaire" and "The Life of Pi" to acclaimed indies like "The Namesake" and "Puzzle" to dozens of hits from his home country. It sounds clichéd, but he truly was one of those actors who made everything he was in just a bit better by virtue of his, well, presence.
Khan was born in Rajasthan, India to the owner of a tire business, and went to the National School of Drama in New Delhi, moving to Mumbai shortly thereafter, instantly finding regular work in the enormous business of television serials in that city. He appeared all over TV in the '80s, making his film debut in Mira Nair's beloved "Salaam Bombay!" in 1988, but his role didn't make the final cut.
Through most of the '90s, Khan worked on Bollywood productions that didn't make much of an impact, but his career changed entirely when he starred in Asif Kapadia's "The Warrior," a historical film that traveled the world in ways his work hadn't before, introducing him to an entirely new audience.
His work in the '00s in Bollywood became more high-profile, taking his first lead in a work called "Rog" and earning raves for "Haasil" and "Metro," among others. American audiences really became most aware of Khan's work when he reunited with Mira Nair for a film for which he definitely made the final cut, her hit "The Namesake."
English-language hits would follow like "The Darjeeling Limited" and "A Mighty Heart," peaking in 2008 with the Best Picture winner, "Slumdog Millionaire." From there, he alternated working on Bollywood hits like "Acid Factory" and "Paan Singh Tomar" with major Hollywood productions. One of his best roles came on American television in HBO's "In Treatment," in which Khan played a widower dealing with the loss of his wife. It will break your heart.
Other major roles in the career of Irrfan Khan include "Life of Pi," "The Lunchbox," "Jurassic World," "Talvar," "Jazbaa," "Hindin Medium," and so many more. He worked so consistently that the combined gross of his filmography passed $3.5 billion worldwide. His death is a major loss to world cinema.
In 2018, Khan revealed that he had a tumor, and he fought cancer for the next two years, dying of a related colon infection this week in Mumbai. We send our deepest condolences to his friends and family. We will all miss those eyes and the amazing things he could do with them.
What follows are some responses to Khan's passing from Twitter:
Woke up to the sad news that Irrfan Khan has died at 53. One of those absolutely reliable character actors and not-often-enough leads ("The Lunchbox") who made a movie better just by showing up. An arthouse star in India, a sure bet in H'wood films. RIP to a class act. pic.twitter.com/g80at3GBGC
— Ty Burr (@tyburr) April 29, 2020
Aw, man, Irrfan Khan was such a great actor. In the murderer's row of In Treatment patients, his Sunil may have been the most interesting. RIP. pic.twitter.com/cSTXX2MbnU
— Alan Sepinwall (@sepinwall) April 29, 2020
A grateful fan of #IrrfanKhan here. Gone too soon. When he is on screen, you can't take your eyes off of him. He lives on in his films. pic.twitter.com/aA9RAjsxSl
— Ava DuVernay (@ava) April 29, 2020
So sad. Khan was one of those actors I'd see in anything – if he chose it, it was worth my time. Over 157 credits! Lots to dig into – PUZZLE, with Kelly Macdonald, is a gem. https://t.co/0qqLiHXAxW
— Lisa Trifone (@LisaBeesa) April 29, 2020
#IrrfanKhanRIP One of my favorite actors, so moving in #TheNamesake, #TheLifeofPi and #SlumdogMillionaire, with the eyes of a romantic poet and the voice of a troubadour. A treasure. He was 53. pic.twitter.com/yTFka6JTS6
— Carrie Rickey (@CarrieRickey) April 29, 2020
Rest in peace one of the greatest actors of our time, Irrfan Khan. I never met him but he was an inspiration and a hero to me and millions of others. His work was consistently transcendent, he was a guiding light for so many of us. pic.twitter.com/BwobeLvNLn
— Riz Ahmed (@rizwanahmed) April 29, 2020
R.I.P. Irrfan Khan (1967-2020)

🎥: LIFE OF PI (Ang Lee, 2012) pic.twitter.com/2U4PphsTzb
— Film at Lincoln Center (@FilmLinc) April 29, 2020