Flooding causes Peace River to declare local emergency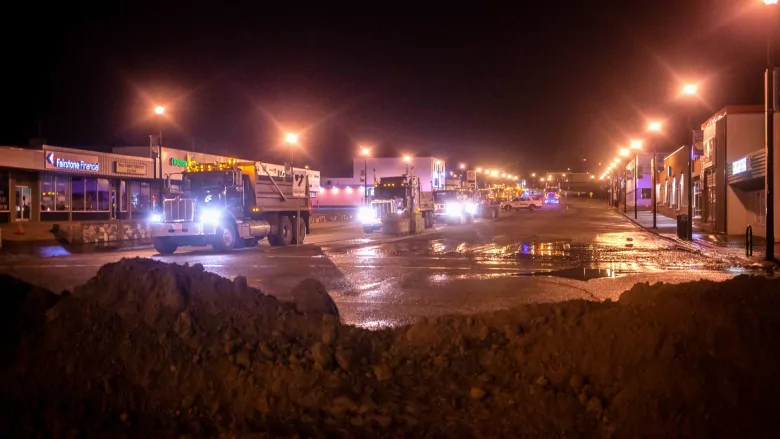 The northwest Alberta town of Peace River declared a state of local emergency on Saturday night due to flooding downtown.
A suspected ice jam caused flooding near 100th Avenue and 100th Street in downtown Peace River, according to information posted to the town's website. The Pat's Creek culvert that runs under the town started overflowing around 8:30 p.m.
Town council declared a state of local emergency at 9:44 p.m.
Mayor Tom Tarpey said Sunday afternoon that a surge of water from the surrounding area carried ice and debris that caused the jam.
The emergency declaration allowed the town to call in assistance to deal with the flooding.
"We did get some contractors in with some of their pumps and also a number of large dump trucks that built some sand berms for us to direct water away from as many businesses as we could," he said.
Businesses flooded
A Sunday morning update said most of the water in town had receded after crews pumped water throughout the night.
Tarpey said the streets were "relatively dry" with some silt and mud.
"Other than that, there are definitely businesses that have been affected and have got quite a bit of water in them," he said.
The town's mayor was still surveying the scene and said he could not yet estimate how many businesses were affected. Among those impacted were the town's community theatre, the Alberta Health Services mental health clinic, and the local dollar store.
Plans to breach the dike to help the flow to the river were nixed due to the success of the pumping.
One pump was still working with others on standby near the park as debris clean-up on downtown roads was ongoing, according to the Sunday morning update.
Berms, temporary dams and roadblocks are set to remain in place for at least a day as the town continues to evaluate and assess the situation.
Tarpey said the state of local emergency would likely last another day or two in case another surge of water brings more debris and causes more flooding.
Pat's Creek previously flooded in 2014, also due to the culvert under town becoming jammed with ice.