COVID-19 'tidal wave' still threatens Alberta, Hinshaw cautions in latest update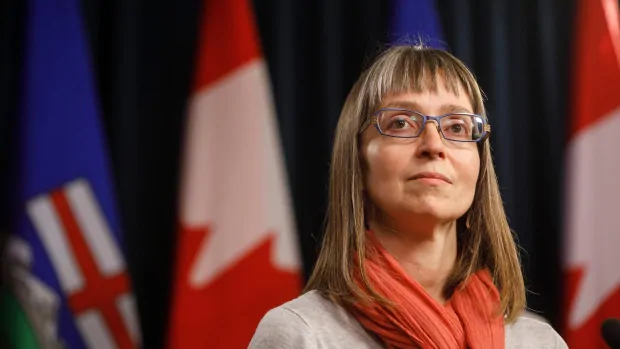 Albertans anxious to return to their jobs and some semblance of normal life should think of the novel coronavirus as a tidal wave that might have swept away thousands of lives if not for the sacrifices already made, says the province's Chief Medical Officer of Health.
Seven weeks after Alberta reported its first COVID-19 case, Dr. Deena Hinshaw said she is beginning to hear discussion about when the province can reopen so people can return to work, to school, to cafes and restaurants.
"The challenge we are facing is that in some ways we are a victim of our own success," Hinshaw said Tuesday at a news conference in Edmonton. "We have collectively pulled together to reduce the spread of this virus and, to a large measure, we have succeeded.
"The temptation we need to resist is to think that because we haven't yet seen the spread that our model predicted, that means the problem has gone away. That is not true. The virus is still with us, and we need to continue to take it very seriously, even as we start to think about reopening again.
Two more deaths
Hinshaw reported two more people died from COVID-19 on Tuesday and 187 new cases of the illness were reported.
The total number of deaths is now 61, with one of the people who died a resident at the J.B. Wood Continuing Care facility in High Prairie, while the total number of cases is 3,095.
Hinshaw suggested people think of the virus as a tidal wave that could have left a massive trail of destruction.
"This didn't happen," she said, "because we collectively formed a barrier, by our actions, to prevent the full force of this wave from striking us."
As the province begins to plan when to reopen segments of society and the economy, people need to remember that the virus still poses a grave danger.
'Many months to come'
"We will need to keep following core elements of the public health measures for many months to come," Hinshaw said. "Even as we plan to open businesses, we need to seek a balance between minimizing virus spread and ensuring our society can function to support the best mental, physical and economic health of all of us."
The province has worked hard to prevent wider spread of the virus, she said, and must continue to be vigilant.
"I am grateful to Albertans for the way that we have responded to this challenge and protected each other," she said. "We need to build on our efforts and guard against complacency."
Any plans to reopen parts of the province would be based on the best evidence and the best scientific research available, said Hinshaw, who pointed to Italy and New York state, where thousands have died, as examples of how dangerous and deadly COVID-19 can be.
The regional breakdown of cases as of Tuesday was:
Calgary zone: 2,204
Edmonton zone: 446
South zone: 200
North zone: 148
Central zone: 77
Unknown: 20
The Calgary zone has been hardest hit, with about 71 per cent of the province's cases reported there.
Public health officials are currently working to contain outbreaks in 29 continuing care centres, where 39 residents have died so far during the pandemic.
Again, 25 of those outbreaks are in the Calgary zone, while two are in the North zone. The Edmonton and south zones each have one outbreak.
Residents of nursing homes account for 367 cases.
On Monday, the province announced it will advance $24.5 million to operators of continuing care centres to help address immediate cost pressures.
Additional funding will be used to:
Increase health-care aide staffing levels;
Provide a wage top-up of $2 per hour for health-care aides;
Create up to 1,000 paid student practicum positions to fast-track certification and get more staff into continuing care facilities.
More than 104,000 Albertans have been tested for COVID-19.