Cluster of COVID-19 cases confirmed on Cormorant Island off the B.C. Central Coast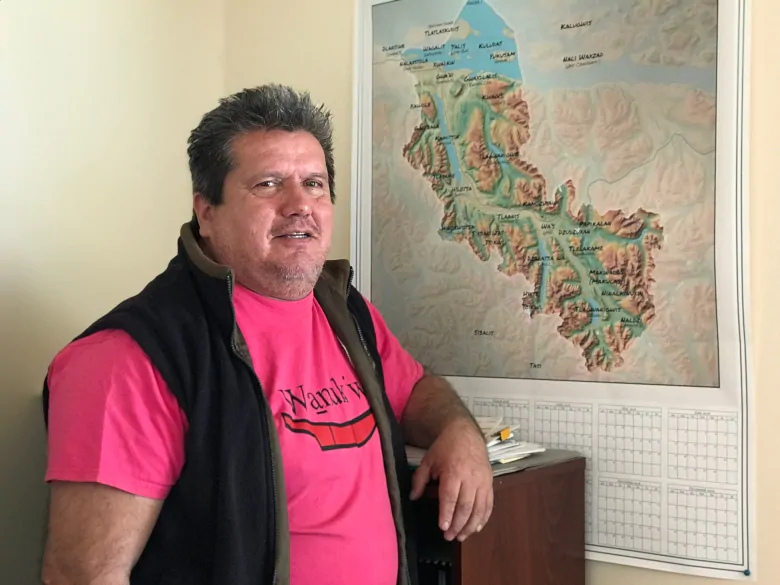 A cluster of COVD-19 cases on Cormorant Island, B.C., has led to the declaration of a local state of emergency for the 'Namgis First Nation, Whe-la-la-u Area Council and Village of Alert Bay.
Speaking at her daily news briefing on Monday, Dr. Bonnie Henry said "my understanding is there's somewhere around six or eight people who have tested positive so far in the community."
The Vancouver Island Health Authority wouldn't confirm to CBC the exact number of positive cases, citing privacy.
'Namgis elected Chief Don Svanvik said "it's a scary thing" knowing there are several cases of the virus on the island. He said the local governments are pulling together to ensure they can stop it from spreading any further.
The health authority said it continues to test close contacts of confirmed cases and others in the community "to identify potential cases as quickly as possible."
Cormorant Island, which is a short ferry ride from northern Vancouver Island, is home to roughly 1,500 people.
There is a health centre on the island, but the health authority said anyone requiring hospitalization because of the virus will be transferred off-island for care.
Svanvik said this is an important part of the integrated planning for the virus because of limited health resources.
"We have one ventilator, so if that ventilator's in use and someone else needs it, we're in a predicament."
Svanvik said at least one person with COVID-19 has already been transferred off-island for care.
Curfew and ferry travel restrictions to be implemented
In declaring a local state of emergency, local authorities on Cormorant Island are actively working to implement stricter measures on residents — beyond those already in place under the provincial rules.
The plan is to implement an island-wide curfew that will begin at 9:30 p.m.
Ferry travel will also be restricted.
In order to allow people who need to take the ferry to Vancouver Island for work or medical appointments, the local governments are planning to issue passes to people for essential travel.
"For those that wish to ignore that, you may leave Cormorant Island, but you will be restricted in your ability to come back until the local state of emergency has been lifted," said Alert Bay Mayor Dennis Buchanan, who is still recovering from COVID-19.
Buchanan tested positive more than a week ago and was the first person on Cormorant Island to speak openly about having the virus.
"Just shortly after I tested positive, there were a few other confirmed cases," he said. "We're not sure exactly how it got here."
Svanvik says regardless of how COVID-19 arrived, "the reality is it's here and we've gotta fix it."