Alberta reports four more COVID-19 deaths, 105 new cases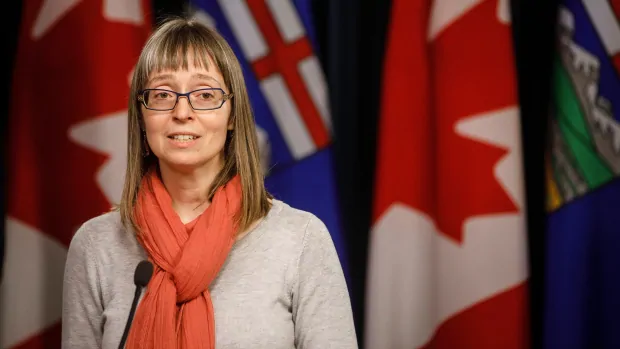 Alberta reported four more deaths from COVID-19 on Monday and 105 new cases of the illness.
The total number of deaths now sits at 59 and the total number of cases at 2,908.
Of those, 1,619 are active cases, while 1,230 people have recovered.
As of Monday, 100,898 Albertans have been tested for COVID-19.
The regional breakdown of cases is:
Calgary zone: 2,077
Edmonton zone: 438
South zone: 156
North zone: 143
Central zone: 77
Unknown: 17
Public health officials are working to contain outbreaks in 29 continuing care centres across the province. Thirty-eight residents in those nursing homes have died so far including two in the last 24 hours.
One death occurred at Manoir Du Lac in McLennan and one at Carewest Sarcee in Calgary.
The other two deaths ocurred in the Edmonton zone, while the other was a worker at the Cargill meat packing plant in High River.
On Monday, the province announced it will advance $24.5 million to operators of continuing care centres to help address immediate cost pressures due to COVID-19.
Additional funding will go toward increasing staffing of health-care aides to alleviate pressures in contracted continuing care facilities, the province said in a news release.
The money will allow for:
Increased health-care aide staffing levels;
A wage top-up of $2 per hour for health-care aides;
Up to 1,000 paid student practicum positions to fast-track certification and get more staff into continuing care facilities.
Starting Tuesday, Alberta Health Services will begin posting a daily list of all outbreaks in continuing care centres and hospitals, Alberta's Chief Medical Officer of Health, Dr. Deena Hinshaw, said at a news conference on Monday.
"I know that staff at continuing care facilities are doing everything they can to keep residents healthy and make sure they are properly cared for," Hinshaw said. "In many cases they are taking on the companionship and caregiving roles family members would normally perform when they visit. That is why I am pleased the government is providing additional support to health-care aides.
"I know restrictions on continuing-care facilities are taking a toll on residents, workers and family members missing their loved ones. The fact that these restrictions are necessary doesn't make the situation any easier.
"This support will help increase staffing at many facilities, and allow staff to spend more time caring for residents and providing companionship that many may be missing. This will support the mental health of residents and workers, as well as their physical health."
The largest outbreak in the province is linked to the Cargill meat-packing plant in High River, south of Calgary, where 360 workers have tested positive for COVID-19. Another 124 cases of the illness have been linked to the plant, but are not Cargill workers.
The company announced on Monday it will temporarily shut down the plant.
Hinshaw was joined at the news conference by Jitendra Prasad, chief program officer for contracting, procurement and supply management with AHS.