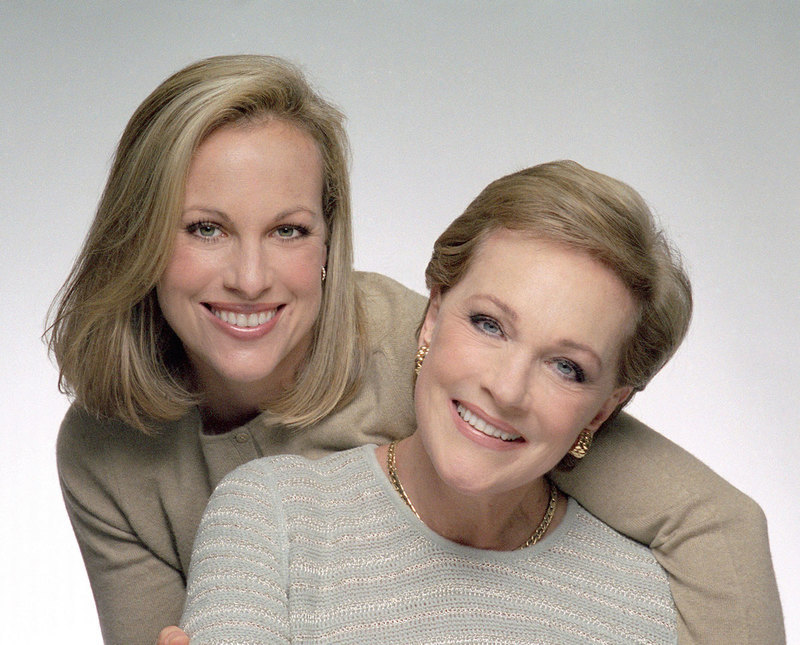 Matt writes: Early last month, I had the tremendous honor and joy of interviewing one of my lifelong heroes, Julie Andrews, and her amazing daughter, Emma Walton Hamilton, for RogerEbert.com. The conversation was originally intended to run during the week of Andrews' AFI Life Achievement Award ceremony (which was scheduled for this past Saturday, April 25th), but after it was postponed due to the COVID-19 pandemic, we decided to release the article yesterday in anticipation of Andrews and Hamilton's new podcast, "Julie's Library," which premieres tomorrow. Our conversation also covers the pair's latest book, Home Work: A Memoir of My Hollywood Years, their excellent Netflix series, "Julie's Greenroom," and their cherished memories of Jim Henson and the Muppets. You can read our full conversation here, and below you'll find a priceless excerpt from Home Work in which Andrews recalls what it really felt like to film the infamous opening of "The Sound of Music"…
"I began my walk, and as I did, the helicopter rose up and over its cover. It came at me sideways, looking rather like a giant crab. A brave cameraman named Paul Beeson was hanging out of it, strapped precariously to the side where the door would have been, his feet resting on the runners beneath the craft. Strapped to him was the heavy camera equipment. As the helicopter drew closer, I spun around with my arms open as if I were about to sing. All I had to do was walk, twirl and take a breath.
This required several takes, to be sure that both the helicopter and I hit our marks correctly, the camera was in focus, there was no helicopter shadow, and that everything timed out. Once the take was complete, the helicopter soared up and around me and returned to its original position. At that point, I'd run back to the end of the field to start all over again, until Bob was satisfied that he had the perfect take.
The problem was that as I completed that spin and the helicopter lifted, the downdraft from the jet engine was so powerful, it dashed me to the ground. I'd haul myself up, spitting mud and grass and brushing it off my dress, and trek back to my starting position. Each time the helicopter encircled me, I was flattened again. I became more and more irritated—couldn't they see what was happening? I tried to indicate for them to make a wider circle around me. I could see the cameraman, the pilot and our second unit director on board, but all I got was a thumbs-up and a signal to do it again."
Trailers
Becoming (2020). Directed by Nadia Hallgren. Synopsis: A documentary about the life of First Lady Michelle Obama. Netflix release date is TBA.

All Day And A Night (2020). Written and directed by Joe Robert Cole. Starring Ashton Sanders, Jeffrey Wright, Regina Taylor. Synopsis: A young man who committed a homicide deals with the repercussions of his action. Debuts on Netflix on May 1st, 2020.
Circus of Books (2020). Directed by Rachel Mason. Synopsis: In 1976, Karen and Barry Mason had fallen on hard times and were looking for a way to support their young family when they answered an ad in the Los Angeles Times. Larry Flynt was seeking distributors for Hustler Magazine. What was expected to be a brief sideline led to their becoming fully immersed in the LGBT community as they took over a local store, Circus of Books. A decade later, they had become the biggest distributors of gay porn in the US. Now available on Netflix.
Tammy's Always Dying (2020). Directed by Amy Jo Johnson. Written by Joanne Sarazen. Starring Felicity Huffman, Anastasia Phillips, Clark Johnson. Synopsis: Catherine, a connoisseur of bad decisions, dreams of being successful. At anything. Tammy, her mother, has been so poor for so long all she can do is party about it. When Tammy is diagnosed with terminal cancer Catherine is forced to move in and care for her. Enter Ilana, a glamorous purveyor of talk-show tragedy porn who wants to help Catherine publish her life story. Caught between sacrifice and selling out, Catherine must decide if life without Tammy is really a better life. Debuts online on May 1st, 2020.
Spaceship Earth (2020). Directed by Matt Wolf. Synopsis: A look at the group of people who built the Biosphere 2, a giant replica of the earth's ecosystem, in 1991. Debuts online on May 8th, 2020.
The Quarry (2020). Directed by Scott Teems. Written by Scott Teems and Andrew Brotzman (based on the novel by Damon Galgut). Starring Shea Whigham, Michael Shannon, Catalina Sandino Moreno. Synopsis: A drifter kills a traveling preacher and takes his place at a small-town church, but the police chief suspects foul play. Now available online.
We Are Little Zombies (2020). Written and directed by Makoto Nagahisa. Starring Keita Ninomiya, Mondo Okumura, Satoshi Mizuno. Synopsis: Four Japanese orphans form a rock band. US release date is TBA.
Vanilla (2020). Written and directed by Will Dennis. Starring Will Dennis, Kelsea Bauman, Eddie Alfano. Synopsis: A freewheeling comedian determined to save her family business invites an uptight entrepreneur on a road trip to sell a van with a complicated history. US release date is TBA.
Castle in the Ground (2020). Written and directed by Joey Klein. Starring Imogen Poots, Neve Campbell, Alex Wolff. Synopsis: After the untimely death of his mother, a teenager befriends his charismatic but troubled next-door neighbor and becomes embroiled in a world of addiction and violence just as the opioid epidemic takes hold of their small town. Debuts online on May 15th, 2020.
A Secret Love (2020). Directed by Chris Bolan. Synopsis: Falling in love in 1947, two women — Pat Henschel and pro baseball player Terry Donahue — begin a 65-year journey of love and overcoming prejudice. Debuts on Netflix on April 29th, 2020.
Wake Up On Mars (2020). Directed by Dea Gjinovci. Synopsis: Two teenage sisters lie in a vegetative state in the small Swedish home of their Kosovar family, the cause of their mysterious malady, known as "resignation syndrome," entwined with their personal trauma experienced as refugees. US release date is TBA.
Murder to Mercy: The Cyntoia Brown Story (2020). Directed by Daniel H. Birman. Synopsis: After 16-year-old Cyntoia Brown is sentenced to life in prison, questions about her past, physiology and the law itself call her guilt into question. Debuts on Netflix on April 29th, 2020.
Debt Collectors (2020). Directed by Jesse V. Johnson. Written by Jesse V. Johnson and Stu Small. Starring Scott Adkins, Louis Mandylor, Vladimir Kulich. Synopsis: A pair of debt collectors are thrust into an explosively dangerous situation, chasing down various lowlifes while also evading a vengeful kingpin. US release date is TBA.

Into the Dark: Delivered (2020). Directed by Emma Tammi. Written by Dirk Blackman. Starring Rosslyn Luke, Vito D'Ambrosio, Joël Dupont. Synopsis: The latest installment in Hulu's "Into the Dark" series. Premieres on Hulu on May 8th, 2020.
Dangerous Lies (2020). Directed by Michael Scott. Written by David Golden. Starring Jamie Chung, Cam Gigandet, Sasha Alexander. Synopsis: When a wealthy elderly man dies and unexpectedly leaves his estate to his new caregiver, she's drawn into a web of deception and murder. If she's going to survive, she'll have to question everyone's motives – even the people she loves. Debuts on Netflix on April 30th, 2020.
The Lovebirds (2020). Directed by Michael Showalter. Written by Aaron Abrams and Brendan Gall. Starring Issa Rae, Kumail Nanjiani, Paul Sparks. Synopsis: A couple experiences a defining moment in their relationship when they are unintentionally embroiled in a murder mystery. Debuts on Netflix on May 22nd, 2020.
Valley Girl (2020). Directed by Rachel Lee Goldenberg. Written by Amy Talkington. Starring Chloe Bennet, Alicia Silverstone, Peyton List. Synopsis: Set to a new wave '80s soundtrack, a pair of young lovers from different backgrounds defy their parents and friends to stay together. A musical adaptation of the 1983 film. Debuts online on May 8th, 2020.
The Elephant Man (1980), 4K restoration. Directed by David Lynch. Written by David Lynch, Christopher De Vore and Eric Bergren (based on the books by Frederick Treves and Ashley Montagu). Starring John Hurt, Anthony Hopkins, Anne Bancroft. Synopsis: A Victorian surgeon rescues a heavily disfigured man who is mistreated while scraping a living as a side-show freak. Behind his monstrous façade, there is revealed a person of kindness, intelligence and sophistication. US release date is TBA. [Below are the first ten minutes of the new restoration…]
Dazzled by "The Last Dance"
Matt writes: No admirer of Michael Jordan and the Chicago Bulls can afford to miss Jason Hehir's ten-part series, "The Last Dance," charting the unequaled basketball team's six championship wins. It airs Sundays on ESPN, and you can read Brian Tallerico's rave review here.
Matt writes: Our Far Flung Correspondent Seongyong Cho penned a lovely appreciation of Jonathan Demme's 2008 masterpiece and former Ebertfest selection, "Rachel Getting Married," starring Anne Hathaway, Rosemarie DeWitt and a ferocious Debra Winger. Click here to read the full article.
Free Movies
Bird of Paradise (1932). Directed by King Vidor. Written by Wells Root, Wanda Tuchock and Leonard Praskins (based on the play by Richard Walton Tully). Starring Dolores del Rio, Joel McCrea, John Halliday. Synopsis: A native girl falls for a visitor to her island, but she's chosen to be sacrificed to the volcano god.
They Made Me a Criminal (1939). Directed by Busby Berkeley. Written by Sig Herzig (based on the novel by Bertram Millhauser and Beulah Marie Dix). Starring John Garfield, Claude Rains, The Dead End Kids. Synopsis: A boxer flees believing he has committed a murder while he was drunk.
The Pied Piper of Hamelin (1957). Directed by Bretaigne Windust. Written by Hal Stanley and Irving Taylor (based on the poem by Robert Browning). Starring Van Johnson, Claude Rains, Lori Nelson. Synopsis: Overwhelmed by rats, a medieval town hires a magical piper who can rid the town of the pest in exchange for gold but the crooked mayor has no intention of honoring the deal.