Wet'suwet'en prepare for clan meetings to discuss rights and title proposal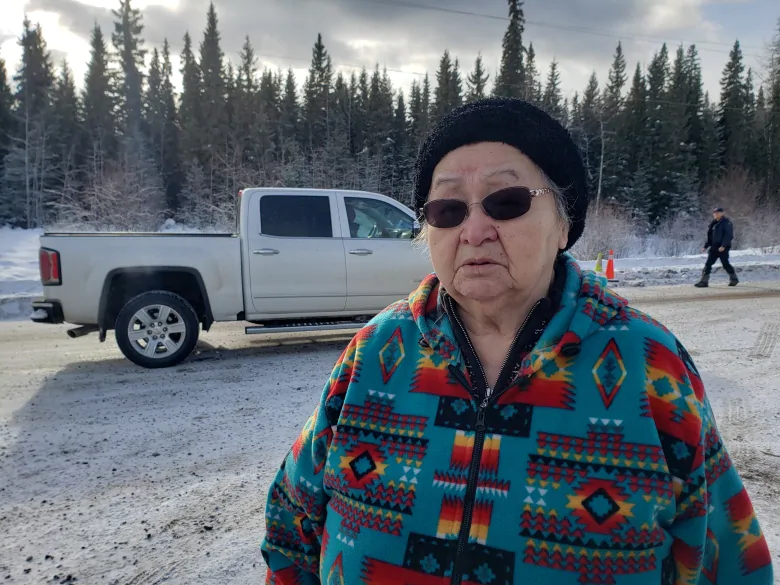 Most of the Wet'suwet'en nation doesn't yet know what came out of the hereditary chiefs' weekend meetings with provincial and federal officials beyond the fact that some kind of proposal was made regarding their rights and title.
They'll be learning more of the details through upcoming clan meetings.
The Wet'suwet'en hereditary chiefs oppose construction of a natural gas pipeline through their territory and RCMP enforcement of an injunction to allow pipeline workers access sparked nationwide protests and transport disruptions in solidarity.
The weekend talks resulted in a draft agreement between the chiefs, the province and the federal government but few details have been made public. The Coastal GasLink pipeline project, at the root of the conflict, is not addressed in the proposal, but many Wet'suwet'en are welcoming the opportunity to move things forward with respect to their rights and title.
Wet'suwet'en matriarch and hereditary chief Kaliset (Violet Gellenbeck) said it's been a long road to get the federal and provincial governments at the table with the hereditary chiefs.
"This is where our nation has been trying to get ever since the Delgamuukw Gisday'wa court case was settled in 1997," she said.
Kaliset said she'll be going to her clan meeting Tuesday night and expects she'll get a better understanding of the proposal and what took place during the weekend meetings.
"I'm hopeful that the report that we're going to receive tonight will be what we're looking for as a nation," she said.
'They need to include us'
The proposed agreement has been left with the Wet'suwet'en nation to review and ratify, if they're satisfied with what's being offered.
Molly Wickham, spokesperson for the Gidimt'en clan, said there are many clan meetings scheduled in the coming days and said everybody is welcome to participate in those meetings, including elected band leadership.
"They're first and foremost a part of the clan. They should be attending the clan meetings that are scheduled," she said.
Wet'suwet'en members like Karen Ogen-Toews have said that whatever process happens moving forward, it needs to be inclusive of everyone in the nation.
"They're saying this is the beginning. That sounds promising and positive but time will tell if they will be inclusive," she said.
Ogen-Toews is the CEO of the First Nations LNG Alliance and former elected chief of the Wet'suwet'en First Nation. She's been among the most outspoken supporters of the Coastal GasLink pipeline from her nation and maintains that the project should continue.
When it comes to the proposal about rights and title, she questions what voice elected councils will have in the conversation.
"The fact of the matter is the elected council and the Wet'suwet'en hereditaries are Wet'suwet'en. If we want to change our system, they need to include us," she said.
This sentiment was echoed by the current elected chief of the Wet'suwet'en First Nation, Maureen Luggi.
She said she was happy to see some kind of proposed agreement reached between the hereditary chiefs, B.C. and Canada but also said she was "a bit disheartened that our communities were not invited and we're not privy to the agreement that's been discussed.
"I'm hopeful at some point in time that our communities will be engaged and that they will seek out our review and our approval in each of the Wet'suwet'en communities."
Luggi might be raising concerns about the process ahead, but she said she still supports the hereditary chiefs.
"I am open to however the hereditary chiefs wish to pursue this. As long as there's openness," she said.
'A great division'
As people wait to learn more about what's been proposed regarding rights and title, Wickham said "this is one piece of the bigger issue."
"The whole reason this discussion began is not resolved. We continue to push for the RCMP to get out of Wet'suwet'en territory. We continue to push to have them stop construction while we're in these discussions."
In Kaliset's view, the pipeline should be part of the upcoming discussions.
"That is what started the furor that we're in right now and I can't see where the two levels of government don't want to discuss it," she said.
She said the division among the Wet'suwet'en, in many ways, roots back to the consultation process on the project and the agreements signed by the band councils.
Five of six bands within the Wet'suwet'en nation signed benefit agreements with Coastal GasLink while nearly all of the house chiefs, representing the hereditary system of governance, have been vocally opposed.
"This has caused a great division in our people, in our families," she said.
"There's brothers and sisters against each other, parents, aunts and uncles. It's a very unhealthy situation that our people are in right now. One of my goals is to begin to start discussions within my own family and see how we can begin to get back together," said Kaliset.
Kaliset said her family has already been in discussions about what happens next and said she'll be reconnecting with her family again after Tuesday night's clan meeting.
She said it's too early to know if her family will support the proposed agreement.
"We have to be fully aware of what's being negotiated at this point… So the first thing is we have to all be educated."