Treaty 3 grand chief uses Anishinaabemowin to ease COVID-19 anxieties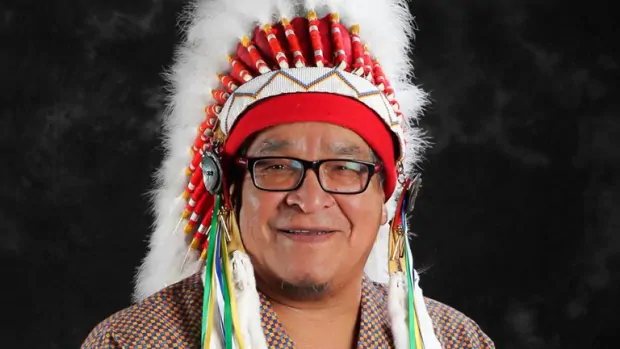 A northern Ontario leader is easing anxiety for elders by speaking to them in Anishinaabemowin about the risks of COVID-19.
"I thought by explaining in Ojibway/Anishinaabemowin that it would ease the fear a little bit. I have had some positive feedback so far," said Francis Kavanaugh.
Kavanaugh is the grand chief of the Grand Council of Treaty #3. He lives in Whitefish Bay First Nation near Kenora, Ont.
In his video posted to Facebook, Kavanaugh encourages people to do their part in preventing COVID-19, including social distancing and good hygiene.
He also talked about what people's symptoms might be and his worries for people whose health conditions make them more at risk.
"Our biggest concern is complications with the pre-existing conditions, people with weakened immune system conditions like diabetes, high blood pressure," said Kavanaugh. "And then the fact that there is at this point no vaccine to target COVID-19."
He also reminded people to be careful not to stereotype non-Indigenous peoples during the pandemic.
"We have to avoid blaming a specific group or the area where the virus came from. It encourages stereotyping that others use against us. We are telling them to avoid that," said Kavanaugh.
Remaining spiritual
Ojibway language teacher Patricia Ningewance said it "hits home more" for elders to hear about COVID-19 in their own language.
"[The video] is comforting because I'm one of the many vulnerable Anishinaabe people," said Ningewance. "I'm 69 now and I'm diabetic, I'm asthmatic, I have high blood pressure. I have all of the things that make me vulnerable."
Ningewance said she was recently commissioned to translate COVID-19 materials into Ojibway, which will then be distributed to First Nations communities in pamphlets.
The material will be similar to what Kavanaugh was talking about in his video.
"As Anishinaabe people, we do have ways to mitigate the impact of such pandemics," Kavanaugh said.
He reminded viewers to have faith in their spirituality. He also encouraged Anishinaabe people to take comfort in their own traditional teas and smudges.
To help ease people through social distancing, Kavanaugh is asking people to pick up a book and read, start working on their powwow regalia and take time to return to their traplines, if possible.